What Did Meghan Markle Say About Her Feelings For Prince Harry?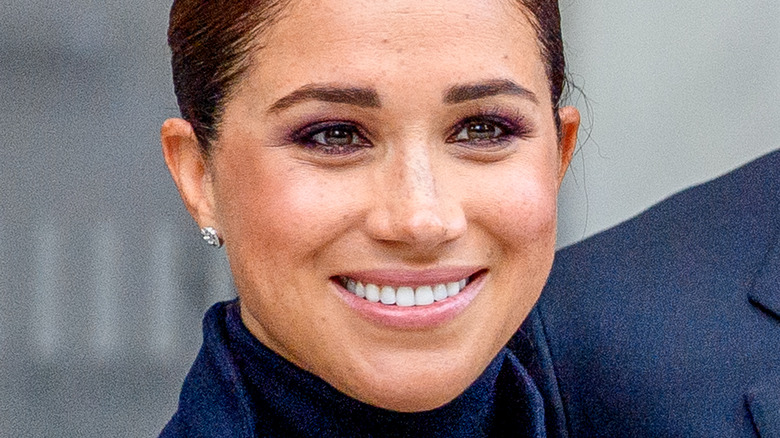 Roy Rochlin/Getty Images
Prince Harry and Meghan Markle have made it no secret that their love is certainly the royal kind. During their engagement interview with the BBC, the Duke of Sussex made it pretty clear that it was love at first sight between them. "When did I know she was 'The One?' The very first time we met," he said after their engagement in 2017, per Good Housekeeping. "[There] was this beautiful woman, who just sort of literally tripped and fell into my life [and] I fell into her life."
Because the love between them is reportedly so strong, Harry and Meghan made the difficult decision to choose their peace and happiness over their duties to the crown in a controversial move that the British press has since dubbed as "Megxit." Harry and Meghan's life in California might differ from the royal life they left behind in the U.K., but the support and passion they have for each other is certainly still there, according to the couple. In fact, Meghan's most recent comments about her husband prove once again that she's got his back, just as much as he's got hers. Here's what she has to say.
Meghan Markle has got nothing but love for her man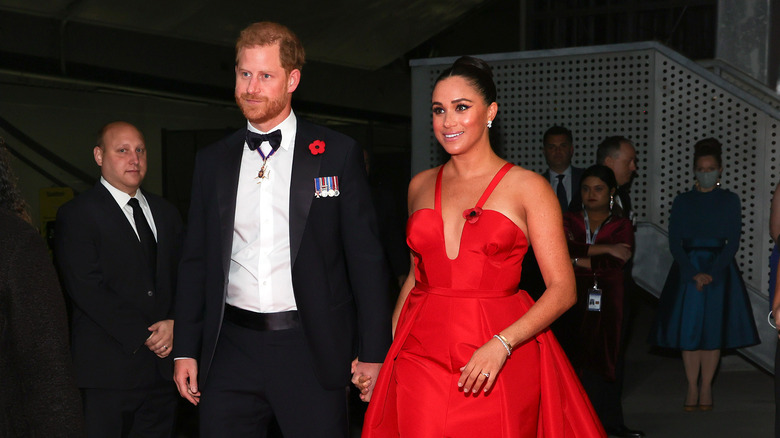 Dia Dipasupil/Getty Images
Prince Harry and Meghan Markle were on hand for the Salute to Freedom Gala at the Intrepid Sea, Air and Space Museum in New York City, where the Duchess of Sussex stunned in a low-cut Carolina Herrera gown in one of the couple's first high-profiled events since the pandemic began. According to Us Weekly, when Meghan was asked what she thought of her husband during the night of the event, she reportedly said, "I'm always proud of him." 
Clearly, Meghan's bold red color for her dress is supposedly a symbol that the couple is headed towards a new direction in their lives, as detailed by Vogue. "With the palace dress code no longer a factor, the couple were free to embrace all-American glamour," wrote Janelle Okwodu for the publication. During the event, Harry also embraced his newfound love for all things Americana when he said, per Metro, "Just last week, I went for a ride on the Oscar Mayer Wienermobile – how's that for living the American dream." Talk about a moment of true pride, right?