Why Prince Harry Is Fuming Over The Term Megxit
Bart Lenoir/Shutterstock
Prince Harry has apparently had enough. From losing his mother, Princess Diana, at the young age of 12 to his 2004 melee with the paparazzi, the weight of royal life has surely brought the Duke of Sussex to his knees from time to time. However, nothing could prepare him for the biggest controversy of his adult life yet — what the public has dubbed "Megxit."
A portmanteau of wife Meghan Markle's name and the word "exit," the term "Megxit" essentially lampoons "Brexit" — the widely-contentious split of the U.K. from the European Union (via The New York Times). And like Brexit, Megxit was also a hugely polarizing move, as it saw the departure of both the Duke and Duchess of Sussex from their senior royal duties.
It was a move that sent shockwaves through the royal family, as no situation of this caliber has ever affected the British monarchy to this effect. In fact, British commentator and ardent Meghan critic Piers Morgan even tweeted that "Harry/Meghan have successfully bullied the Queen into letting them have their cake & eat it" following the incident. But now, Prince Harry is making his voice heard on how he truly feels about the situation ... and the term.
Prince Harry says 'Megxit' is a 'misogynistic' term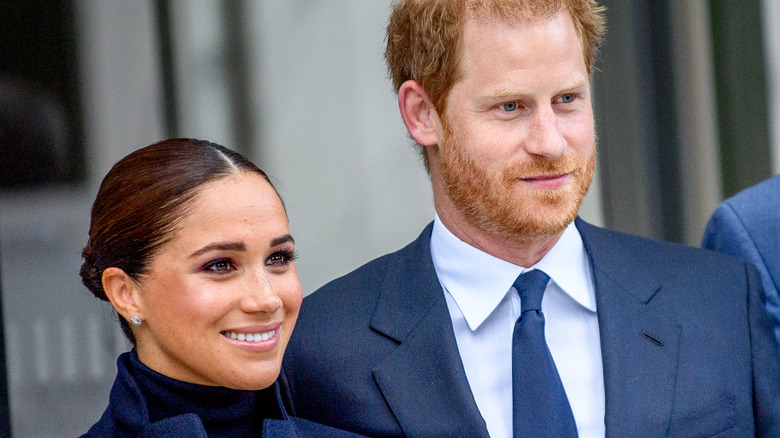 Roy Rochlin/Getty Images
On November 9, Prince Harry partook in an online summit from Wired Magazine, where he discussed "The Internet Lie Machine" (as the panel was titled) and the dissemination of misinformation in the modern age. During the panel, he labeled misinformation as "a global humanitarian crisis" (per People) and chimed in on his thoughts about the term "Megxit."
"The term 'Megxit' was or is a misogynistic term that was created by a troll, amplified by world correspondents, and it grew and grew and grew onto mainstream media," Harry stated during the panel. Later, Harry lamented about the death of his mother, Princess Diana, who, in his words, died at the hands of irresponsible media. "I know the story all too well. I lost my mother to this self-manufactured rabidness, and obviously I'm determined not to lose the mother to my children to the same thing," he saliently noted.
Harry also mentioned feeling the effects of the media "personally over the years" but is "now watching it happen globally affecting everyone." In a poignant reflection, Harry said, "I learned from a very early age that the incentives of publishing are not necessarily aligned with the incentives of the truth." In February, Harry appeared on "The Late Late Show with James Corden" and opened up about the British media. "We all know what the British press can be like and it was destroying my mental health," he said, further calling British media "toxic."