The Kris Jenner And Drake Romance Rumors Fully Explained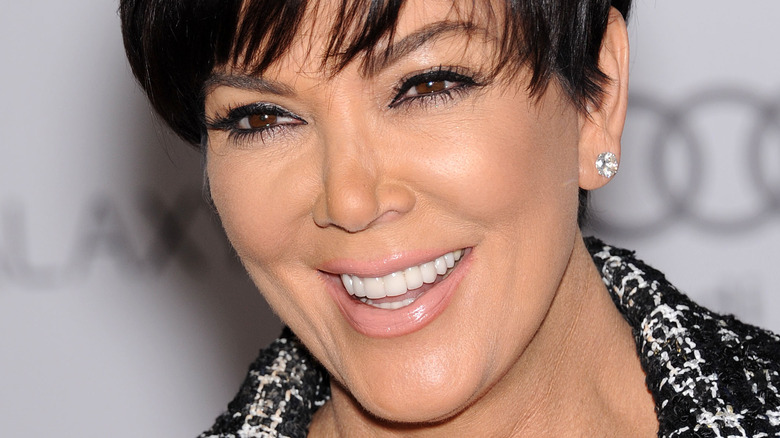 DFree/Shutterstock
If there's one thing the Kardashian/Jenner clan know all about, it's rumored romances. The Kardashians have been linked to a whole host of men over the years, some we know to be legitimate like Scott, Disick, Reggie Bush, and Lamar Odom, while, others, well they seem to have been nothing but fodder for the rumor mill. One of those? Khloé Kardashian's supposed date with Rick Fox in 2015, when a source told Us Weekly of their outing, "It looked to be a fun date. She seemed happy." Nothing more ever seemed to come of that supposed date, and Khloé went on to have two children with Tristan Thompson (though we all know all the drama that ensued there).
Another man we know full well was most definitely romantically involved with a Kardashian is, of course, Kim Kardashian's former husband, Kanye "Ye" West. The twosome were first rumored to have been dating in 2012 and married in 2014, before things ended in divorce after four children in 2021. West hasn't exactly stayed quiet about "The Kardashians" stars in the months that have followed the breakup, and now he's doubling down on adding another famous man to that notorious list of rumored Kardashian romances. Step forward Kris Jenner, and step forward Drake. Really.
Kanye West suggested Kris Jenner supposedly slept with Drake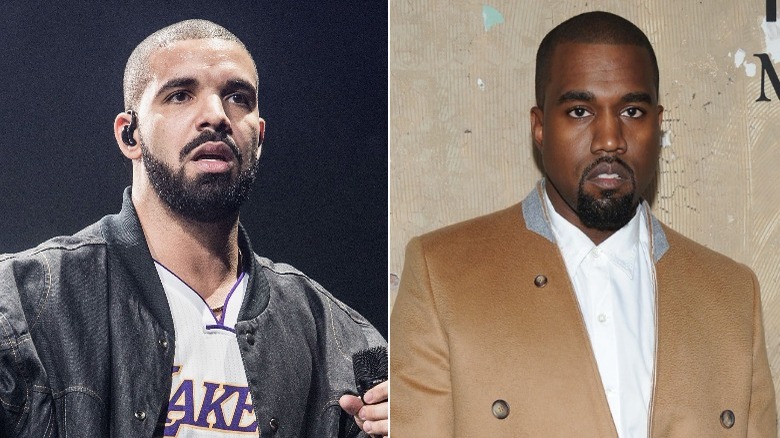 Harmony Gerber & Jamie Mccarthy/Getty & undefined
Leave it to Kanye West to make a bold claims about the Kardashian/Jenner clan. West has been taking to Instagram to speak openly about the famous family in the wake of his and Kim Kardashian's split, and that was no different on October 6 when he claimed in a deleted post that Kim's mom, Kris Jenner, had supposedly slept with Drake. "Drake A F*** YA BABY MAMA'S MAMA. THAT'S REAL WAR," he wrote, per All Hip Hop.
Well, West was asked to clarify what he meant on "Drink Champs" on October 16. He played a little coy, but responded, "That was hard. That was HARD," before refusing to give more clarity, only adding, "You know what it mean... Corey knows what it means." Corey, is, of course, Jenner's boyfriend, Corey Gamble. This isn't the first time West has suggested Drake may have an interest in his former mother-in-law, either. In December 2018, he tweeted, spelling Jenner's name wrong, "How you gone text Kriss but not speak to me," during a back and forth with Drake.
West and Drake have had beef for years, but neither the latter nor Jenner have ever confirmed anything romantic ever gone on between them. Not only that, but Kim has actually been forced to deny that she herself slept with the rapper, commenting on a 2018 Instagram clip discussing rumors she and Drake got romantic, per The Shade Room, "Never happened. End of story."