The Skill Timothée Chalamet Learned By Studying LeBron James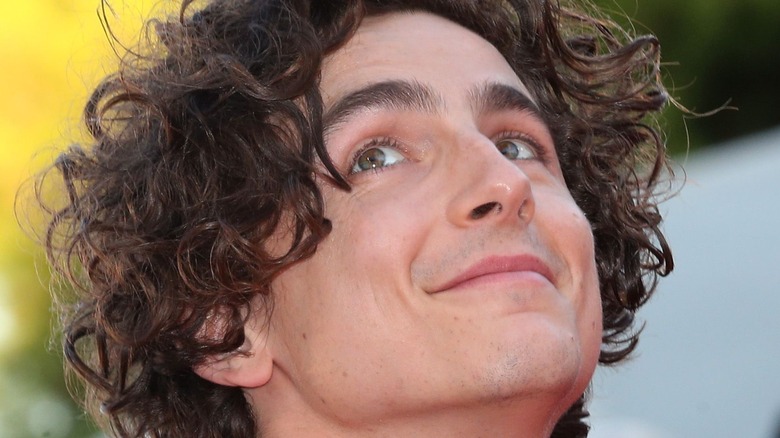 Elisabetta A. Villa/Getty Images
Timothée Chalamet is one of the top young actors in Hollywood. Chalamet's movie "Bones and All" got an almost nine-minute standing ovation at the Venice Film Festival, according to Variety. "Bones and All" brings the actor back with Luca Guadagnino, who directed him in 2017's "Call Me by Your Name," which earned Chalamet an Oscar nomination. Chalamet was only 22 when he got his Oscar nod, co-starring with Armie Hammer, who has been in the headlines for ... different reasons. Chalamet was only 22 when he got his Oscar nod, becoming the youngest actor to receive the nomination for best actor in 80 years, per Vox. Not bad for a guy who idolized LeBron James growing up.
While accepting an award in 2019 at the Palm Springs International Film Festival, Chalamet said he didn't always want to act. According to Page Six, Chalamet told the audience, "At first I wanted to be a professional athlete, think LeBron James and Lionel Messi. They inspired me with their invincibility; I looked in the mirror, and I humbly realized I'd never be an athlete for many reasons," as the crowd chuckled. "Freakishly small frame," the young actor joked, "but more importantly, my very glaring lack of athletic talent." Chalamet's self-deprecating humor and modesty are reasons fans adore him, but there's one skill the actor learned by studying James.
Timothée Chalamet studied LeBron James in interviews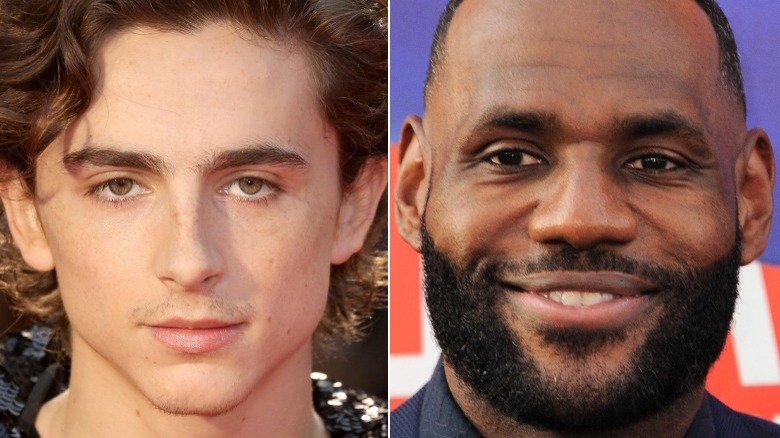 Tinseltown & Cubankite/Shutterstock
Timothée Chalamet confessed to Vulture that he watched interviews of LeBron James and Jennifer Lawrence to prepare for his first press tour. Chalamet said, "When I go back and watch [Jennifer's] early press kits, or even LeBron's, I'm so impressed because they were so poised and well-spoken."
James is considered by many to be one of the greatest basketball players ever, but the Lakers star is also extremely media savvy. ESPN's Brian Windhorst told The Ringer, "When you get those golden moments, he is the most engaging interview subject you could ever find in the sports world." ESPN's Dave McMenamin, a reporter that James has known for years, told The Ringer his chats with the NBA great are about more than just basketball. "We've literally had conversations on, 'Do you believe in fate?'" McMenamin explained. "How often does that occur on the NBA beat?" Like the NBA star, the young actor keeps it real, too. During the 2018 Oscars, the young actor admitted he was starstruck by all the A-listers in attendance. He told ABC 7, "I'm not embarrassed by that ... I really am a fan first and foremost."
Indeed, it appears the "Call Me By Your Name" star's studies have paid off. During a 2019 appearance on "The Tonight Show," Jimmy Fallon told Chalemet, "You've got such a great energy." The actor appeared relaxed and conversational despite telling the host he was nervous he may be "coming off weird." However, Fallon assured him, "You're coming off totally normal and fun."
Timothée and LeBron give their opinions on society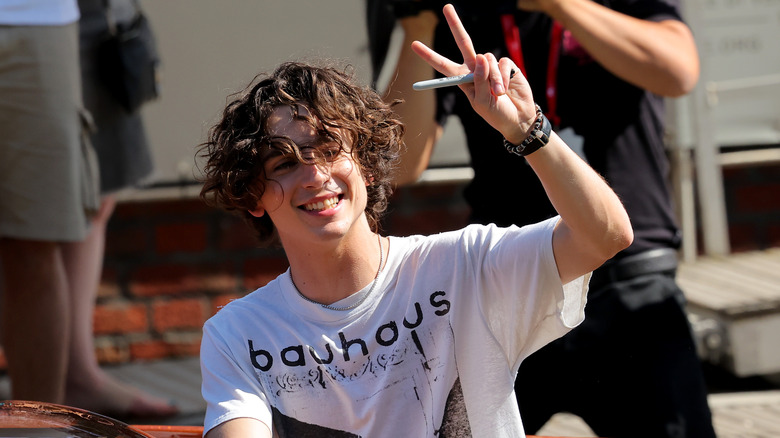 Jacopo Raule/Getty Images
Just like LeBron James, the press pays attention to Timothée Chalamet's opinions on topics outside of his profession. While promoting "Bones and All" on September 2, Chalamet had some deep thoughts about social media's negative impact. The actor blasted social media in the press conference for the film set in the 1980s, according to E! News. Chalamet said, "I can't imagine what it is to grow up without the onslaught of social media, and it was a relief to play characters who are wrestling with an internal dilemma absent the ability to go on Reddit, or Twitter, Instagram or TikTok and figure out where they fit in." The "Bones and All" star added, "To be young now ... I can only speak for my generation — is to be intensely judged." Chalamet went even darker, saying, "I think societal collapse is in the air — or it smells like it." 
James has spoken his mind on larger societal topics as well. After the January 6 insurrection at the U.S. Capitol in 2021, James ripped then-President Donald Trump for his actions. According to the Los Angeles Times, James said, "The events that took place yesterday [were] a direct correlation, the president that's in the seat right now, of his actions, his beliefs, his wishes." The NBA star didn't stop, saying, "He cares about nobody besides himself ... He doesn't care about this country."