RHONJ's Caroline Manzo Is Crystal Clear About Where She Stands With Teresa Giudice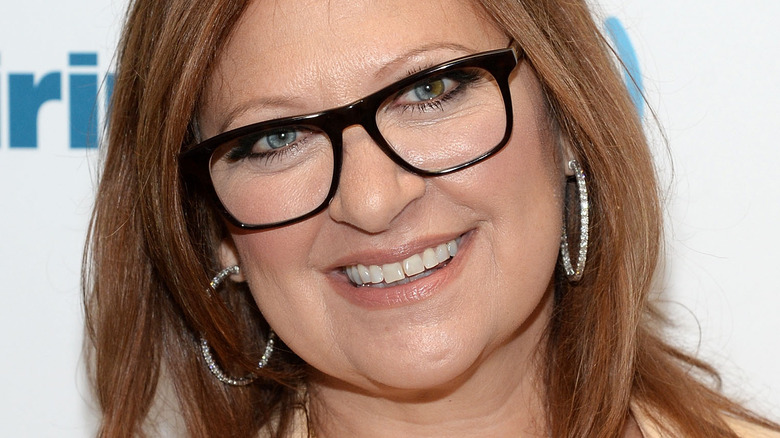 Ben Gabbe/Getty Images
Teresa Giudice loves her some big hair and bling, and she always speaks-slash-screams whatever's on her mind. She never backs away from a fight and professes that family is everything to her. So, it was kind of shocking that her brother and sister-in-law, Joe and Melissa Gorga, bailed on Giudice's wedding. However, given her love of brawling, the feud between Giudice and Caroline Manzo wasn't surprising. They'd started "Real Housewives of New Jersey" as friends but turned into enemies when Manzo attempted to play peacemaker between Giudice and everybody else.
"Do not bring up my family! You f***ing b***h!" Giudice screamed in Danielle Staub's face during the Season 2 Reunion show. Giudice rugby tackled Andy Cohen after he tried stepping in. "You piece of s**t, you f**king b**ch," Giudice continued screaming as Staub walked off-set. Manzo attempted to calm Giudice down, but the F and B bombs kept exploding.
Finally sick of all the drama and histrionics, Manzo left "The Real Housewives of New Jersey" after Season 5. Although there was no "final straw," she admitted that Giudice's behavior played a large part in her decision to quit. "The burden became too heavy in my personal life," she told "Life After Bravo." Cue multiple clips of Giudice screaming at Manzo. "It's about your moral compass. It's about how you live your life," she said. Melissa recently told People that she and Joe are "done" with Giudice's never-ending drama. And Manzo's also crystal clear about where she stands with Giudice.
Caroline Manzo is definitely not Teresa Giudice's biggest fan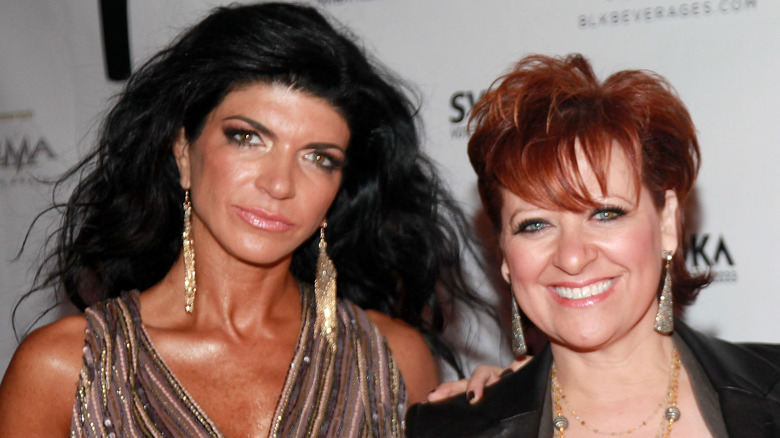 Astrid Stawiarz/Getty Images
Caroline Manzo and Teresa Giudice continually butted heads during Manzo's last two seasons on "Real Housewives of New Jersey." The women even got into an epic fight over shoes during a Napa vacay. "You're lying to my face right now," Manzo told Giudice. "You are a disgrace." During an interview at BravoCon 2022, Manzo was asked how it was with Giudice these days. "[Our relationship is] fantastic, thanks for asking; so great," Manzo replied, her voice dripping with sarcasm.
Despite Giudice regularly attacking Manzo and her children, the former reality star said after they were asked to film a Super Bowl commercial together, she'd reached out with an olive branch. However, Giudice snapped it in half and threw it on the floor. "They ask you to film a Super Bowl commercial together; you do it," Manzo said. Not Giudice, though. At least initially, as she really knows how to hold a grudge.
Manzo shared that Giudice refused her dinner invitation to clear the air. She also refused to film the ad because Manzo had been friendly with Kathy Wilkie and Melissa Gorga during "RHONJ" filming. "I really, truly, wanted us to put our best foot forward for ourselves as human beings, and women, let's try and get past things," Manzo shared. "I mean, who can say they did [a Super Bowl ad]?" Per Bravo, Giudice eventually caved, although Manzo admitted to Andy Cohen she did it purely "for the money."