The View Co-Hosts Deem Andy Cohen Biased Over Handling Of Jen Shah's Legal Woes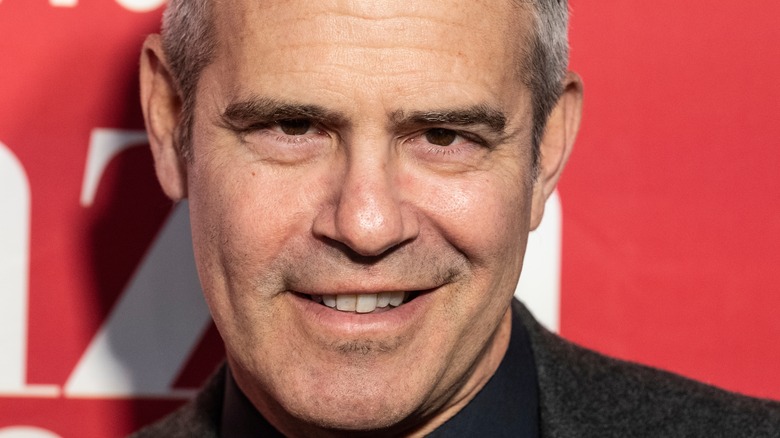 lev radin/Shutterstock
The co-hosts of the ABC talk show "The View" have made their thoughts on Bravo host Andy Cohen's treatment of "The Real Housewives of Salt Lake City" star Jen Shah crystal clear (per Twitter). The input from "The View" follows Cohen's comments during BravoCon 2022 that suggest Shah could be leaving the reality series due to her legal difficulties (via Page Six). In July 2022, Shah pleaded guilty to conspiracy to commit wire fraud in relation to a telemarketing scam, according to the Page Six report.
Shah isn't the first star from a "Real Housewives" series to run into legal trouble while still on television, as the co-hosts of "The View" keenly pointed out. Others, such as Teresa Giudice and Erika Jayne, have faced similar controversies. Jayne has been caught up in legal issues surrounding her husband Tom Girardi's alleged embezzlement (via BuzzFeed News), while Giudice served a prison sentence on fraud charges in 2015 (via Today).
Now, the women of "The View" have some choice words for Cohen, who is seemingly showing his bias over Shah's legal woes.
The hosts of 'The View' feel Jen Shah is being treated unfairly
In response to Andy Cohen's comments at BravoCon 2022, "The View" co-hosts discussed whether Cohen was right to imply that Jen Shah will not return to "The Real Housewives of Salt Lake City" (via Twitter). Whoopi Goldberg noted in the clip that "Teresa Giudice served 11 months in prison for this but they didn't cut her off, is that indicative of a double standard?" Goldberg's co-hosts agreed, with Sunny Hostin mentioning that, although she doesn't watch any of the "Real Housewives" series, "There seems to be a lot of criminality going on."
After Joy Behar commented that Teresa Giudice came out of prison "looking like Gina Lollobrigida," Alyssa Farah Griffin called out Andy Cohen's inconsistency in his treatment of the "Real Housewives" stars. Griffin went into greater detail about Giudice and Erika Jayne's respective troubles and said, "I tend to think Andy is right with this to be like until you get this figured out we're separating. But they've got to be a little more consistent."
Behar additionally noted that the hosts of "The View" had previously joked about a "Real Housewives of Leavenworth" series, referring to the United States Penitentiary, Leavenworth, a medium-security prison for male inmates (per Federal Bureau of Prisons).