Charlie Woods Hit A Major Career Milestone While Playing With His Dad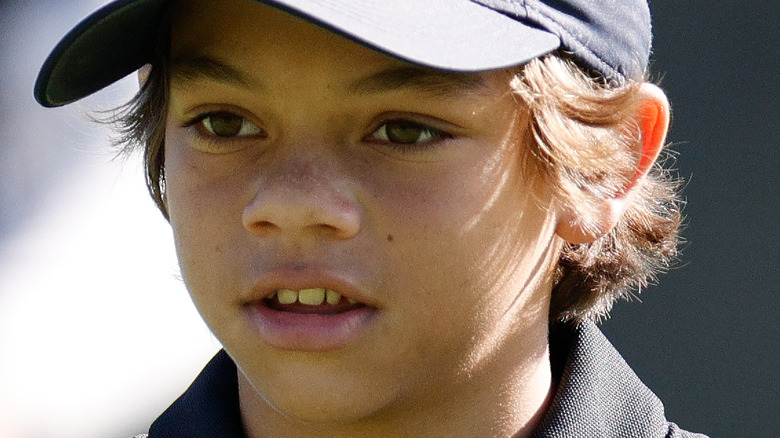 Douglas P. Defelice/Getty Images
Charlie Woods is certainly following in his dad's footsteps. The world first met golf legend Tiger Woods when he appeared on "The Mike Douglas Show" back in 1978, per Golf.com. At age 2, Tiger was already a golf prodigy and hit the balls on the driving range with the same power as an adult.
Of course, we know that Tiger went on to have a historic career in golf and also build a family. Tiger and ex-wife Elin Nordegren welcomed their daughter, Sam, in 2007 and son, Charlie, in 2009, per People. It's no surprise that Tiger's children were interested in sports, but it was Charlie who would go on to pick up the golf clubs. When Charlie was 4, Tiger told SBNation that his son "just emulates what [he does]" when he went out to practice his swings.
And it looks like Charlie has been practicing hard since then because he achieved an impressive feat in the golfing world while playing with his dad.
Charlie Woods shot his first eagle with Tiger by his side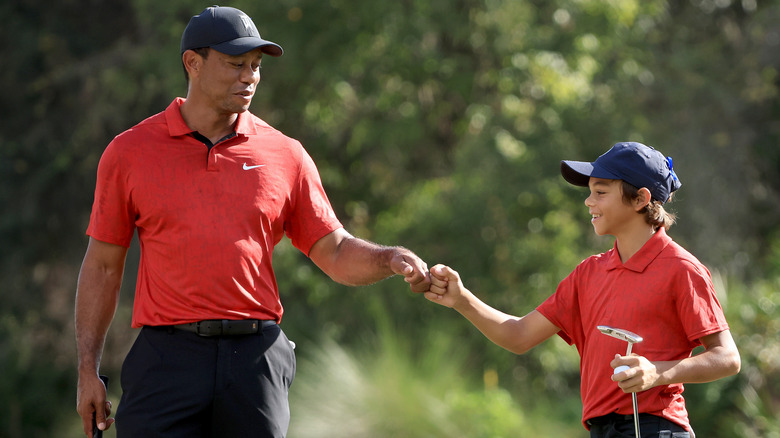 Sam Greenwood/Getty Images
At 11 years old, Charlie Woods began competing in world golf competitions alongside his father. Charlie's first world tournament was the annual father-son PNC Tournament in 2020 at the request of Charlie himself, per Golf.com. Not only was he the youngest golfer there, but Charlie outperformed the rest of the competition at one particular hole.
After teeing off, Charlie hit the ball more than 175 yards away, and it landed just 4 feet away from the hole. The young golfer flawlessly sank the third and final shot, making it his first-ever eagle. "Your first eagle!" Tiger gushed as he hugged his son. According to the competition, Charlie was the only competitor to earn an eagle on that course.
"I remember [making my first eagle] with my dad," Tiger reminisced. "I was about 11 years old — same with [Charlie] — and it was the most perfect moment." A touching full-circle moment for Tiger and his son.
Charlie's making waves in the golf world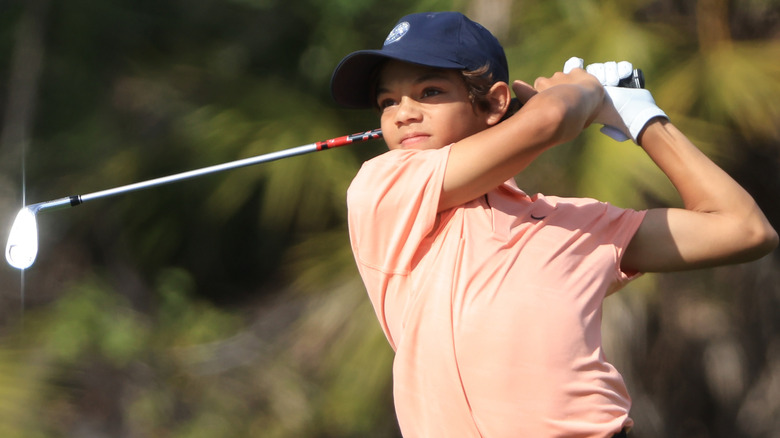 Sam Greenwood/Getty Images
As with his dad Tiger Woods, all eyes have been on Charlie Woods as he navigates his way through the competitive golf world. In September 2022, Charlie competed in a qualifying competition for the Notah Begay III Junior Golf National Championship — and he made headlines when he brought his famous father along as his golf caddy, per Golf.com. That's right, Tiger Woods was right by his son's side, driving the golf cart and offering sound advice. The advice must have helped because Charlie finished the tournament with a career-low record.
"Well, Dad told me to stay patient," Charlie explained to Golf.com. "Just play steady golf. Just stay patient, play, focus on each shot, don't look too far ahead. Stay in the game."
After the tournament, golf fans watching on social media quickly noticed that Charlie is well on his way to moving from the junior level to the big leagues, per Golf WRX. "Charlie Woods keeps getting purer," one sports reporter wrote on Twitter. "I mean, this is a PGA Tour quality swing." Of course, having the Woods name must come with pressure to succeed in golf, but Charlie has continued to exceed expectations.