Whoopi Goldberg Slams Meghan Markle For Shading Past Deal Or No Deal Gig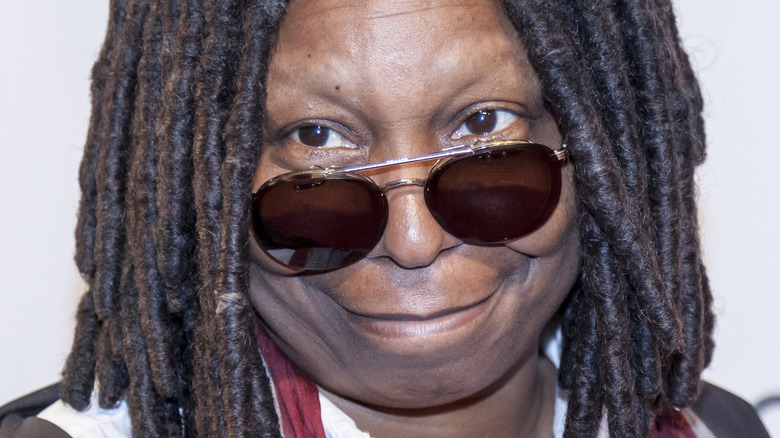 Sam Aronov/Shutterstock
Everyone knows the co-hosts on "The View" love to make their opinions known, so it might not come as a shock that co-host Whoopi Goldberg has something to say about Meghan Markle's comments regarding her time as a model on the game show "Deal or No Deal." Meghan, who is a former actor, addressed her previous work on "Deal or No Deal" during the October 18 episode of her podcast, "Archetypes." On the podcast, Meghan explained, "I ended up quitting the show. I was so much more than what was being objectified on the stage. I didn't like feeling forced to be all looks and little substance, and that's how it felt for me at the time being reduced to this specific archetype: the word 'bimbo.'"
In a clip from "The View" posted to the show's Twitter account, Goldberg took issue with what Meghan had to say about "Deal or No Deal." Previously, Goldberg has seemingly supported Meghan, even cutting short former co-host Meghan McCain's comments about Meghan and Oprah Winfrey on a previous episode of "The View" (per Express). But this time, Goldberg's speaking out herself.
Whoopi Goldberg disregarded Meghan Markle's comments on objectification
On "The View," Whoopi Goldberg noted that objectification should not have been an issue for Meghan Markle on "Deal or No Deal." "I don't know that the people who are sitting there are thinking about you like that, they're thinking, 'I want the money, let me have it,'" she said, in reference to the show's prizes (via Twitter).
To further explain her point, Goldberg brought up "Wheel of Fortune" host Vanna White. "Because Vanna White is always something interesting and beautiful, and she's been doing this, and the objectification might be coming from you and how you felt about how these women were being portrayed." She added that Meghan was then an actor and "Deal or No Deal" was likely just one opportunity on the path to her next role.
Likewise, co-host Sara Haines raised comments made by "The Real Housewives of Atlanta" alum Claudia Jordan, also a former "Deal or No Deal" model. Said Jordan on Instagram Stories (via Deadline), "For clarity — yes getting a modeling gig on a game show isn't necessarily about your intellect but every show the executive producers picked five models with the most outgoing and fun personalities to place mics on who they knew would engage with the contestants. And Deal or No Deal never treated us like bimbos. We got so many opportunities because of that show."