Sister Wives Star Christine Brown's Love Life Spices Up After Kody Brown Split
One thing's for sure — there is never a lack of drama on the hit TLC hit show "Sister Wives." According to IMDb, the show has been on the air since 2010, and we have seen the Brown clan move from Utah to Las Vegas, and currently Flagstaff, Arizona where they plan to build homes on their Coyote Pass property. Since moving to Arizona, a lot has changed in the family, including Christine and Kody Brown's relationship.
Fans have seen the pair go through ups and downs over the years, but in November of 2021, Christine made the decision to leave Kody. The reality star shared the news with fans on Instagram, stating that after 25 years together, she came to the "difficult decision" to leave Kody. She added, "We will continue to be a strong presence in each other's lives as we parent our beautiful children and support our wonderful family." In turn, Kody released his own Instagram statement, writing that "Christine's decision to leave comes with a great deal of sadness." He also said that he had "a large amount of respect and admiration for her."
Many aspects of the split played out on the TLC series, including when Christine told her sister wives, Robyn Brown, Janelle Brown, and Meri Brown, that she decided to leave Kody and move to Utah to be closer to some of her children. But with a new life in Utah, could there be a new man? Christine is spilling the deets.
Christine Brown is ready to get her feet wet in the dating pool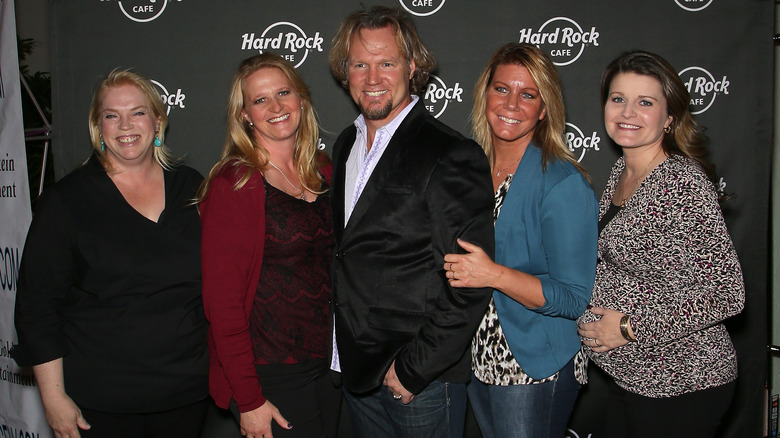 Gabe Ginsberg/Getty Images
Now that "Sister Wives" star Christine Brown is single, she's kinda ready to mingle. The reality star spoke with Entertainment Tonight on October 19 and shared a glimpse into what her life is like now that she's no longer an official sister-wife. "I'm single now, right? So I kind of just decide what I want to do and then do it. It's been just very, very simple," she told the outlet of her smooth transition into solo life. "Everything's just a lot easier as far as just planning and day-to-day life."
While Christine says that she isn't looking for anything super serious at this time, she's still getting her feet wet and dabbling. "Not romantic yet, that's jumping way too fast, but dating for sure," she revealed. "I'm dating just for fun, just keeping everything super light because that's just who I am right now," the star added. She also shared that she would continue filming "Sister Wives" as long as the show was on, so perhaps at some point down the road, viewers will get to see one of the dates play out on-air?
Luckily, Christine has been keeping fans updated on her life in Utah post-split from Kody Brown, and she still seems to spend a lot of time with Janelle Brown. On September 9, she shared a photo of herself and Janelle enjoying a hike outdoors and the two appeared to be incredibly happy.