Sister Wives' Christine Brown Is Distancing Herself From Kody Even More
There has been a lot of drama between "Sister Wives" star Kody Brown and his former sister wife, Christine Brown. According to IMDb, the hit show has been on the air since 2010, and fans have watched plenty of drama pan out between Kody and his four wives on the TLC series. From moving from Utah to Las Vegas and then Las Vegas to Flagstaff, Arizona, fans have been there for plenty of Brown family moves as well as several other milestones — some good and others not so good. 
In November 2021, Christine Brown announced she was leaving Kody after being unhappy for quite some time. "After more than 25 years together, Kody and I have grown apart, and I have made the difficult decision to leave," Christine wrote on Instagram. "We will continue to be a strong presence in each other's lives as we parent our beautiful children and support our wonderful family," she added as she asked fans for "grace and kindness" during this new phase in their lives.
Shortly after Christine made the initial post on social media, Kody followed up with a post of his own that explained the way he felt about Christine leaving him. "Christine's decision to leave comes with a great deal of sadness," he wrote on Instagram. "We enjoyed many years together, and I have a large amount of respect and admiration for her." He also shared that the pair would remain "committed parents" to their six children. Now, Christine is distancing herself even more. 
Christine Brown sells Kody her Coyote Pass land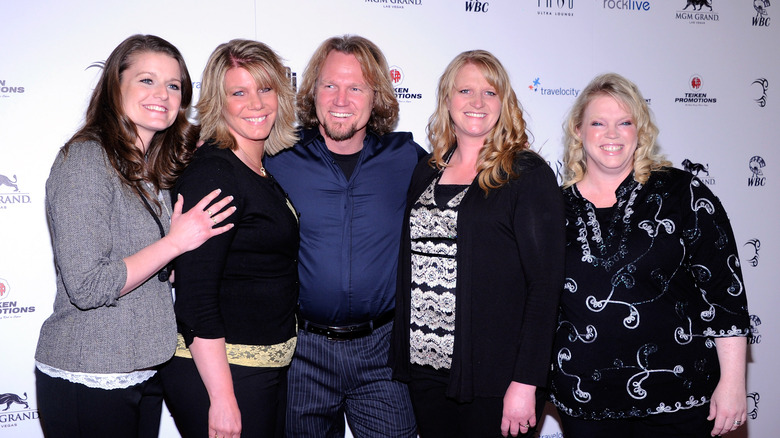 Ethan Miller/Getty Images
Christine Brown is on the outs with Kody Brown, and it seems like with time, she's getting further and further away from her ex. Viewers have watched Kody's vision for his Coyote Pass property, and before she left Cody, Christine had her own little plot of land on the property where her future home potentially would go. However, seeing as she moved back to Utah (per Us Weekly), Christine has no need for the property — so she sold it.
Us Weekly reported that Christine sold Kody and his fourth wife, Robyn Brown, her plot of land for a mere $10. We're no real estate agents, but it seems like Kody got a pretty sweet deal. "For the consideration of Ten Dollars, and other valuable consideration, I or we, Kody Winn Brown and Robyn Alice Brown, husband and wife and Christine R. Brown, a single woman do/does hereby convey to Kody Winn Brown and Robyn Alice Brown, husband and wife the following real property situated in Coconino County, Arizona," the warranty deed reads. The outlet also shared that Christine's portion of land is valued at $213,420. So yeah, Kody and Robyn did score big time.
According to The World News Daily, Kody and his four wives initially plopped down $820,000 for the four plots of land on which they planned to build houses. Since purchasing it, the outlet shares that the property value has increased to $1.1 million in 18 months. Seems like a pretty good investment.