What's The Real Meaning Of Mastermind By Taylor Swift? Here's What We Think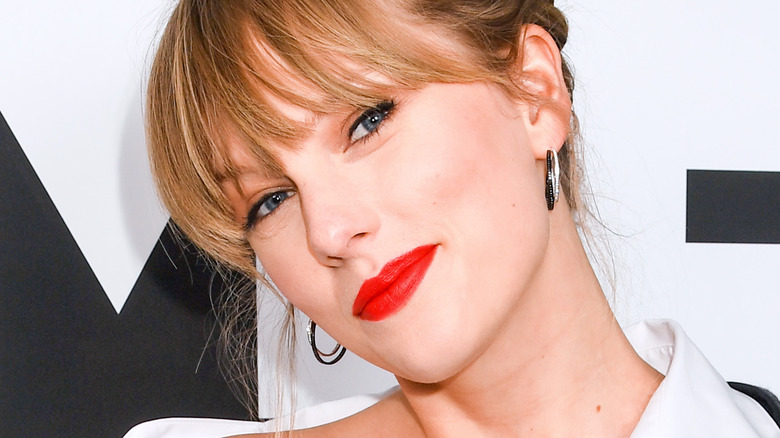 Dave J Hogan/Getty Images
Given just how excited Swifties have been for Taylor Swift's newest album launch, there can be no doubt that this songstress is a visionary in terms of keeping her fans at the edge of their seats. It only makes sense, then, that "Mastermind" is one of the tracks on "Midnights" ... but what is the song really about?
A quick refresher on "Mastermind." Back in September, Swift premiered her TikTok series, "Midnights Mayhem." Each episode unveiled a song on the "Midnights" track list, by way of a "Technologically advanced device, to help me allow fate to decide exactly what track titles I'm going to be announcing, and in what order." Said device was a cage bearing ping pong balls — and in the series' first installment, she was issued ball 13. That prompted the singer to pick up a red telephone, before revealing the corresponding song title as, "Mastermind." Naturally, the video sparked a ton of debates in the comment section. One questioned if every ball in the cage was 13 — surely not much of a stretch for a true, well, mastermind. Others were more focused on the use of a telephone, though interpretations varied. 
"Midnights" promises to be Swift's most personal album yet, so there's no denying that whatever Swift was getting at in that very first "Midnights Mayhem" episode meant something ... but what was it? 
Taylor Swift is a mastermind -- and Joe Alwyn knew it all along
Dia Dipasupil/Getty Images
"Mastermind" tells the story of Swift's first meeting with her actor boyfriend, Joe Alwyn — but this is far from a 'meet-cute!' On the contrary, Swift sings that every detail of that first meeting was planned, masterminded by the star — though the song begins with a playful hint at her "Midnights Mayhem" commentary on "fate." She sings, "Once upon a time, the planets and the fates and all the stars aligned." However, that's quickly followed up with, "What if I told you none of it was accidental / And the first night that you saw me nothing was gonna stop me ... What if I told you I'm a mastermind?" 
That said, just as some Swifties caught on to her wily ways on TikTok, it seems Alwyn had an idea of what was going on, too. Later on in the song, she shares that in the real conversation she had with Alwyn over that first (not-so-fateful) meeting, that he was well aware of her plans, all along. "I saw a wide smirk on your face / You knew the entire time / You knew that I'm a mastermind," she sings. Swift is a mastermind, alright — and everyone knows it! 
Jokes aside, the song takes a darker turn when Swift sings, "No one wanted to play with me as a little kid / So I've been scheming like a criminal ever since / To make them love me and make it seem effortless / Is this the first time I feel the need to confess?" It seems Swift is suggesting her pointed actions have a complex and painful origin — giving her more depth than ever before.