Who Is Teddi Mellencamp's Husband, Edwin Arroyave?
David Becker/Getty Images
Teddi Mellencamp has been a staple of the Bravo family on "The Real Housewives of Beverly Hills." Through this, we've come to know and love the fitness instructor and get an inside scoop on her life. She often shares what her relationship with her famous father, singer-songwriter John Mellencamp, is like. She's also opened up about fun, low-stakes things, like admitting that she got a neck lift, after fans noticed that her look had changed.
"I am being transparent with my journey," Mellencamp explained, according to the Daily Mail. "Would you prefer I lie and pretend the loose skin on my neck disappeared? That's not who I am. You want to only follow people that show themselves through a filtered version of themselves then I am not the person to follow." But she's also shared more serious updates, after being diagnosed with stage 2 melanoma. "[T]his is a reminder to please go get your yearly skin checks," she wrote on Instagram. "I had been avoiding mine bc of my own anxiety for a very long time." She added that it was co-star Kyle Richards who took her to the doctor. Talk about a friend in need! "I find strength in being honest with you all and hope this helps others," she added. While Mellencamp is such a famous face, she's also happily married to Edwin Arroyave and there's so much to know about her hubby.
Edwin Arroyave is all about envisioning his dreams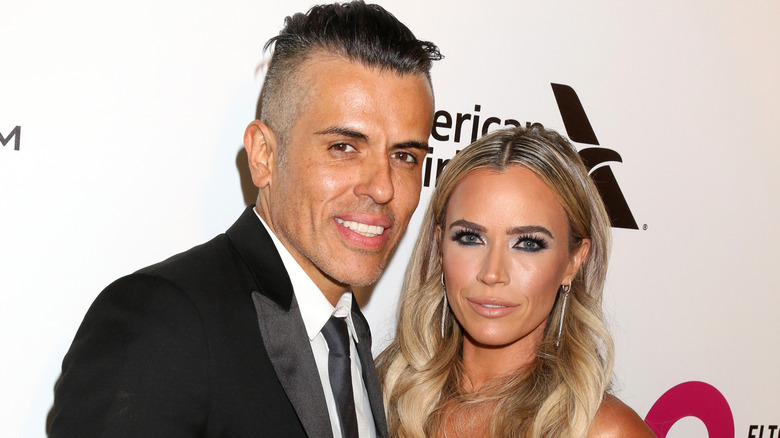 Kathy Hutchins/Shutterstock
Edwin Arroyave moved to Los Angeles from Colombia when he was a child, according to his official website, and the experience was a challenging one as he ended up taking care of his family. "We ended up losing everything, so much so that at fifteen years old I had to become the man of the house, take care of the family, and take over all the bills," Arroyave told Skyline. He found a job at a call center, something he felt deeply unqualified for since he was so shy; but at 18, Arroyave became the company's youngest manager. "I knew that I could prepare like no one else and I could outwork everyone, and if I did those two things I would at least have a shot." He eventually became the founder and CEO of Skyline Security Management, a dealer for Brink's Home Security.
Arroyave has always been about vision and manifesting. "I knew I was a big dreamer," he went on. "I was the kid who would ditch high school to go to Rodeo Drive to window shop, and from there, I'd go to Hollywood Hills and Beverly Hills, and I'd spend hours there looking at homes and saying 'one day I'm going to be here.'" He wasn't wrong about his vision. People reported in September 2020 that he and wife Teddi Mellencamp bought a $6.5 million dollar home in Encino, Los Angeles, so dreams really do come true.
Inside Edwin Arroyave's relationship with his wife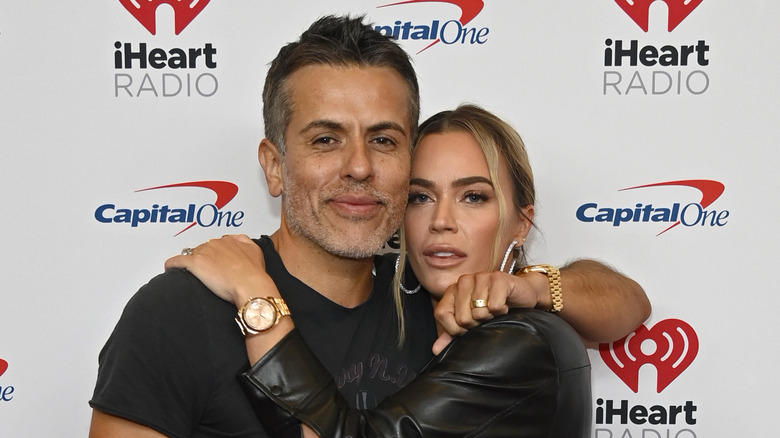 David Becker/Getty Images
It was a while before fans found out how Edwin Arroyave met Teddi Mellencamp. It was actually during an episode of "The Real Housewives of Beverly Hills" in Season 8 that Mellencamp explained what happened. "I could try to sugarcoat it," she said, according to Romper, "But it was a one-night stand." It got even better. "It was supposed to be a one-night stand! I woke up with some guy I thought's name was Edward," she continued. "His name is Edwin!"
The two got married in Paris in 2011, according to The Sun, and went on to welcome three children: Dove, Cruz, and Slate. Arroyave also has a daughter from a previous relationship, Isabella, and she and Mellencamp are incredibly close. "From the moment your daddy introduced me to you I knew my life was forever changed in a way I could have never imagined," Mellencamp wrote on Instagram in November 2018 for Isabella's tenth birthday. "I am so grateful to have gotten to know and grow with you. You are smart, kind, beautiful and talented."
For their 11th wedding anniversary, Arroyave got mushy on Instagram and posted a beautiful throwback to their Parisian wedding. "I love how much fun we have and how we push each other to become better," he wrote to Mellencamp on July 4, 2022. "When I do my gratitude list you are always top of the list because without you and god this life we have wouldn't be possible."