What Kelly Rizzo Has Been Doing Since Bob Saget's Death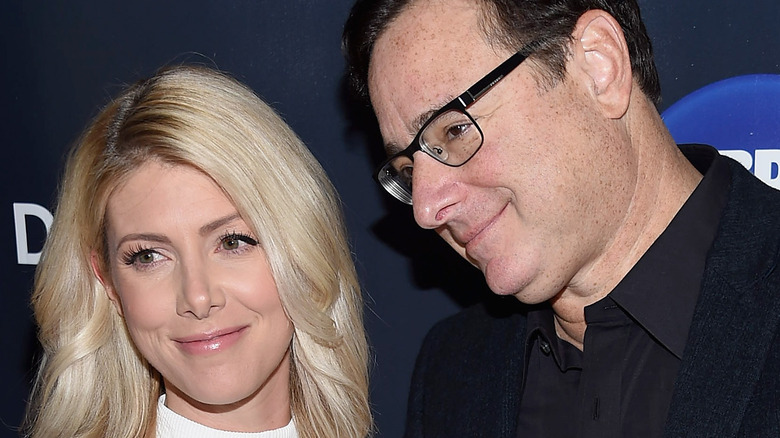 Dimitrios Kambouris/Getty Images
There's no overstating how gutted everyone was upon finding out about the sudden death of comedian Bob Saget. The universally-loved "Full House" star died in January, with authorities reporting that it was due to head trauma, according to E! News. He was found unresponsive in his Ritz-Carlton hotel room in Orlando following his show at Ponte Vedra Beach, Florida, as part of his comedy tour.
There was an overwhelming outpour of support and tributes to Saget after news of his death spread. His family and friends, peers in the industry, and legions of fans around the world expressed their love for the actor, but perhaps no tribute was more heart-wrenching than that of his widow, Kelly Rizzo.
"My whole heart. Bob was my absolute everything," she said in a statement, per People. "I am so completely shattered and in disbelief. I am so deeply touched by the outpouring of love and tribute from our friends, family, his fans and his peers." The travel blogger added that "when the time is right and when this news is not as raw, I look forward to sharing more of Bob with the world." And that she did. And while she's still in the process of grieving, Rizzo is also making deliberate steps to heal.
Kelly Rizzo moved out of the home she shared with Bob Saget
In June, Kelly Rizzo listed the home she shared with Bob Saget for $7.765 million, per TMZ. Saget reportedly lived in it since 2003 after buying it for $2.895 million, so Rizzo could effectively make an additional $5 million when it sells. However, People reported that it received a $770,000 price cut in September. 
According to a source close to Rizzo, the "Eat Travel Rock" host made the decision to put the house up for sale, as it was hindering her ability to move on. "Kelly is in the process of putting their family home up for sale," they told Us Weekly. "While there are many happy memories they shared together with his family, it has become too much of a burden on her to keep the house."
But Rizzo herself also admitted that she brought a lot of Saget's things into her new home. In an interview with Extra, she shared how her new house is almost like a "Saget museum." She said of the move, "It's a fresh start, but yet I brought so much of his stuff and I, like, curated all of Bob's stuff, so there's so much of him all over the house, but it kind of gives it a happy sense." She said the same thing in a Q&A on Instagram, pointing out how surrounding herself with her late husband's belongings is "therapeutic" and "comforting" (via Yahoo! Entertainment).
Kelly Rizzo's grief is 'ever changing'
There's no one way of dealing with the loss of a loved one, and in Kelly Rizzo's case, her grief "ebbs and flows."
"You can think you're doing better one moment, and then all of a sudden, you have a week where it just comes crashing down on you and it surprises the hell out of you," she told E! News in September. "You're like 'Whoa, I thought it was doing better. Where did that come from?'" She said that her grief is "ever changing," but she's trying to move past it by "choosing to be happy" and "choosing gratitude." She has learned that instead of feeling sad that she's no longer with Bob Saget, it's better to be thankful for the times they shared instead.
And true to her word, Rizzo continues to share lovely memories of Saget via social media. "Nine months without him. It feels like forever and also one day all at the same time," one of her posts read. "I love looking back on these videos to see how much joy and silliness and fun and love we shared. The pain and grief ebbs and flows and I still have some days that just suck and there are days that are lighter now too. But every day there is a palpable hole where he used to be." And while she's accepted that he's gone, Rizzo said that all the "residual love and laughter" makes her feel like Saget is still so "near and present," as if he's never left at all.