What We Know About Tua Tagovailoa's Wife, Annah Gore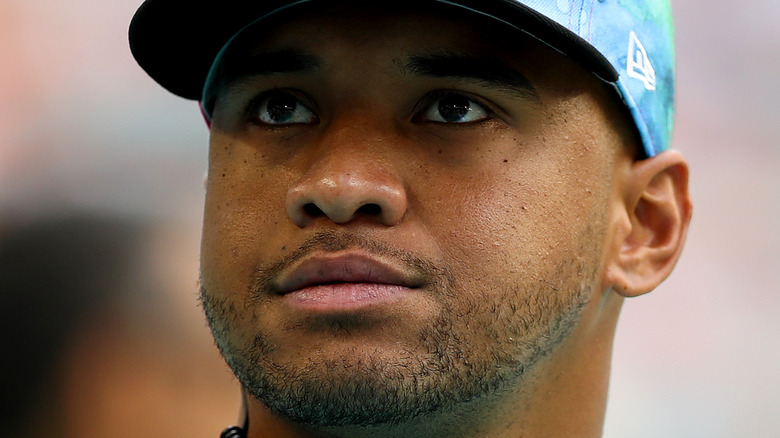 Megan Briggs/Getty Images
All eyes are on Tua Tagovailoa right now. The Miami Dolphins quarterback is the name on everyone's lips after their pretty impressive stint (and a scary injury) during the 2022/23 season, including beating the Pittsburgh Steelers on October 23 in a game where Tua managed not to throw any interceptions. But, naturally, with more good games down and more eyes on you comes more interest in your personal life — just ask Tom Brady!
That means fans have been delving a little deeper into what the NFL quarterback gets up to in his time away from the field, including his romance with his wife, Annah Tagovailoa (née Gore). It turns out the athlete married Gore in July, with Fox Sports' Andy Slater confirming the news on Twitter the following month – much to Tua's confusion. "He must've been waiting outside the courthouse for an entire week," Tua joked during a Miami Dolphins press conference in August, revealing he has no interest in being in the tabloids. "For me, I love to keep my life as private as possible, and that's what we tried to do with me and my wife. Obviously in this world that's not how it is," he said.
But just who is the mysterious Annah? Well, it looks like she certainly shares Tua views on privacy.
Annah Tagovailoa values her privacy like her husband
Just like her husband, Tua Tagovailoa, Annah Tagovailoa appears to like going under the radar when it comes to the spotlight. The football star doesn't appear to have shared a public photo of himself and his love on Instagram grid, while, although she does have an Instagram account (where she uses her married name), she keeps it locked on private mode. Because of their obvious penchant for privacy, photos of the twosome together are thin on the ground, though Annah does use a snap of herself for her Instagram profile photo.
She also sadly appears to be going through a difficult time with her family. Annah's Instagram bio features a link for a GoFundMe page which is raising funds for Brittney Tiller, who appears to be Annah's cousin. Tiller, a pre-k teacher, has been diagnosed with breast cancer, and the fundraiser to pay for her treatment appears to have been set up by Annah's sister, Grace Gore. The family have so far raised more than $21,500 for Tiller, with over $11,000 coming from Annah's fundraising efforts.
Annah Tagovailoa is a football fan
Annah Tagovailoa doesn't give too much more away about her life on her Facebook page, either. Tua Tagovailoa's wife has her profile set to private, but does have a few snaps available to look at on her page, including a gorgeous professional photo from 2016 which appeared to be taken as part of a photo shoot. No doubting Annah would make a gorgeous model!
We do know from her page though that she's originally from High Point, North Carolina, but now lives in Richmond, Virginia. In terms of her family life, she has two brothers, Garrison Gore, Ayden Gore, and two sisters, Ally Plumb and Grace Gore, who now appears to go by her married name of Grace Sinclair. Though Annah doesn't appear to have shared any public photos with Tua there either, we do know that she's clearly been a football fan for a while and is happy to support her man from the stands. In May 2018, she posted a snap with a friend for the sidelines of a game, wearing a University of Alabama jersey while likely supporting her then boyfriend. But while both Annah and Tua attended the same university, it's reportedly not actually where they met. According to Sportskeeda, they actually go even furhter back and are high school sweethearts. Adorable!