Why Taylor Swift And John Mayer Aren't On Good Terms Today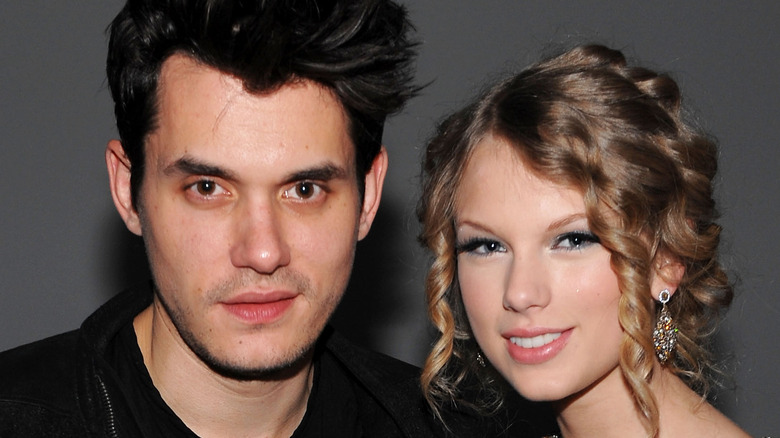 Dimitrios Kambouris/Getty Images
There are probably two main musicians that spring to mind when it comes to writing raw songs about their own relationships and experiences. Taylor Swift and John Mayer, right? Swift is known to put pen to paper to tell fans what's really going on behind the scenes in her life (just like the way she lifted the lid on her life with several songs on "Midnights") while Mayer is also pretty famous for immortalizing his own romances (with the likes of Katy Perry and Jessica Simpson, for example) in song. So, with such a penchant for writing about their own love experiences, Swift and Mayer seemed like they could have been a perfect match on paper. Only, it's safe to say this love connection didn't exactly blossom into a forever kind of thing.
As you may remember, these two first sparked romance rumors back in 2009 when they brought their musical genius' together to duet on Mayer's track, "Half of My Heart." It actually came about after Mayer tweeted Swift to tell her about the song, and she agreed to sing with him. "I freaked out when I heard, because I've been such a big fan of John for such a long time. I'm really excited about just the idea that he would even mention me in his Twitter!" Swift gushed in June 2009 to Elle (via Entertainment Weekly).
But, well, let's just say all that excitement about the "Gravity" hitmaker didn't exactly last long.
Taylor Swift slammed John Mayer on 'Dear John'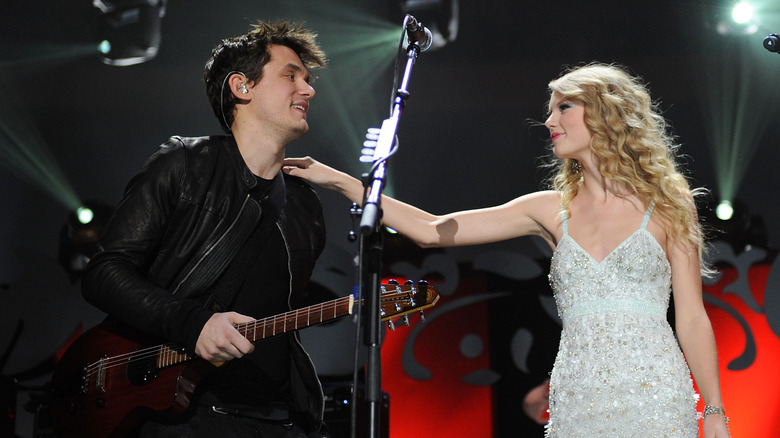 Bryan Bedder/Getty Images
It's thought Taylor Swift and John Mayer had a bit of a thing for a few months around the time of their collaboration, with things fizzling out around February 2010, according to Us Weekly. That's when Swift appeared to confirm something romantic went down, as she seemingly took some not so subtle aim at the musician via the track "Dear John." Of course, the title is pretty telling by itself, though she also croons on the lyrics, per AZ Lyrics, "Dear John, I see it all, now it was wrong/Don't you think 19 is too young to be played by your dark twisted games, when I loved you so?" That line seems to be referring to their around 13-year age gap, as they dated when she was 19 and he was 32.
Things then escalated into a bit of a war of words, with Mayer basically trashing the song in a 2012 interview with Rolling Stone. "I'm pretty good at taking accountability now, and I never did anything to deserve that. It was a really lousy thing for her to do," he said at the time. "I was really caught off-guard, and it really humiliated me at a time when I'd already been dressed down," he continued, claiming Swift didn't give him a heads-up before the song came out. "I will say as a songwriter that I think it's kind of cheap songwriting," he then added. Ouch.
Taylor Swift and John Mayer appeared to ignite their feud years later
For a while, it seemed like Taylor Swift and John Mayer were willing to let bygones be bygones as they moved on from their romance, but that changed a little when the latter hit the headlines in November 2021 for responding to a Swiftie (that's a Taylor Swift fan, of course) who sent him a death threat in a Twitter DM. But things still stayed pretty contained, as Mayer responded in a calm manner, per Us Weekly, and the fan then apologized.
But that wasn't the last time Swift and Mayer's names were in a headline together. October 2022 brought the release of the former's much anticipated album, "Midnights," on which some fans claimed she opted to slam her ex once again. Fans speculated the star was singing about Mayer on the "3 a.m. Edition" track, "Would've, Could've, Should've," as she shared her regret over a relationship she had with a seemingly older man when she was, you guessed it, 19 years old. "Give me back my girlhood, it was mine first," she sings on the track, per Genius, before noting, "And I damn sure would've never danced with the devil/At 19, and the God's honest truth is that the pain was heaven." Soon after the release, plenty of fans took to Twitter to speculate that the track was about Mayer, with the lyrics suggesting these two still aren't exactly friendly exes.