Khloe Kardashian Seemingly Denounces Kanye West's Antisemitic Comments
Enough is enough. On October 22, KTLA reported that a small group of people was seen displaying various antisemitic banners (including one that read "Kanye is right") on an overpass of the 405 Freeway in Los Angeles. "We cannot tolerate the Antisemitism that was on full display today on an LA Fwy. White Supremacy is a societal cancer that must be excised. This message is dangerous & cannot be normalized. I stand with the Jewish community in condemning this disgusting behavior," Los Angeles County District Attorney George Gascón later said in a statement via Twitter regarding the abhorrent display of prejudice and hostility on government property. 
As you may recall, this latest disturbing turn of events follows rapper and designer Kanye "Ye" West's since-deleted social media posts wherein he threatened to go "death con 3 on JEWISH PEOPLE" and even boasted on the "Drink Champs" podcast that his contract with brand partner Adidas was so solid that he "can say antisemitic things" without being dropped. "Are u aware that Kanye West started this....just sayin," one user tweeted in reply to Gascón's statement. Meanwhile, cookbook author and philanthropist Jessica Seinfeld took to her own Instagram in an effort to address the recent developments with a post that said, "If you don't know what to say, you can just say this in your feed" along with a graphic that read "I support my Jewish friends and the Jewish people."
But now Khloe Kardashian has seemingly entered the group chat...
Khloe Kardashian supports her Jewish friends and the Jewish people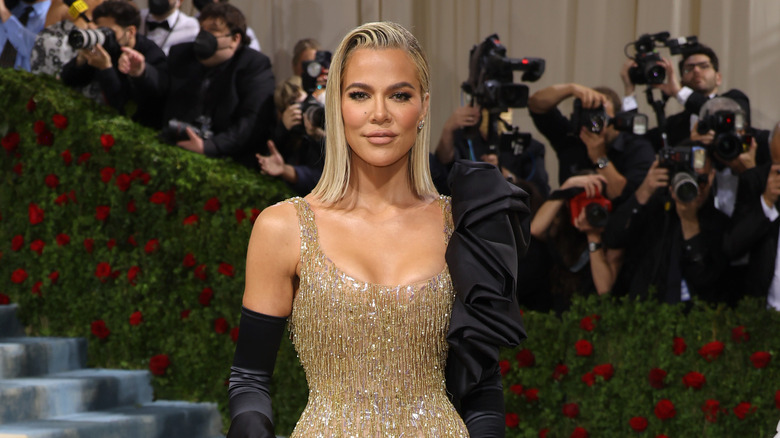 Mike Coppola/Getty Images
On October 23, Khloe Kardashian swiftly denounced the recent displays of hatred and bigotry aimed at those of Jewish faith and perhaps take a swipe at her own estranged brother-in-law Kanye West's part in all of it when she simply reposted Jessica Seinfeld's message that read, "I support my Jewish friends and the Jewish people," to her Instagram Story.
But make no mistake. This isn't the first time the "Good American" co-founder has seemingly gone toe-to-toe with West. Following another rant in which West claimed in a since-deleted Instagram post that he was deliberately kept from seeing his four children with Kim Kardashian and even excluded from one of their birthday parties, Khloe sent a clear message to West. "Ye, I love you. I don't want to do this on social media but YOU keep bringing it here. You are the father of my nieces and nephews and I'm trying to be respectful but please STOP tearing Kimberly down and using our family when you want to deflect," she penned in part per People. "You know exactly where your children are at all times and YOU wanted separate birthdays. I have seen all of the texts to prove it," she continued. "Please Leave her and the family out of it so that the kids can be raised peacefully. I come from a place of love and I am happy to continue this conversation privately if you wish," she concluded.