A Look Inside Shiloh Jolie-Pitt's Relationship With Her Sister Zahara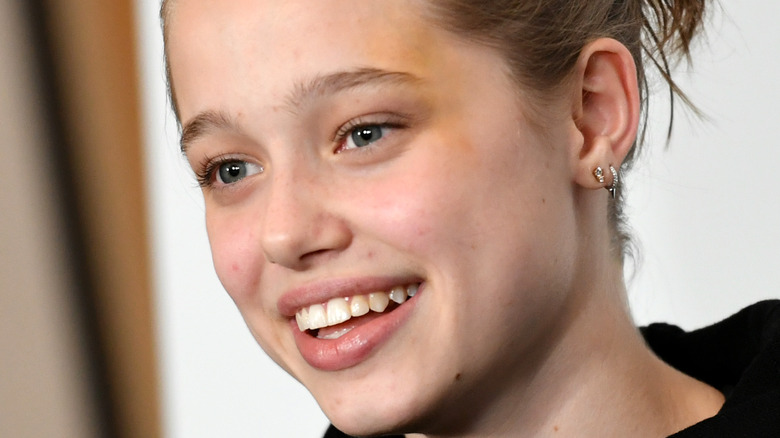 Jc Olivera/Getty Images
Angelina Jolie and Brad Pitt have been in an endless news cycle due to ongoing abuse allegations made by Jolie about Pitt. The allegations date back to 2016, when the Jolie-Pitt family was flying from France to California, according to The New York Times, and Jolie alleged that Pitt was physically abusive towards both her and their children. Pitt has denied these allegations and admitted that in the turmoil following their divorce, has found solace in friendships.
The couple divorced shortly after and have faced years of strife over the custody of their children as well as a property they jointly purchased in France, a winery known as Château Miraval. With so much tension between the two, the spotlight has turned to the couple's children to see how they're coping with the changes in their family and unsurprisingly, the Jolie-Pitt brood has grown really close and protective of one another, especially Shiloh and Zahara Jolie-Pitt.
Zahara and Shiloh are super close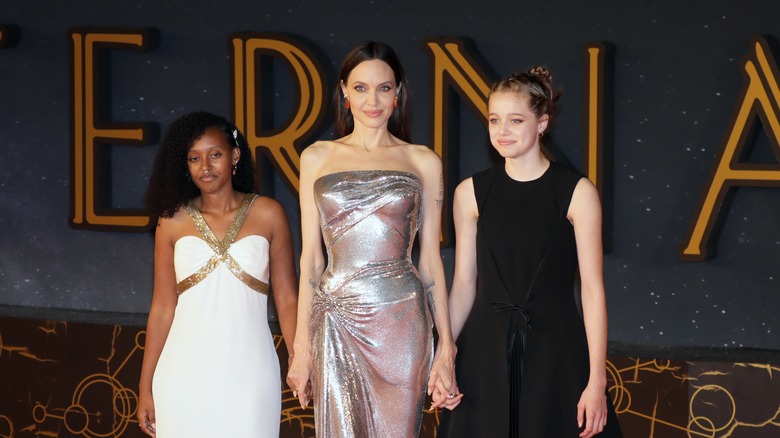 Gennaro Leonardi Photos/Shutterstock
Brad Pitt and Angelina Jolie share six children. Their eldest, Maddox Jolie-Pitt, was born in Cambodia and was adopted by Jolie; she then adopted daughter ​​Zahara from Ethiopia, according to the Los Angeles Times, and Pitt also adopted both children in 2006. The couple then welcomed Pax Jolie-Pitt from an orphanage in Vietnam and adopted him when he was three, according to People. Jolie and Pitt went on to welcome three biological children: Shiloh and twins, Knox and Vivienne Jolie-Pitt.
A very special bond has developed between Zahara and Shiloh. The sisters are "very close," an insider tells Life&Style. Adorably, the two have bonded particularly over clothing. "Shiloh loves music, dance, acting and lately, thanks to her sister Zahara, fashion," the source revealed. "It wasn't always like that, but now she loves dressing up in her mom's clothes. Zahara is the real fashionista in the family."
Zahara certainly is the family stylist and has been known to borrow looks from her mom. At the Los Angeles premiere for "Eternals," Zahara wore Jolie's Elie Saab gown, which the actor famously wore in 2014 to the Academy Awards, according to InStyle. Looks like there's a lot of sartorial inspiration going around.
Angelina Jolie said that her kids have helped her heal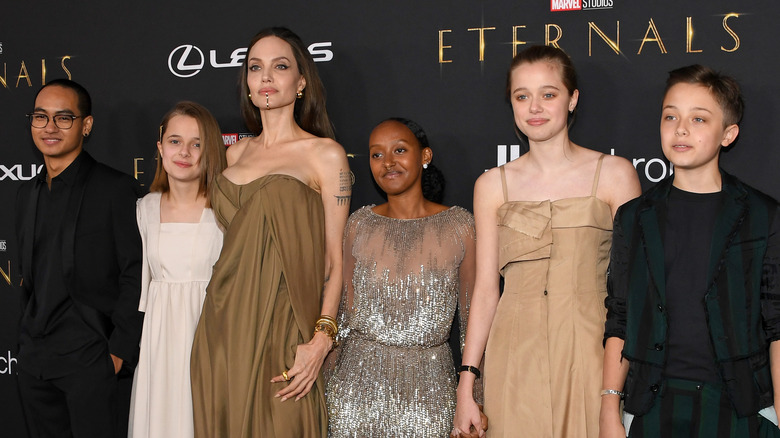 Jon Kopaloff/Getty Images
Angelina Jolie has spoken often of her six children and how they have supported and lifted each other up. While this obviously included Zahara and Shiloh Jolie-Pitt, Jolie has included all of her kids in this praise. "They're pretty great people," she told People, "and because there's so many of them, I think they've had a very significant effect on each other. It's not like I'm the head of anything. I'm very honest with my kids. And I'm very human with my kids."
Jolie talked about growing with her children and how remarkable it has been to watch them become their own, independent selves. On top of this, she said that her kids have helped her recover from her contentious divorce from Brad Pitt. "My children have done many, many loving things. My children's kindness has been very healing to me," she said.
Growth and development in the Jolie-Pitt family also means going off to college, which is what Zahara did in the summer of 2022. Proud mom Jolie shared photos on Instagram of Zahara's first days at Spelman College, a liberal arts college in Georgia that was historically for Black women. "Zahara with her Spelman sisters! Congratulations to all new students starting this year," Jolie wrote. Looks like Shiloh will have to FaceTime Zahara for fashion feedback!