The Sad Reason Chad Michael Murray Is So Close To His Father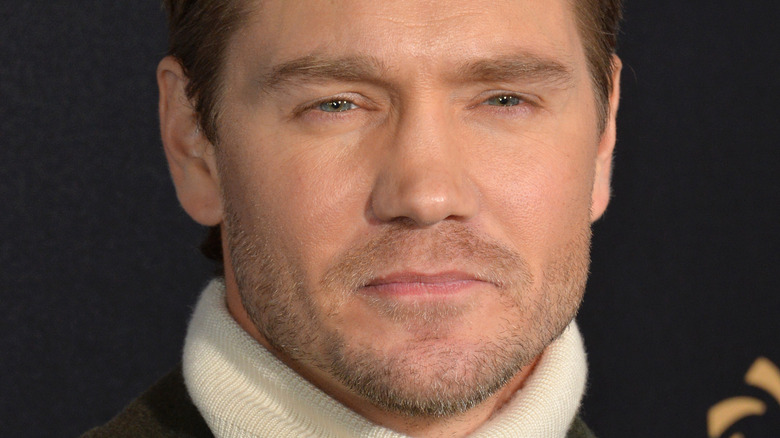 Featureflash Photo Agency/Shutterstock
Chad Michael Murray rose to fame playing heartthrob Lucas Scott on the CW series "One Tree Hill." He played yet another eye candy role in "Gilmore Girls," followed not long after by "Freaky Friday." After that, Murray appeared in "A Cinderella Story," solidifying his title as America's dreamboat. Since then, Murray has branched out, recently playing cultist Edgar Evernever on the CW's "Riverdale." 
The actor has been vocal about only choosing roles that align with his beliefs. In a May interview with Fox News Digital, Murray shared, "I stick to the things I believe in. Let's just say a piece of material were to come across my desk, which has happened plenty of times over the last 22 years, that I don't necessarily feel is what I believe or what I'm selling — then that's not for me."
But, while Murray's on-screen accolades are well-known, less is known about his personal life. However, in past interviews, Murray has opened up about his relationship with his father, whose dedication to his children will leave you with a smile on your face. 
Chad Michael Murray's father raised him after his mother left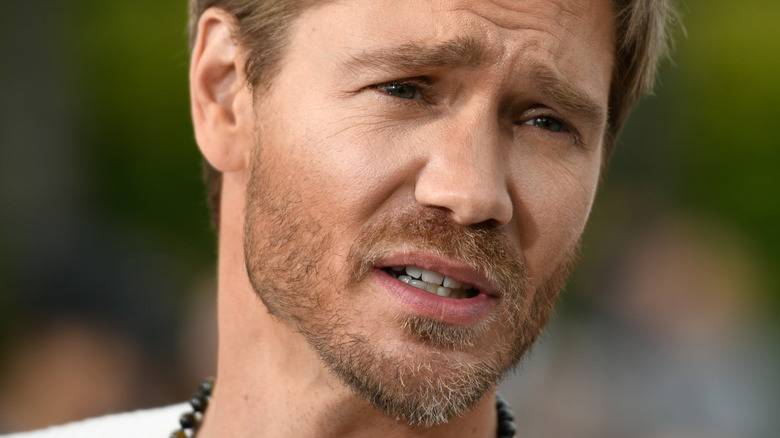 Noel Vasquez/Getty Images
Chad Michael Murray grew up in Buffalo, New York. In a 2007 interview with Seventeen, Murray explained that he grew up with three brothers, a sister, and a half-brother. His father, Rex, worked in air traffic control. "I idolize my father... I mean, he has worked so hard in his life," he told the magazine. When Murray's mother left the family when he was 10, Murray said of his father; "He stepped up, and he said, 'You know what? I'll take care of what I need to do. I've got responsibilities in life."
The challenge was made even more difficult considering Murray had issues with bullies in school. According to Us Weekly, Murray once said, "I had my two front teeth knocked out by a sixth grader in first grade... My house got egged... I hated high school. I didn't have any friends, because I didn't fit in."
Murray added that his father took care of all the Murray children and raised them the best he could. "He would be so tired, and he would help us study to make sure that we got the grades that we wanted. He was never hard on us," he told Seventeen. Murray said the hardest part of moving away from home to film "One Tree Hill" was knowing he wouldn't see his father on a daily basis. 
Chad Michael Murray is a father to two children
These days, Chad Michael Murray has a family of his own. He's married to actor Sarah Roemer, with whom he has two children. Fortunately for fans, they have been able to look into the daily life of Murray's parenting through social media. Last year, Murray posted a photo to Instagram with his daughter (above). He captioned the snap, "The snuggles are real. No better duty than #daddyduty."
Murray has also made it clear that the role he plays in his own kids' lives mirrors that which his dad played in his. In 2020, while discussing why he often makes holiday films now, Murray told HollywoodLife, "I'm a family guy. Put God and family first, that's how we run, and these cater to that in a large way. They're family films. I believe in that. It's better than my kids going to school in the upcoming years and having their dad's posted up someone's locker or something like that. It feeds the soul for the current place that we're in..."
If one thing is clear, it's that Murray's father had a huge impact on his life, and it's not a huge venture to guess that Murray's had a similar impact on his own kids.