Victoria Beckham Is Most Disappointed In An Iconic Look She Wore With Husband David Beckham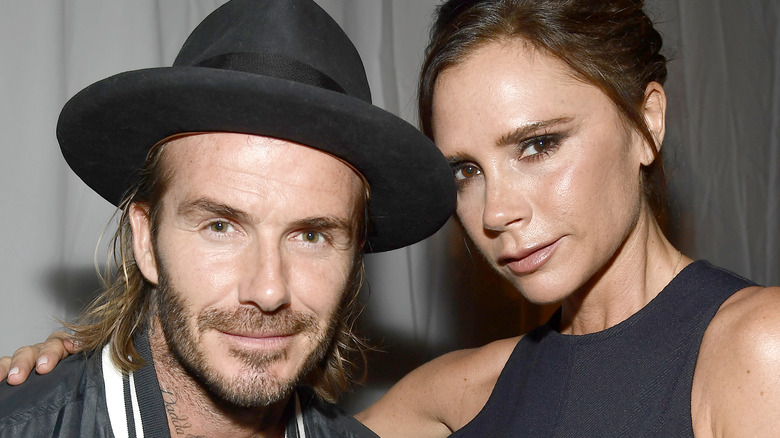 Frazer Harrison/Getty Images
Victoria Beckham is, by all accounts, a fashion icon. The former Spice Girl has built a fashion empire since leaving the famous band, but even she admits to not being immune to a few sartorial faux pas in the past, especially when it comes to coordinating outfits with her husband, football star David Beckham.
Make no mistake: Posh Spice absolutely loves David's taste in fashion. Her spring/summer 2022 collection was even inspired by the athlete. "The oversized chambray shirts feel quite David, with a loose-fitting pant and a beautiful belt. You wanna be that person," she told British Vogue. "David always dresses. He always makes an effort. When we're on holiday in Europe, he has a very pulled-together look, and I want to wear those pieces as well. It's a shared suitcase."
From time to time, the couple would show up on red carpets and at other social events wearing matching outfits. And every single time, they never failed to stun. Victoria and David are arguably one of the most fashion-forward couples in Hollywood, but the singer shared that there was one time that their attempt at sporting complementing outfits failed that still "haunts" her to this day. Surprisingly, it's one of the more iconic looks they ever did as a couple.
Victoria Beckham regrets wearing matching leather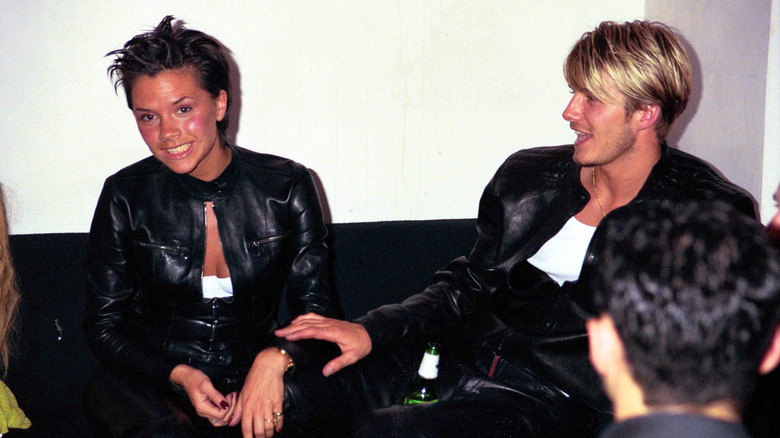 Dave Benett/Getty Images
Remember that one time Victoria and David Beckham showed up to a Versace party looking like they came straight from the set of "The Matrix"? Per Victoria, it's an ensemble that she will forever regret. Say it ain't so!
In an appearance on "Watch What Happens Live," the fashion designer revealed that the matching leather look she wore with her husband still "haunts" her. During a round of the "So Posh Or Oh Gosh" game she played with Anne Hathaway, she detailed why she thought the outfits were such a fail. In addition to the leather being "hot," it was apparently from a competitor of the host of the party they went to. "We were wearing Gucci. It was a Versace dinner, which is inappropriate in itself," she shared. "But, you know, we really considered those outfits. I mean, we really talked about it. There was a naivete to it that was just so sweet."
Apparently, David himself regrets ever wearing it. "Me and Victoria wore matching black leather outfits once. They were Versace. But that's one when I look back and am like, 'What were we thinking?'" he told H&M Magazine in 2012 (via Daily Mail). "We laugh about that one. I remember that it's really good until you do it as a couple." If Victoria and David can mess up their fits, then maybe our own fashion blunders are forgivable, too.