A Look Inside Da Brat's Long-Standing Friendship With Mariah Carey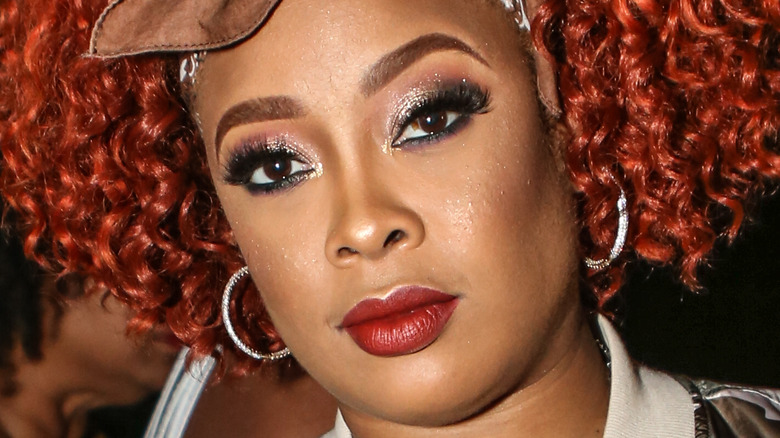 Thaddaeus Mcadams/Getty Images
From the "Always Be My Baby" remix to the big screen, Mariah Carey and Da Brat have a long history of working together — but these two are way more than just colleagues. 
Da Brat is the first to admit that the first time she met Carey, she was more than a little starstruck. In fact, speaking to Variety, she revealed that their first meeting was "one of the most monumental moments in my life." As a major fan of Carey, Da Brat was overjoyed by the prospect of working with the icon — and luckily for her, it was just the beginning of what would become a years-long professional relationship. Since then, they've collaborated together in remixes of Carey's songs "Always Be My Baby" and "Heartbreaker." They've also acted alongside each other in a film, Carey's panned cult classic "Glitter." 
That said, something tells us their successful working relationship is just the icing on the cake for Da Brat. As she told Variety, they connected on a personal level almost instantly. "Me and Mariah are both Aries and we're both eternally twelve, so we hit it off from the get-go," she shared. Given the connection, Da Brat quickly went from a major fan to a member of Carey's most trusted inner circle — and she's been by the singer's side through some of the darkest days of her life.
Da Brat and Mariah Carey got in trouble together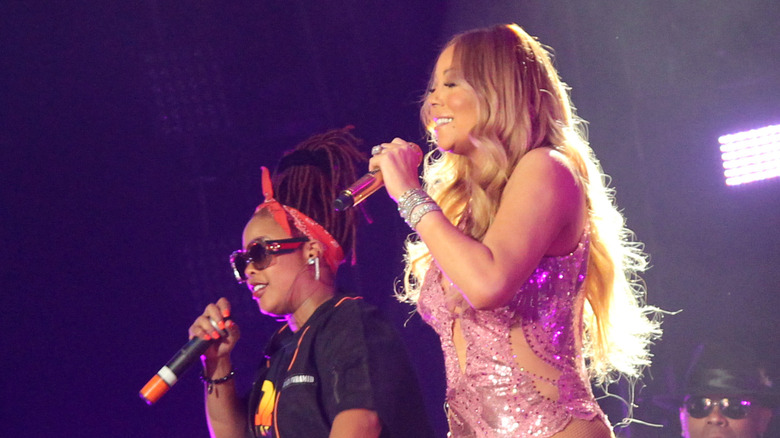 Bennett Raglin/Getty Images
Nothing cements a friendship quite like getting in trouble together — though in the case of Mariah Carey and Da Brat, an innocent escapade got scary, real quick. 
While recording the "Always Be My Baby" remix at the home of Carey and her then-husband, Tommy Mottola, the two women headed out to Burger King, as Da Brat revealed in an episode of Rickey Smiley Morning Show. However, Carey's team wasn't accustomed to her leaving the house unsupervised. "When I tell you her security, everybody was going crazy ... they had [Jermaine Dupri] hemmed up ... they had guns out, he was nervous, he texted me, 'Brat, you better get back here' ... I was like, 'We just going to Burger King to get some fries!'" Da Brat recounted. Things didn't de-escalate much when they got back, either. Upon their return, according to Da Brat, "They whisked her off and we ain't seen her for like ... a hour." 
Carey has spoken about the incident herself, sharing in her 2020 memoir "The Meaning of Mariah Carey" that Da Brat became incredibly concerned for her. Per an extract published by Vulture, the rapper urged her friend, "You need to get out of there." It's clear that Da Brat had very strong feelings on that — ever since, she's been incredibly vocal about her friend's experience living as "a caged bird" (via Variety).
Da Brat couldn't be happier about Mimi's emancipation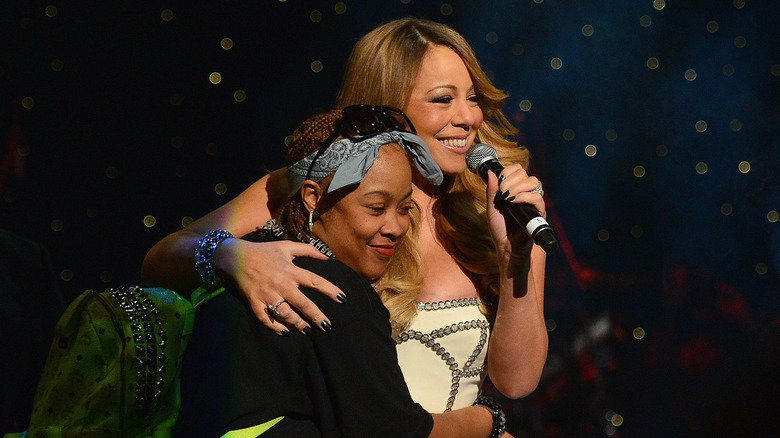 Prince Williams/Getty Images
The Burger King incident may have been the crescendo of Da Brat's experience inside Mariah Carey's former marital home, but it was far from the first red flag she'd picked up on. In fact, speaking to Variety of their first meeting, she shared that she sensed something was up. "You could tell she had been ... cut off from being able to be herself," she recounted. That said, what she noticed inside their home was infinitely more disturbing. 
"She was like a princess trapped in a castle," Da Brat shared on Rickey Smiley Morning Show, echoing Carey's own sentiments that she was held captive during her first marriage. Moreover, even inside the walls of said castle, she was watched, non-stop. "If she would laugh, or something, too hard, security would come stop her and see what she was doing," she reflected. It wasn't just security personnel, either. "She had to whisper to talk to me because there were cameras everywhere and microphones in the walls," she told Variety.
In light of what she witnessed, it's no surprise that Da Brat is all for Carey taking more control over every aspect of her life, post-Tommy Mottola. As she told Variety of her friend, "She calls the shots now. She was going to make sure of that. She earned those stripes, honey." And she did so with the full support of Da Brat. This is one friendship we love to see!