Dwayne Johnson's Daughter Officially Makes Her WWE Entrance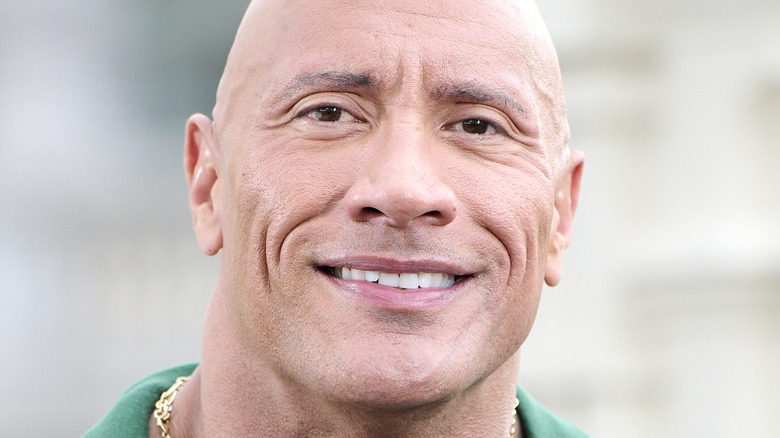 Carlos Alvarez/Getty Images
They say that the apple doesn't fall far from the tree, and that's certainly the case with Simone Alexandra Johnson. There's no doubt that the athlete is a daddy's girl, but who wouldn't be, given who her father is. Dwayne "The Rock" Johnson's daughter is taking a page out of her famous dad's playbook and going full face in the ring. Simone is Dwayne's daughter from his first marriage to Dany Garcia. Per Closer Weekly, he has another two daughters, Jasmine and Tiana Johnson, with his second wife, Lauren Hashian.
Dwayne has opened up about his fractured relationship with his dad, who died in January 2020 at age 75. During NBC's TCA press tour (via People), he admitted his bond with Rocky Johnson was "incredibly complicated" and "fueled by tough love." Dwayne's relationship with his own kids is the exact opposite. Despite being a testosterone-fueled wrestler, it'd be impossible for him to love his girls and his role as their dad any more than he does.
"I realized being a father is the greatest job I have ever had," Dwanye shared in a 2020 "Oprah Masterclass" episode. "When I held [Simone] when she was born, I held her in these two hands, and I said to her, 'I will always, always take care of you for the rest of your life. You are safe.'" However, Simone's big enough to take care of herself now. And It's just as well, because Johnson's daughter has officially made her WWE entrance.
Simone Johnson's WWE career kicks off with a bang
Entertainment Tonight reports that Simone Alexandra Johnson officially made her WWE entrance on Tuesday night. Simone, AKA Ava Raine, appeared on the organization's "NXT" broadcast, which features all of the hottest future stars of wrestling. While Dwayne "The Rock" Johnson sets the record straight on his future in politics, his oldest daughter is building her sports career — and she's determined to go big and to not go home.
The crowd went wild when the athlete ripped off her yellow mask to reveal herself as the fourth member of the Schism wrestling team. "The love and acceptance the Schism has given me defies any preconceived notions of who I'm supposed to be," Simone announced to the cheering audience. "This family completes me." According to The Bleacher Report, Dwayne's daughter began her pro journey in 2018 when she started training at the WWE Performance Center in Orlando, Florida.
Simone's dad couldn't be any prouder that she's following in his wrestling shoes, and he's confident she's going to Samoan drop right to the top. Dwayne's thrilled that she is "making history" by becoming a fourth-generation wrestler. That said, Simone's definitely not big on nepotism. "She is fiercely independent. It's very important for her to make her own way, blaze her own trail, blaze her own path," Dwayne told Entertainment Tonight just before Simone made her WWE debut. "She doesn't come to me looking for a lot which I respect, and I'm here watching and supporting."