Ashley Judd Gets Candid About Injuring Her Leg In Another Accident
Ga Fullner/Shutterstock
This article includes mentions of suicide.
Ashley Judd is one of the more outspoken stars in the industry, and she never shies away from talking about tough topics. As fans know, she's one third of the famous Judd family, which includes her late mother, Naomi Judd, and her sister, Wynonna Judd. The trio have had their differences over the years, but at the end of the day, they still seem to be a pretty tight-knit family. In April, Ashley penned a gut-wrenching post on Instagram on behalf of herself and Wynonna to announce the death of their mother, Naomi. "Today we sisters experienced a tragedy. We lost our beautiful mother to the disease of mental illness," Ashley wrote in the post. She added that she and Wynonna were "shattered" and "navigating profound grief."
Ashley opened up a little more about the heartbreaking details of her mother's death in an interview with Diane Sawyer on "Good Morning America," where she was incredibly vulnerable. "My mother used a firearm, so that's the piece of information that we are very uncomfortable sharing, but understand we're in a position that if we don't say it, someone else is going to," Ashley revealed. She also spoke about her mother's struggles with mental illness and wanted to use her voice to raise awareness. "When you're talking about mental illness, it's very important to be clear and to make the distinction between our loved one and the disease. It's very real," she shared. During the grieving process, Ashley also suffered her second leg injury.
Ashley Judd sees silver lining in her leg injury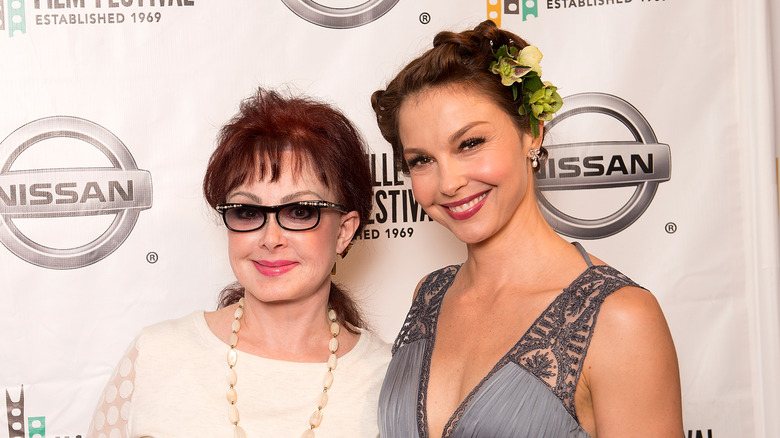 Beth Gwinn/Getty Images
Following the loss of her beloved mother Naomi, Ashley Judd has been dealing with her second leg injury in the span of two years. The "Double Jeopardy" star recently spoke about the "freak accident" with UCLA professor Dr. Jonathan Flint over a Zoom lecture (via The Hollywood Reporter). 
"Clumsiness is associated with grief, and there were other people in our family, after mom died, who fell down stairs and had accidents, and that's just what mine happened to look like," Ashley confessed. Luckily, despite the injury, she still found a silver lining. "It really allowed me to grieve. It really allowed me to stop what I was working on at that moment and to grieve." This time around, she says it only took her leg about two months to heal.
Many know that Ashley suffered her first leg injury on a 2021 trip to the Democratic Republic of Congo. She detailed the scary experience on the "Sex, Body, and Soul" podcast, revealing that she fractured her right leg in four places on a hike. "I was in hospital in South Africa about nine days. And then I was medevaced to Tennessee," she explained. "But when I got to South Africa my leg didn't have a pulse, and I was hemorrhaging, and if I had been medevaced to Europe I would've bled to death."
If you or anyone you know is having suicidal thoughts, please call the National Suicide Prevention Lifeline​ at​ 1-800-273-TALK (8255)​.