Everything We Know About Alyssa Farah Griffin's Husband, Justin Griffin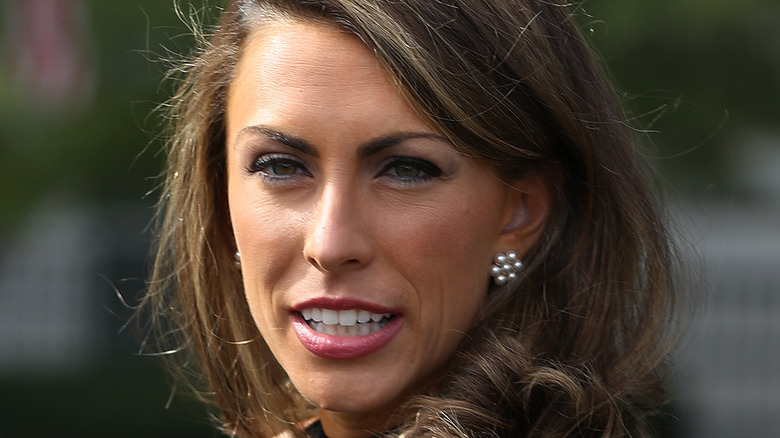 Chip Somodevilla/Getty Images
Alyssa Farah Griffin is an outspoken conservative with a long track record in Republican Party politics. Starting out as a voice within the conservative movement writing for WorldNetDaily — a largely far-right and conspiracy-driven website founded and run by her father, Joseph Farah — she told Vanity Fair in 2022 that she was "raised in the right-wing media." 
Griffin then went on to serve as a communications director for then-Congressman Mark Meadows before being appointed as Vice President Mike Pence's press secretary in September 2017. She then became press secretary for the Pentagon in September 2019, the youngest person in history to hold that position, according to The Washington Post. She was later appointed the third — and so far final — White House director of strategic communications, a position created by the Donald Trump administration. She resigned from that position in December 2020 and publicly disavowed Trump, even suggesting that he resign. She has met with the January 6 House select committee multiple times, per CNN, likely to discuss the actions of the former president. 
Now, Griffin is a major figure in American conservatism and was even named one of the new permanent co-hosts of ABC's "The View" for the show's 26th season. This change came after Meghan McCain's official exit from the show as Griffin had already made multiple guest appearances between 2021 and 2022. But who is Alyssa Farah Griffin's husband, Justin Griffin? Well, as it turns out, he is similar to his wife in more ways than one. 
Justin Griffin comes from a highly conservative background
Like his wife Alyssa Farah Griffin, Justin Griffin is highly involved in Republican politics, working for the Massachusetts Republican Party in 2012 as a regional political director, per The Sun. He also served as an advisor and director of finance for Governor Charlie Baker, who began his term in 2015. 
Justin also comes from a fairly well-to-do family. According to the New Hampshire Union Leader, he is the son of Patrick Griffin and Celina Tamposi, who herself is one of six children of famed real estate developer and Republican Party activist Samuel A. Tamposi. Tamposi, who died in 1995, was the largest commercial real estate developer in the state, per The New York Times. He also used his exquisite wealth to back several Republican campaigns, including President George H. W. Bush, as well as former New Hampshire Governor John Sununu, who served three terms from 1983 to 1989.
Tamposi's daughter, Justin's aunt, Elizabeth, also served as Assistant Secretary of State for Consular Affairs under President Bush. However, she had to resign shortly before her term was up in 1993, under suspicion that she abused her position by sanctioning a search of then-President-elect Bill Clinton's passport records.
Alyssa Farah Griffin and Justin Griffin married in 2021
Alyssa Farah Griffin and her husband, Justin Griffin, were married in November 2021 in Vero Beach, Florida. According to The Sun, the two had been dating since about 2017 before getting engaged in 2020.
Since they started dating, both Alyssa and Justin have become active philanthropists, most notably for Parkinson's disease. As Politico reported in February 2020, Justin hosted a fundraising event for Parkinson's in his native Massachusetts, one which raised over $100,000 to combat the illness. In celebration of Justin helping to raise the money, Alyssa tweeted at the time, "Did I mention [Justin Griffin] is amazing?" Shortly after their wedding, Alyssa gave Justin another public shout-out: "Our wedding was less than 48 hours ago and he's already hustling on meetings to raise money to fight Parkinson's." She added, "I love my husband."
In addition, Alyssa has been open about the fact that some of her family members skipped her wedding due to her turning against former President Donald Trump. However, her in-laws — namely Justin's parents — have warmly embraced her, despite coming from a conservative background themselves. In August 2022, Alyssa tweeted out a "special thank you" to her husband Justin, as well as her "amazing in-laws for always supporting me." She also acknowledged her "wonderful mother-in-law" on Mother's Day 2022, adding that she is "wisely not on Twitter."