What Does Lift Me Up By Rihanna Really Mean? Here's What We Think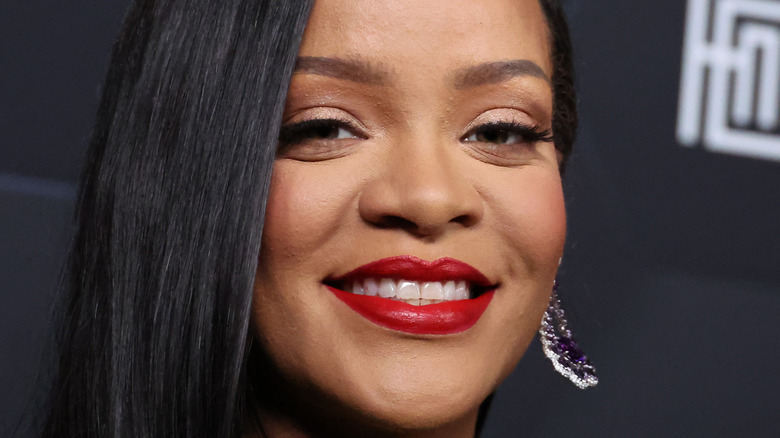 Mike Coppola/Getty Images
Rihanna fans have been waiting for the singer to release a new album for six years and the beloved singer-turned-mogul finally sated their craving in an unexpected manner, per Billboard. The news that she had recorded a single titled "Lift Me Up" for the Marvel movie "Black Panther: Wakanda Forever" lifted her fans' spirits up, giving them hope that there might be more to come — including the news that RiRi would be performing during the Super Bowl LVII halftime show.
Fans in NYC got their first tantalizing hint that the new song was coming when electronic billboards displaying the "Wakanda Forever" title separated the "R" from the other letters and zoomed in on it, as shown by Pop Crave. The same animation, which also teased the date "10.28.22," also appeared on the "Black Panther" Instagram page.
While Rihanna appears primed to make a musical comeback, the internet was rife with speculation that she was actually planning her return to the big screen in "Wakanda Forever" as a member of the movie's cast back in 2020. E! News confirmed that this was naught but a rumor. And instead of gaining super powers via CGI, RiRi decided to use her powerful voice to pay tribute to the biggest star of the original "Black Panther" film — the late, great Chadwick Boseman.
Lift Me Up is about loss
The day after it was announced that Chadwick Boseman would be playing T'Challa, aka Black Panther, in a series of Marvel movies in 2014, he spoke to Vulture about admiring Rihanna from afar. "She was sitting over there," he said. "I was like, 'I see you, girl, but I'm not going to let you know that I saw you.'" We can't help but wonder what RiRi would say to Boseman if he were alive today, and songwriter Tems had a similar idea in mind when she penned "Lift Me Up" with co-writers Rihanna, Ludwig Göransson, and director Ryan Coogler.
Tems told Complex that "Lift Me Up" is a tribute to Boseman, who died in 2020 from colon cancer. "I wanted to write something that portrays a warm embrace from all the people that I've lost in my life," the singer-songwriter explained. "I tried to imagine what it would feel like if I could sing to them now and express how much I miss them."
Some of the poignant lyrics describe the profound pain and loneliness of loss using vivid imagery. "Burning in a hopeless dream," Rihanna sings. Another verse begins with the words, "Drowning in an endless sea." She seems to plead with the love she's lost, imploring them to "Keep me safe / Safe and sound." She also repeats the lyric "Hold me" — two words that many of us who have experienced loss would love to say to our departed loved ones.