The Romance Rumors That Once Sparked Between Lea Michele And Ashton Kutcher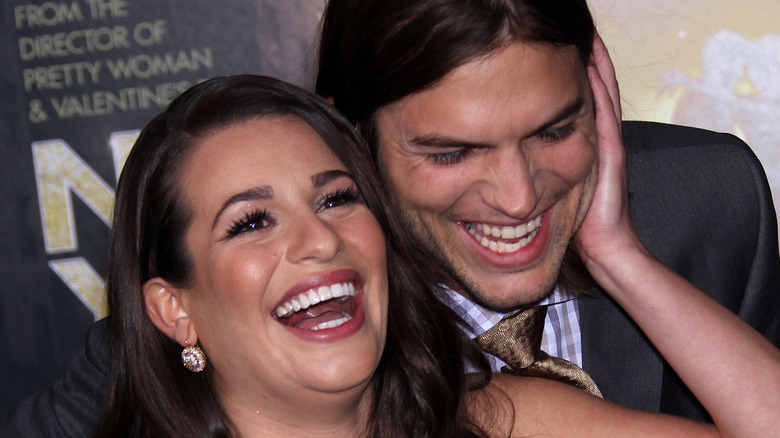 DFree/Shutterstock
Today, Lea Michele and Ashton Kutcher are happily married — to other people, of course. Michele tied the knot with Zandy Reich in March 2019, with the former gushing to People of their big day, "The best days of all will be what we get to do with each other for the rest of our lives. I couldn't be more grateful." The happy couple then went on to welcome their first child together, a son named Ever, who Michele proudly gave the world a glimpse of via a black and white photo shared to Instagram in August 2020.
As for Kutcher, he found love with Mila Kunis, with the twosome marrying in July 2015, the year after they welcomed their daughter Wyatt into the world, per People. Then, in 2016, their sweet family grew by one more when Kunis gave birth to their first son, Dimitri.
But before they both found true love, did you know there were rumors Michele and Kutcher may have dated? Though they may not seem like the most likely of couples, there's actually good reason for the rumor to have gone into overdrive with these two.
Lea Michele and Ashton Kutcher sparked dating rumors at their movie premiere
For this romance rumor mill, we're throwing it back to late 2011 when Lea Michele and Ashton Kutcher were promoting their seriously star-studded movie "New Year's Eve" (seriously, have you seen the cast for that movie? It also stars Halle Berry, Robert De Niro, Michelle Pfeiffer, Zac Efron, Jessica Biel, Sarah Jessica Parker, Sarah Paulson, Seth Meyers, Josh Duhamel, Alyssa Milano, Sofia Vergara, Hilary Swank, Katherine Heigl, Jon Bon Jovi, and Abigail Breslin!). Michele and Kutcher play love interests in the Holiday film and end up sharing a big smooch in the middle of Times Square as the clock strikes midnight (does it get any more romantic than that?) but some speculated that on-screen romance may have spilled onto the red carpet.
Us Weekly shared snaps of Michele and Kutcher looking cozy and close on the red carpet in December 2011, shortly after he divorced Demi Moore, claiming the latter was being pretty flirty with the "Glee" star as they posed together. Hello! also shared photos of the two from the event, including one that showed Michele placing her hand on Kutcher's face as he bent down towards her shoulder, while pointing out how happy and comfortable they appeared together shortly after Michele split with her boyfriend, Theo Stockman, in September 2011.
But, did anything actually happen here?
The Lea Michele and Ashton Kutcher rumors were shot down
All those hoping back in 2011 to see Lea Michele and Ashton Kutcher tear up Hollywood as the new it couple were probably disappointed, as Huffington Post shut down all the speculation they got romantic onscreen and off. A supposed friend of Michele's was the one to slam the claims, hitting back, "There is no truth to the rumors that they are a couple. If they were dating, they would have kept as far apart as possible on the red carpet." They then doubled down that there was nothing other than a platonic friendship going on, adding that Kutcher would not have debuted a new romance on the red carpet so soon after his divorce. "Lea is his love interest in the ensemble film but not in real life," they added. "She just split up with her boyfriend and isn't ready to start dating yet, and neither is he."
It sounds like Michele did have a bit of a thing for the "Two and a Half Men" star, though, as she couldn't help but gush over Kutcher to Vulture in 2011. "I kinda felt like he was a little out of my league. You know, this guy's like, the hottest guy," she admitted. "Then when they called and said that Ashton was doing ['New Year's Eve'], I was really freaked out... But I'm so glad, because he challenged me, and it was a really great pairing, I think."