Kate Middleton Received An Adorable Wedding Gift From Her Brother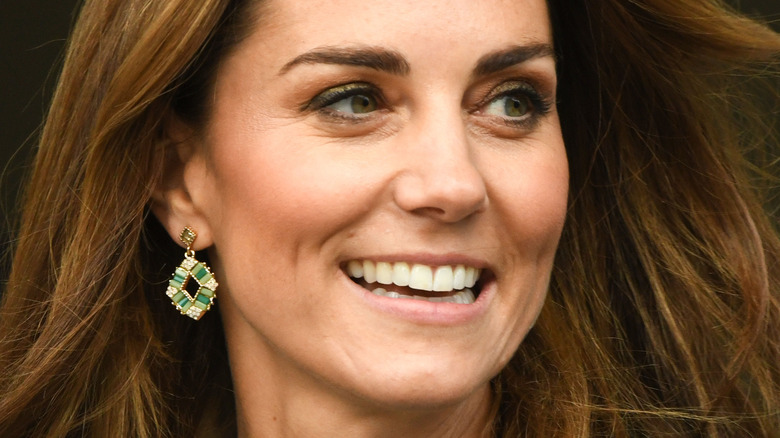 LINGTREN.COM/Shutterstock
Before she was Catherine, Princess of Wales, Kate Middleton was a just regular Brit raised in the countryside of Berkshire along with her siblings, Pippa and James, Encyclopedia Britannica noted. A lot has happened since the laughter-filled days of her childhood and Kate becoming the second most popular member of the British royal family, according to a 2022 YouGov poll. But, some things never change, and that includes Kate's bond with her brother and sister.
Since their days as boarders at Marlborough College, the sisters have leaned on each other. Kate's marriage to William, Prince of Wales, did nothing to change Kate and Pippa's relationship. "We do we have a very normal, sisterly relationship. We're very close," Pippa told Today in 2014. "And, you know, we support each other and get each other's opinions and things." That's not to say there was no adjusting after Kate became a worldwide famous figure. "Obviously she has pressures that she's taken on and things. But we spend a lot of time together," Pippa added.
Kate isn't just close with her younger sister. "The Middletons were an exceptionally close family," royal biographer Katie Nicholl detailed in "Kate: The Future Queen." Kate's fondness of her parents is palpable. During a tennis match in July, Kate was caught blowing Carole and Michael Middleton a kiss, People reported. While her bond with Pippa and her parents are well documented, Kate's relationship with her brother James is less public. But that doesn't mean they aren't just as close.
James Middleton gave Kate and William the cutest present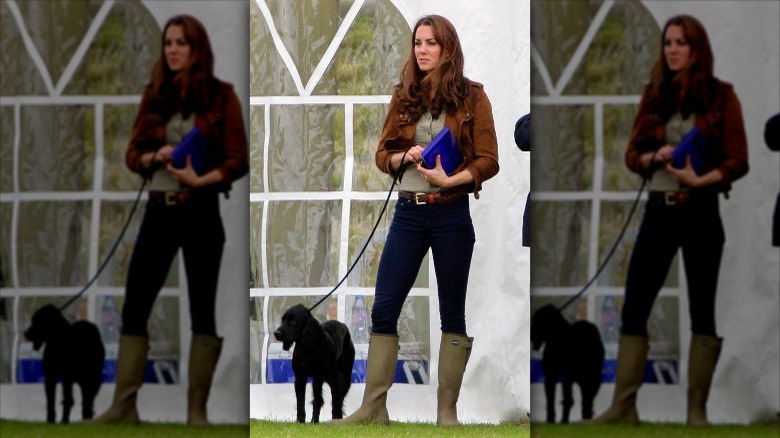 Max Mumby/indigo/Getty Images
When Kate Middleton married Prince William in 2011, the bride's brother, James, celebrated the newlyweds with perhaps the cutest gift they received: a black cocker spaniel named Lupo. "It was my sort of little treat for them was to give them a puppy," James told ABC News in 2014. "And Lupo was their gift." The pup quickly became a beloved member of the household. So much so that Lupo was featured in Prince George's first official photoshoot, the Daily News showed. 
James is the dictionary definition of a dog lover. In his Instagram bio, the youngest Middleton identifies himself as a "Dog Dad to Ella, Zulu, Inka, Luna, Mabel, Nala & Isla." James even transformed his passion into a business, having launched Ella & Co., a brand of healthy dog food. 
Lupo died in November 2020 at age 9, Kate and William announced on Instagram. "He has been at the heart of our family for the past nine years and we will miss him so much," they captioned the post. Lupo also held a special place in James' heart, as he was the offspring of one of his own dogs. "I've said a prayer, lit a candle and taken Ella (Mum) for a long walk to spend time remembering Lupo," he captioned an Instagram post. Having had Lupo around his entire life, George took the loss particularly hard. "He adored that dog," a source told Woman's Day (via Now To Love).
James Middleton gave the royals another cocker spaniel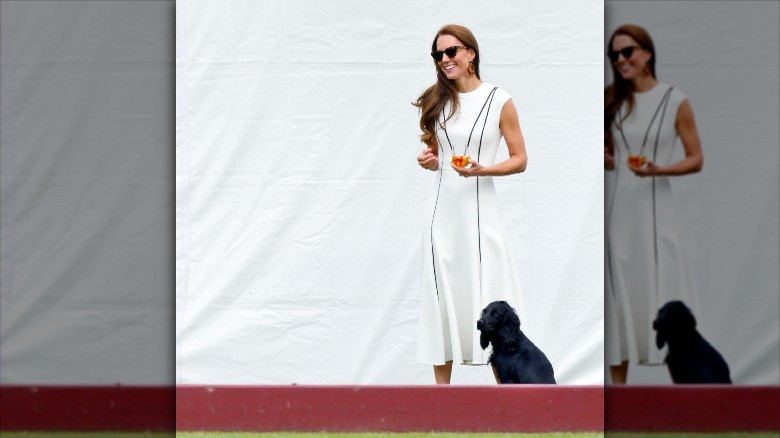 Max Mumby/indigo/Getty Images
Before Lupo died, William, Prince of Wales, and Kate, Princess of Wales, adopted another black cocker spaniel — female named Orla. The pup was, once again, a gift from James Middleton, the Daily Mail reported in January 2021. Kate and William reportedly wanted another dog to help Lupo. "It was hoped that a younger dog would give Lupo some company and give him a little more life and energy," a source said. Orla, which means "golden princess" in Celtic, is related to Lupo, being the equivalent of his niece, Harper's Bazaar noted. 
Orla is one of Luna's pups, born in spring 2020, according to Town & Country. Prince George, Princess Charlotte, and Prince Louis reportedly picked Orla themselves, according to the Mirror. Just like Lupo, Orla immediately fit in. The royals even included Orla in family photos, which they shared on Instagram to celebrate Charlotte's seventh birthday in May. Kate and William even sometimes take Orla with them to official events. In July, the dog featured prominently in the photos (seen above) captured at the Royal Charity Polo Cup, the Mirror reported.
In September, William hinted that Orla also helped him grieve the death of Queen Elizabeth II. While greeting mourners at Windsor Castle, William stopped to pet an Italian greyhound named Luna, a moment captured on a TikTok video. "Dogs at this time are so important," he told Luna's owner. "I give my dog a lot of cuddles at the moment."