The Mysterious Conspiracy Theory About A Lost Taylor Swift Album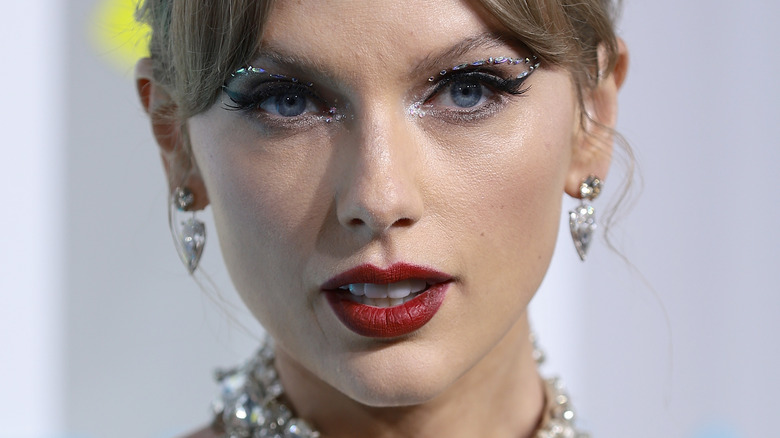 Dimitrios Kambouris/Getty Images
In today's modern music scene, no one's as good at dropping Easter eggs as Taylor Swift — and Swift's fans are always on the hunt. From music videos to wardrobe choices, Swifties are always at the ready, trying to decode every calculate move the singer makes. While they're right much of the time, they have also been very wrong, to say the least. There was a largely popular and accepted theory that Swift had a third album to accompany sister albums "Folklore" and "Evermore," titled "Woodvale." And that, of course, never came to pass.
But there may be a more convincing album theory — one about a "lost" Swift album. As Teen Vogue reported, this alleged album was going to be named "Karma," which is a major theme throughout Swift's music. Interestingly enough, it's also the title of a track on her latest album, "Midnights." The Genius page for "Karma," written by a source who's not Swift, details the song's meaning which, of course, is about what people have wronged her in the past and how karma is going to get them one day. But why do fans think Swift scrapped an entire album called "Karma" anyway? It's a bit (a lot) elaborate, but when broken down, it kind of makes a lot of sense.
Fan theory claims Taylor Swift's 'lost' album was scrapped due to the Kimye drama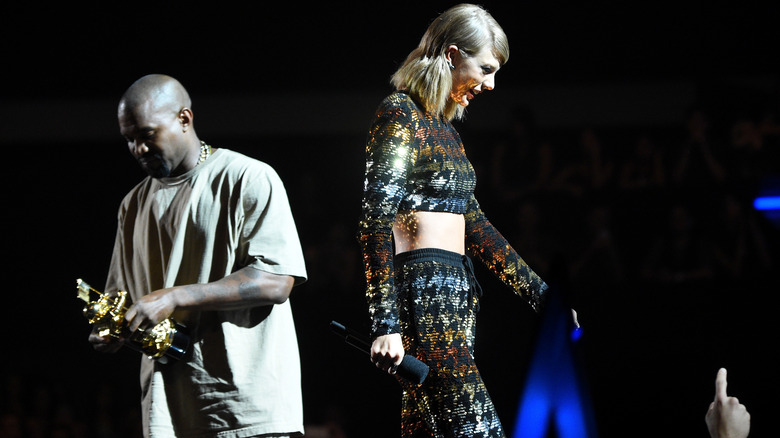 Larry Busacca/mtv1415/Getty Images
As stated above, Swifties will even look to Taylor Swift's clothes for clues. According to BuzzFeed News, Swift usually gives a little hint near the end of tour about the vibe of her next album. For example, fans apparently noticed that the singer cut her hair shorter at the end of her "Red" tour, which is the hairdo she wore during her "1989" era. So, by the end of the "1989" tour, Swift switched to a rocker look. It was close to "Reputation," but not quite, which made Swifties think the lost album was going to be edgier, but rock-aligned. And by Swift's past album pattern, she should have released an album based around these looks in fall of 2016. 
However, as Rolling Stone reported, the massive Kimye and Taylor Swift feud in 2016 caused Swift to drop off the face of the earth for a year. In early 2016, Kanye "Ye" West released "Famous." The infamous line, "I feel like me and Taylor might still have sex / Why? / I made that b***h famous," caused both parties to disagree on whether Swift actually approved it. And by July, Kim Kardashian released a video that seemingly proved Swift was lying. In the video she's clearly on the phone with Ye approving the lyric. However, longer leaked videos show Ye never asked Swift's permission to call her a "b***h," which was what she said all along.
Has Taylor Swift has been leaving hints about the album all along?
As BuzzFeed News pointed out, Taylor Swift seemingly confirmed this theory herself in the "Look What You Made Me Do" music video. The video shows 14 versions of Taylor Swift — 13 in known Swift looks. One Swift, however, featured a new look, but it wasn't for "Reputation." This unknown version of Swift graffitied "reputation" in spray paint on the jet which had the logo "TS6" on it, possibly implying that whatever "TS6" was going to be, "Reputation" took its place instead. As stated, the scrapped album was going to be named "Karma," and the word can be seen graffitied on a wall with the names of Swift's past albums in "The Man" music video. "Karma" is in between two posters: One that says, "MISSING IF FOUND RETURN TO TAYLOR SWIFT," and another that's a "No Scooter" warning sign.
Swift also made sure to use the word "karma" in her "73 Questions" Vogue video, which came out a few months after "Famous" was released. When asked what the "most important" life lesson someone can learn is, she replied: "That Karma is real." Fans pointed out that the word is capitalized, making "Karma" a proper noun (aka, a potential album name ). While the Fandom Wikia page for "Karma" claims "Karma" was leaked in 2019, and includes a whole track list, it's still only just a theory ... even if it is a damn good one.