Inside LeAnn Rimes' Unusual Connection To Vanderpump Rules' Scheana Shay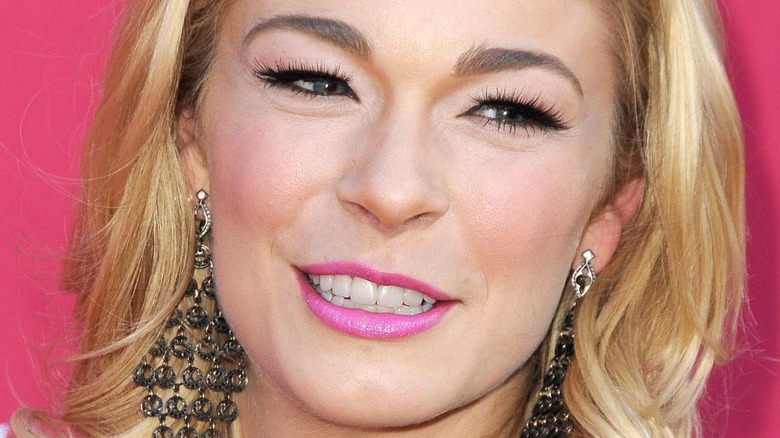 s_bukley/Shutterstock
LeAnn Rimes and Eddie Cibrian got together in a pretty unconventional way, but it turns out Rimes' connection to Scheana Shay may be even more unconventional still. As you may well know, Rimes and Cibrian were both married to other people when they started dating, with their affair being exposed via candid photos published by Us Weekly. The snaps, taken in 2009, showed the two kissing and holding hands while out to dinner as they grew close while working on the movie "Northern Lights." At the time, Rimes was married to Dean Sheremet and Cibrian was wed to former "Real Housewives of Beverly Hills" star, Brandi Glanville.
Shortly after the affair was exposed, Rimes and Sheremet and Cibrian and Glanville both split, while the "Nothin' Better To Do" singer spoke candidly about her actions to People the following year. "I did one of the most selfish things that I possibly could do, in hurting someone else. I take responsibility for everything I've done. I hate that people got hurt. But I don't regret the outcome," the talented star shared. Rimes and Cibrian stayed together amid the fallout, eventually marrying in 2011.
But, in a twist worthy of reality TV, it turns out Rimes wasn't the only woman Cibrian got close to while still married to Glanville. Step forward "Vanderpump Rules" star, Scheana Shay.
Scheana Shay tweeted LeAnn Rimes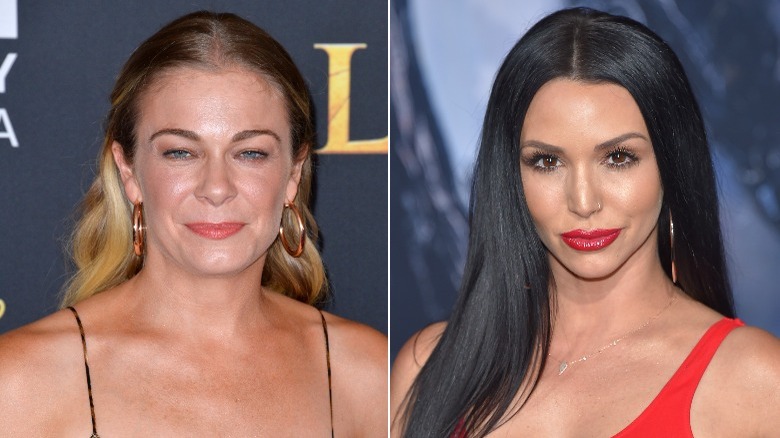 Featureflash Photo Agency & DFree/Shutterstock
Yep. Scheana Shay also had an affair with Eddie Cibrian during his and Brandy Glanville's marriage, and now she's getting close to LeAnn Rimes too! Well, kind of, as these two made the best of what could have been a seriously awkward situation. Back in 2015, the "Vanderpump Rules" star reached out to her former lover's wife by tweeting, "Rocking out on Pop2k with @MusicKillsKate and 'Can't Fight the Moonlight' comes on! Next karaoke song for me? @leannrimes lol." "Can't Fight The Moonlight" is, of course, one of Rimes' biggest hits and was featured on the soundtrack to "Coyote Ugly." It seemed Rimes didn't mind being brought up by the reality star either, as she actually replied to the message. Tagging Shay, she tweeted, "If there's no video it never happened! #mustsee."
It sounds like most of Shay's romantic history with Cibrian was over before things started with Rimes, though she alleged to Us Weekly that the day before the news of his and Rimes' affair broke, they supposedly ran into one another after not speaking for a while. "[He] wants to explain himself and ask me out for drinks. He says he's now separated from his wife — bulls**t, bulls**t, bulls**t — and I'm like, 'Okay, whatever, I'll go with it,'" she said in 2013. After learning about Rimes, she added, "It was just a mess. I ended things there, I stopped talking to him, and I've never talked to him again."
Scheana Shay sung LeAnn Rimes' song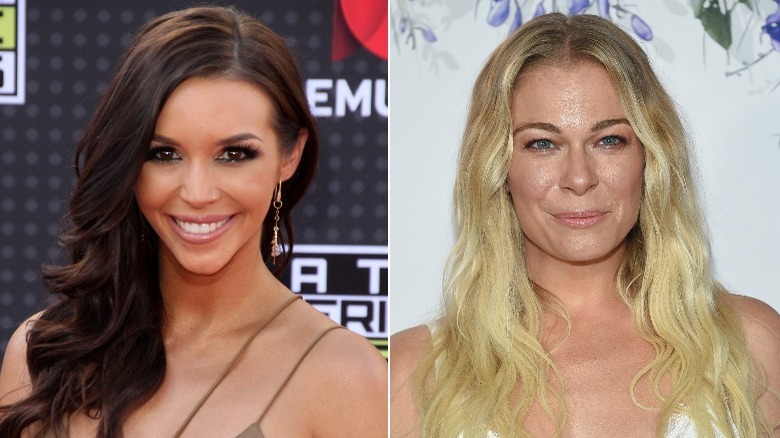 Kathy Hutchins & DFree/Shutterstock
Well, it seemed like Scheana Shay wasn't kidding when she shared her desire to belt out LeAnn Rimes "Can't Fight The Moonlight." In December 2016, Shay followed through on her promise to perform Rimes' hit as she tweeted the country star and told her she was visiting the Coyote Ugly bar in Las Vegas. "Heading into @CoyoteUglyLV so, @leannrimes should I get on the bar and sing 'Can't Fight The Moonlight'? jk," she wrote. Rimes replied (again!) to her husband's former mistress by tweeting, "lol That's a must!" alongside a red heart emoji. Does it get anymore cordial than a red heart emoji!? A little later in the evening, Shay shared a snap to Twitter of herself and her girlfriends dancing on the bar and recreating a scene from the movie Rimes also starred in.
But while it seems like things are all good between Rimes and Shay, what about the latter's relationship with Brandi Glanville? Well, it sounds like the mom of two is actually pretty grateful to her for coming forward about her romantic history with Cibrian. "The good thing about her is that I thought LeAnn was just the one-time thing. But when I found out about [Shay], she saved me because I left him," Glanville admitted during the "The Real Housewives of Beverly Hills" Season 9 After Show, per Bravo.