Amy Poehler And John Stamos Once Went On A Very Awkward Date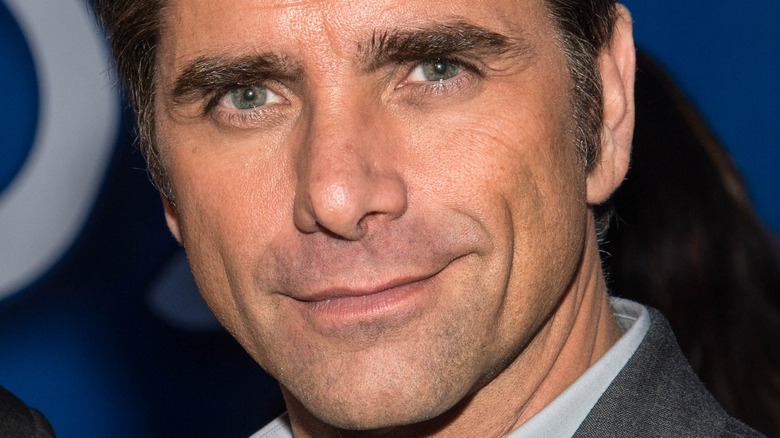 Debby Wong/Shutterstock
It's no secret that John Stamos dated some of Hollywood's most eligible bachelorettes before marrying Caitlin McHugh in 2018. Case and point? Before that he was married to the gorgeous Rebecca Romijn from 1998 until 2005, and he even had a bit of a thing with Denise Richards back in the day. Stamos copped to that one during an appearance on "The Howard Stern Show" in 2014, but admitted he just wasn't ready to be a dad to Richards' kids (whom she shares with Charlie Sheen) at the time. "It really kind of was the kid situation and what she's going through. It just wasn't the right time, you know. I barely did get out of that one! She was upset," he admitted (via Hollywood). "She's a great mom and dating women with kids is tough."
"Full House"'s Uncle Jesse also had a bit of a thing with his co-star on the sitcom, Chelsea Noble, with her telling The Buffalo News all the way back in 1990 that they dated for a few weeks after meeting on the show (where Noble actually played his character's girlfriend). Stamos also confirmed their romance to The Record, calling himself single but revealing he was seeing where things went with Noble (via MeTV Chicago).
Of course, we know things didn't work out there, but it turns out they're not the only famous faces Stamos courted, as it turns out Amy Poehler also once fell for his charms.
Amy Poehler didn't know if she was on a date with John Stamos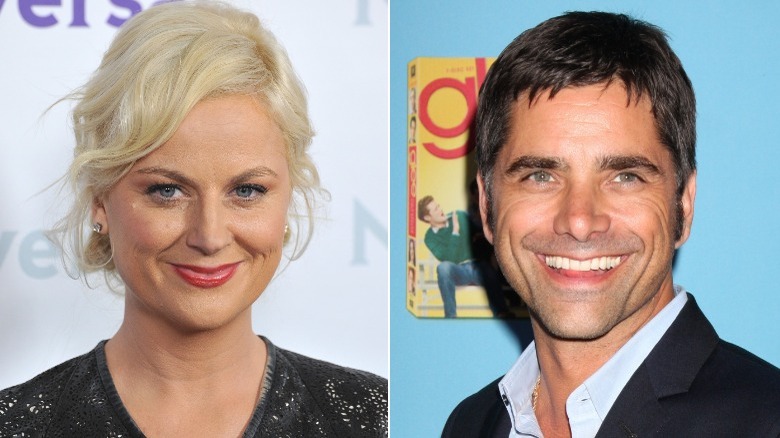 Featureflash Photo Agency & Kathy Hutchins/Shutterstock
Amy Poehler dished on her (kind of!) John Stamos romance "The Howard Stern Show" in October 2014, sharing she decided to give it a shot with the all-round nice guy actor in the wake of her split from her former husband and father of her two children, Will Arnett. "It was new and weird," she admitted of things with her "They Came Together" co-star, revealing she didn't know how to handle a potential romance because she actually hadn't dated since texting became many people's primary method of communication (she married Arnett in 2003, they separated in 2012).
Making things extra awkward, though? Poehler admitted she had a crush on the uber handsome Stamos, but wasn't actually sure if she was on a date with him or not. "He did a little bit in a movie that I did and a bunch of us hung out. And then later on he's like, 'Let's go get dinner.' And it was fine. I remember thinking like, 'Oh, s**t. Like, if this is really a date...'" she shared, revealing she didn't exactly dress her best and also wasn't invited back to Stamos' place afterwards.
But while dipping her toe back in the dating pool was a little weird, it didn't stop her from getting cozy with familiar faces. The following year, Poehler started dating comedian Nick Kroll and the two stayed together for two years until they split in 2015.
John Stamos confirmed he dated Amy Poehler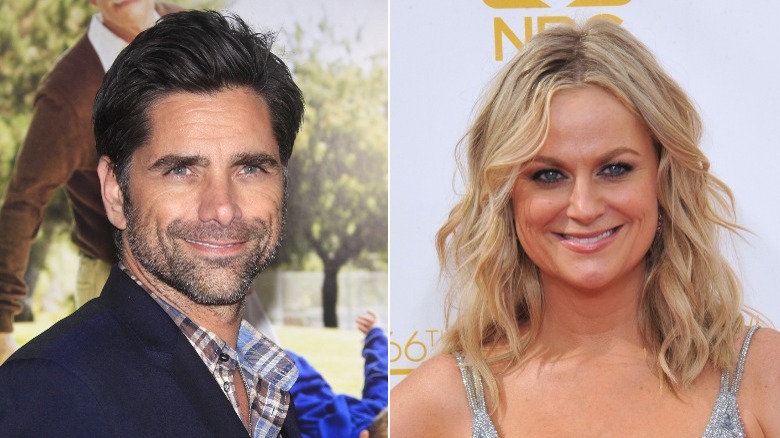 Joe Seer & Jaguar PS/Shutterstock
Erm, we're sorry to break it to you, Amy Poehler, but it turns out your date with John Stamos was just that. Sure enough, after Poehler hit the headlines for her Stamos confession, he was quizzed about his evening dining with the actor and admitted it was very much a romantic date night. Or at least it was supposed to be. "I guess she didn't know it was a date. I asked her out on a date, 'Let's go to [a restaurant],' and we had a really nice time," Stamos told "Extra" in December 2014 when quizzed about what could have been with the "Sisters" star. "Then I hear she thought it wasn't a date. It was a date in my eyes, yeah!"
Amy Poehler didn't seem to speak publicly about mistaking her date with Stamos for something a little more platonic, but it seems like everything certainly worked out the way it was supposed to. In 2016, Stamos went on to find love with Caitlin McHugh, and the two tied the knot two years later. The happy couple also share a son together, Billy, who was born in 2018, with Stamos gushing during the pregnancy, "My whole life I've waited for this moment and the best part is I'm getting to parent with the most perfect woman. She's just humble and sweet." He added to Us Weekly, "She's a really special person."