RHOC Alum Braunwyn Windham Shades Her Exes In New Interview Praising Girlfriend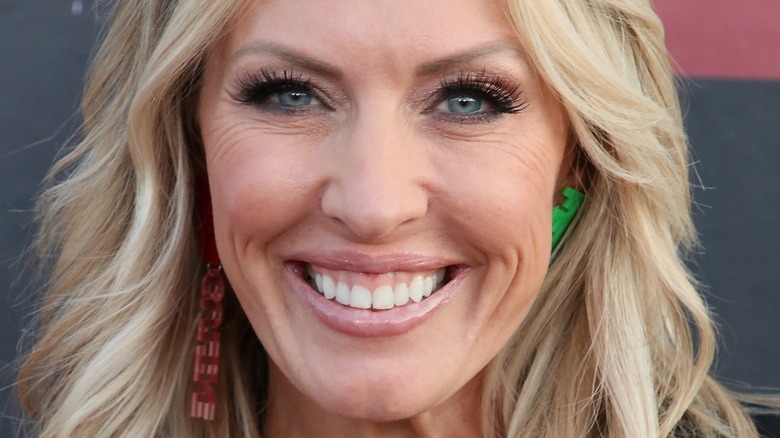 Robin L Marshall/Getty Images
Braunwyn Windham's time on "Real Housewives of Orange County" was short-lived compared to some of her other cast members. Windham joined the original "Housewives" iteration in 2019, during Season 14, and stayed on for two seasons. Despite her short time on the show, Windham definitely left her mark and also became the first ever "Housewife" to come out as a lesbian. "I like women. I'm gay," said Windham during a 2020 interview with GLAAD. "I'm a member of the LGBTQ+ community. It has taken me 42 years to say that but I am so proud of where I am right now."
At the time, Windham was still with husband Sean Burke, who she'd been married to since 2000. According to People, Windham and her husband officially called it quits when she filed for divorce in October, roughly two years since coming out. Prior to Windham's filing, she was involved in a couple of public relationships. First, TMZ snapped photos of Windham kissing a woman named Kris in December 2020. After that, Windham dated Victoria Brito for nine months, before that relationship also fizzled, per People. 
In August, Windham revealed her new girlfriend Jennifer Spinner to Us Weekly, and now, she's singing her praises — but not without shading Windham's past romantic partners.
Braunwyn Windham implies her past romantic partners were unstable
Dia Dipasupil/Getty Images
Anyone who's ever dated Braunwyn Windham is probably a little miffed right now, given her recent comments. During an interview with Page Six, Windham dished about her dynamic with Jennifer Spinner.  "I think this is my first relationship with someone that's mentally stable," shared Windham. "I've never had that before. And a part of me thought, 'Is that going to be boring?'" Fortunately, Windham has since found out that it's the opposite. "It's not [boring]. It's actually really nice to be with someone that has their life together [and] is mentally stable ... it's a game-changer." That certainly has to sting for her ex-husband Sean Burke, who Windham told Us Weekly was an "enabler" of her alcoholism in 2020.
Windham's recent interview is far from the first time she's sung Spinner's praises. In October, Windham took to Instagram to defend Spinner against unkind social media comments about their relationship and give her followers a greater insight into their bond. "This is Jen @hashtag_blehssed, she's the kindest, most amazing human ever, she dedicated her life to helping others and does the most to take care of the people she loves," wrote Windham. "How I got so lucky is beyond me, her kindness and loving heart make me and anyone around her smile wherever she goes...so when some of y'all message her unkind things, it hurts her." Windham also urged her follows to not say anything at all, if they don't have anything nice to say.