Adam Levine Took Home An Extremely Small Paycheck For His Acting Debut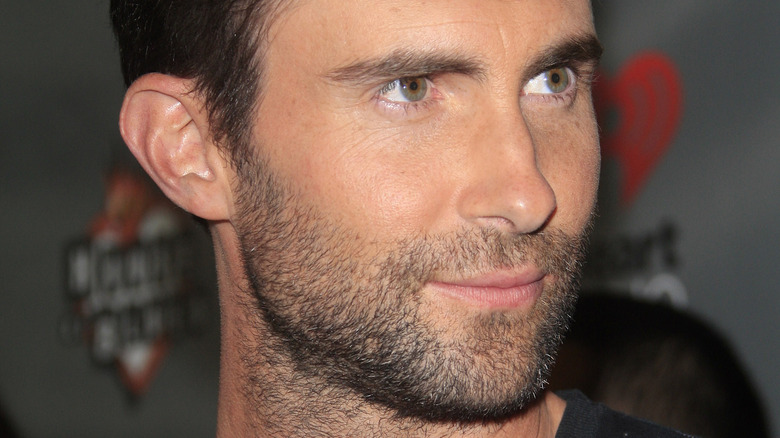 Joe Seer/Shutterstock
Adam Levine had a film-worthy rise to fame that began when he formed his first band, Kara's Flowers, in high school. In an interview with GQ, bassist Mickey Madden, who would keep on rocking with Levine as a member of Maroon 5, described their humble beginnings. "We were playing at a house party in Malibu," he recalled. "And this producer was like literally walking his dog and heard us, and he came in and watched the show."
A record deal followed, as did an appearance on "Beverly Hills, 90210," but the band's first album did so poorly that Levine had to put his music career on the backburner for a bit. "I got a job at Johnny Rockets when that record deal didn't work out, and then I got a job as a [production assistant] on a TV show," he recalled to People. The series was "Judging Amy," per The Hollywood Reporter.
But after Levine reformed his band and renamed it Maroon 5, success soon followed. By 2013, Levine had built a business empire that would add an estimated $35 million to his net worth that year alone, with his role on "The Voice," a sponsorship deal with Proactiv, and the launch of his own record label helping him make bank. He was doing well enough that he could take a significant pay cut when he decided to give acting a shot — and it might've helped that he felt like his character wasn't too much of a stretch.
Why Adam Levine was willing to act for little pay
While "American Horror Story: Asylum" viewers saw Adam Levine play an ill-fated honeymooner before he made his big-screen debut, the singer actually filmed the 2013 drama "Begin Again" first, per Bustle. His role in the movie was significantly larger, but while it boosted his acting résumé, it didn't do much for his bank account. "I did this movie for no money. I'm very lucky that I'm in that position," Levine told USA Today. He was also out the money he paid for a single acting class before deciding it wasn't for him, according to Bustle.
Levine shared his belief that keeping money out of the equation would make working on the film a more enjoyable experience, saying, "I don't want to do a bunch of (expletive) that I hate." His philosophy proved true, as he told AP (via AZCentral) that he'd definitely been bitten by the acting bug, predicting, "It's the very beginning of something really cool." As for how he got cast in "Begin Again," director John Carney told The Washington Post that he saw Levine's cameo as himself on "30 Rock" and thought that he would be a good fit for the film. 
Levine also got an assist from his longtime friend Jonah Hill. On "The Howard Stern Show," Levine revealed that the "Superbad" star helped him land the role of an arrogant rocker in the movie, which was co-produced by Hill's frequent collaborator Judd Apatow.
Adam Levine played a cheating musician in Begin Again
In a 2014 AP interview (via AZCentral), Adam Levine revealed that he really connected with his "Begin Again" character, a musician who cheats on his girlfriend. "It never felt pretend. It always felt like we were making a documentary," said Levine. His on-screen love interest, Keira Knightley, also felt like he was a natural fit for the part, saying, "He kept claiming he didn't know what he was doing, but it looked like he knew exactly what he was doing to me." In the movie, her character deduces that her boyfriend has been unfaithful when she hears one of his songs. The film would prove somewhat prescient.
When the movie came out, Levine was engaged to Victoria's Secret model Behati Prinsloo. Fast forward to September 2022, and TikTok users would hear social media influencer Sumner Stroh accuse Levine of cheating on Prinsloo, who was now his wife. Per Us Weekly, Levine denied having an affair, but confessed in a statement, "I crossed the line during a regrettable period of my life." Unlike Knightley's character, Prinsloo stood by her man. In October 2022, the pregnant model and her husband were photographed enjoying a Halloween outing with their daughter, Gio Grace, per the Daily Mail.
While promoting "Begin Again," Levine revealed that he commiserated with his character's urge to behave badly after becoming rich and successful. "I was probably tempted by some of the same things he was," he confessed, per Bustle.