The Backstreet Boys Gave A Touching Tribute To Aaron Carter During Their Concert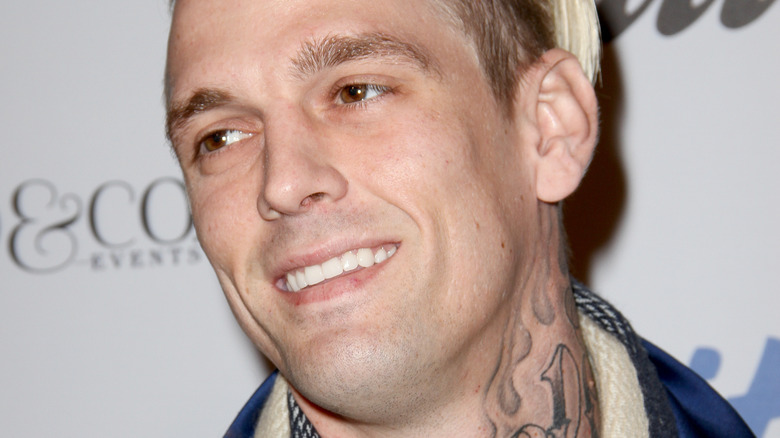 CarlaVanWagoner/Shutterstock
Aaron Carter died on November 4, 2022 at his home in Lancaster, California, where his housekeeper found him in the bathtub and called the police, according to TMZ. However, as of this writing, his cause of death remains known. Carter's death has fans of the early aughts reeling; it wasn't that he was so famous himself, but rather, he was part of the zeitgeist that made up that particular era of pop culture.
Aaron's brother, Nick Carter, famed member of the Backstreet Boys, had a contentious relationship with Aaron. At the time of his death, the two men were not on speaking terms and Nick, as well as sister, Angel Carter (who is Aaron's twin), obtained a restraining order against Aaron. In 2019, Nick tweeted, "In light of Aaron's increasingly alarming behavior and his recent confession that he harbors thoughts and intentions of killing my pregnant wife and unborn child, we were left with no choice but to take every measure possible to protect ourselves and our family."
Despite this, Nick was devastated by Aaron's death. "Even though my brother and I have had a complicated relationship, my love for him has never ever faded," Nick said in a statement to The New York Times. Nick's whole crew, the Backstreet Boys, also showed their sympathy for Nick's loss at a concert in London.
The Backstreet Boys hugged Nick Carter while he cried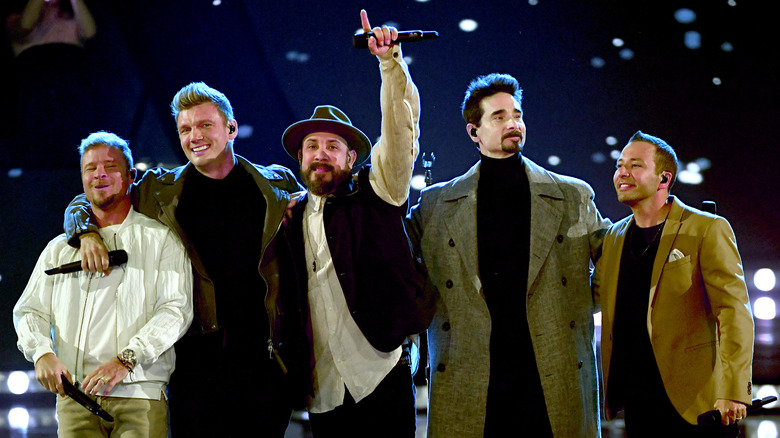 Kevin Winter/Getty Images
The Backstreet Boys performed in London on November 6, at the famous O2 Arena, according to E! News. The band came together onstage during the concert to pay their respects to Nick Carter's brother. Band member Kevin Richardson spoke to the crowd during their song "No Place" and said that the song was all about family.
"Everybody in here, we all grew up together," Richardson said. "We've been through highs and lows and ups and downs — we thank you for being with the Backstreet family for 29 years, for all the love." Nick wept on stage. Richardson went on, "Tonight we've got a little bit of heavy hearts. Because we lost one of our family members yesterday. We just wanted to find a moment in our show to recognize him." The whole band hugged Nick while he cried, and images of Aaron played on the screen. Fans were deeply moved by the tribute. "Saw [Backstreet Boys] tonight. Very emotionally charged show. Beautiful tribute to Aaron Carter. I am exhausted," one fan wrote on Twitter.
Some of the photos played on-screen came from Nick's own tribute to Aaron that he posted on Instagram. "I will miss my brother more than anyone will ever know," Nick wrote. "I love you Chizz. Now you can finally have the peace you could never find here on earth....I love you baby brother."