The Shady Reason Adam Levine Once Got A Reporter Fired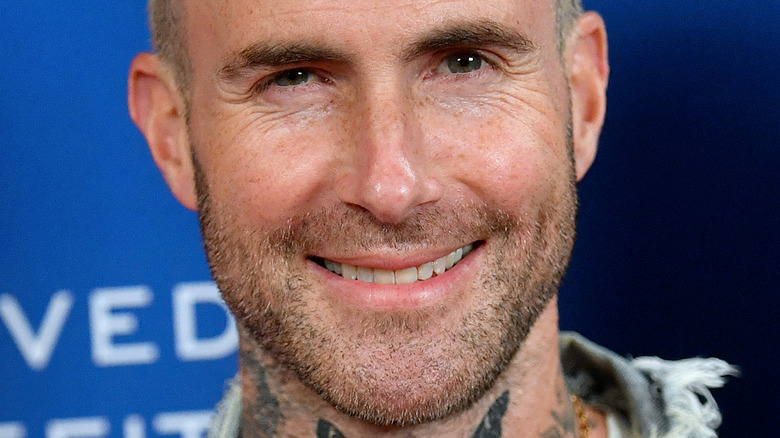 Paras Griffin/Getty Images
Maroon 5 dominated the charts after bursting onto the pop-music scene in the early aughts. With hits like "She Will Be Loved" and "This Love," their debut album "Songs About Jane" is now regarded as a cornerstone of nostalgia for Millennials. Over the last decade or so, the group's frontman, Adam Levine, has seen his level of fame surpass that of the very band that made him famous, and sometimes it seems as if his antics are capable of grabbing more attention than the group's music.
Now sitting firmly atop the A-list, Levine's personal life and any potential blunders are sure to make the news. When Levine made headlines for reportedly sending cringe-worthy DMs to an Instagram model, it took a toll on his wife, Behati Prinsloo. While their marriage appears to be going strong despite the scandal, this isn't the only time the singer's behavior has affected others. Years before he faced explosive allegations regarding his faithfulness, the rocker reportedly got a journalist fired for this shady reason.
Adam Levine wasn't happy with one reporter's questions
Andre Luiz Moreira/Shutterstock
After Maroon 5 headlined the 2019 Super Bowl LIII halftime show, journalist Rob Tannenbaum brought up his personal history with the band's frontman, Adam Levine. According to AV Club, Tannenbaum explained in a since-deleted Twitter thread that he worked as a contributing editor at Rolling Stone in 2014, where he was assigned a Q&A feature with the frontman. Tannenbaum said that he humorously asked Levine "if he was willing to apologize" for the catchiness of the song "Moves Like Jagger." And while he says the singer responded with a "clever, self-aware answer," it didn't take long for Tannenbaum to find out Levine wasn't happy with the piece. 
Tannebaum tweeted that the question was "harmless fun" that got the outlet plenty of press, "including a five-minute discussion on Howard Stern," but says Levine complained to his editors about the Q&A format. Tannebaum had been warned that Levine was a guy that Rolling Stone publisher Jann Wenner "cared about" and that he had been advised to ask the singer "some earnest questions about his music and his acting career," which he admittedly didn't do. So, when Levine wasn't happy about the interview, Wenner wasn't happy with Tannenbaum, and he allegedly told editors to fire the journalist soon after. He later revealed there is a "longer version" of the story, but he hasn't divulged any additional details just yet.
Adam Levine once feuded with Fox News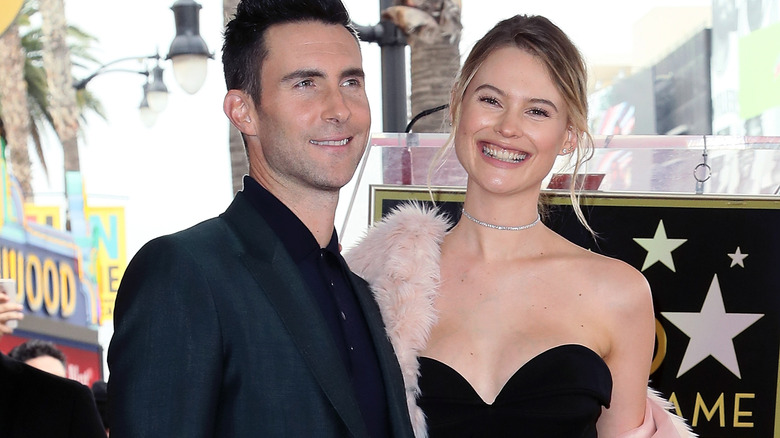 David Livingston/Getty Images
Back in 2011, Billboard asked Maroon 5 about the bop. The group's keyboardist, Jesse Carmichael, revealed that Adam Levine's feelings about a tune were usually a good indicator of its success. "If Adam hated a song, we knew it was going to be successful," he explained, to which Levine added: "I loved 'Jagger,' so I was really worried." The collaboration, featuring Christina Aguilera, eventually shot to No. 1 on the Billboard Hot 100. Not long after, Levine had found himself embroiled in another spat with the press.
"Dear Fox News," Levine tweeted (via The Guardian). "Don't play our music on your evil f***ing channel ever again. Thank you." While it isn't clear what gave rise to the tweet, the talking heads at Fox News were quick to fire back. "Dear adam, That's not music," Greg Gutfeld, host of "Red Eye with Greg Gutfeld," tweeted at the singer (via The Hollywood Reporter). Fellow "Red Eye" host Adam Levy was quick to join the fun, quipping, "Maroon 5's bio strangely fails to note the band was developed by the CIA as part of its enhanced interrogation techniques program."