The Big Influence Jason Momoa's Mom Had On His Life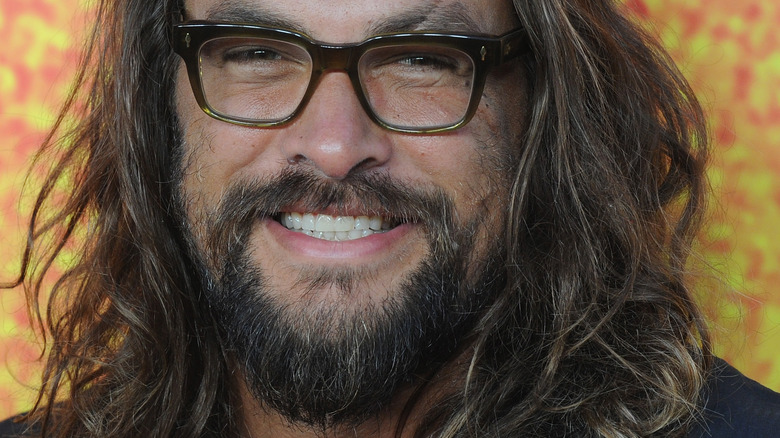 Albert L. Ortega/Getty Images
Jason Momoa is known for tough-guy roles like Aquaman, Duncan Idaho, and Khal Drogo but in real life, he's a devoted dad and a loyal son. He is close to his mom, Coni Momoa. One time he even brought Coni to meet Julia Roberts and has the pics to prove it! He even gives his dear mom shoutouts on social media, like the time he met Barbra Streisand or back in 2014 when they were seen having a fabulous time laughing together.
He told Men's Journal that his mom brought him back to Iowa, her hometown of Norwalk, to raise him after she and Momoa's father broke up. Coni raised Momoa as a single mom to a young Momoa who didn't fit in. "I grew up where everyone was a wrestler or football player, and I was the skateboarder, an outcast," Momoa told the outlet. He added that he summered on Oahu with his dad but he didn't fit in there either. Given how much time he spent with his mom, it's no surprise that he takes after her. Though the big influence she had on him might not be what you expect!
Coni encouraged Jason to see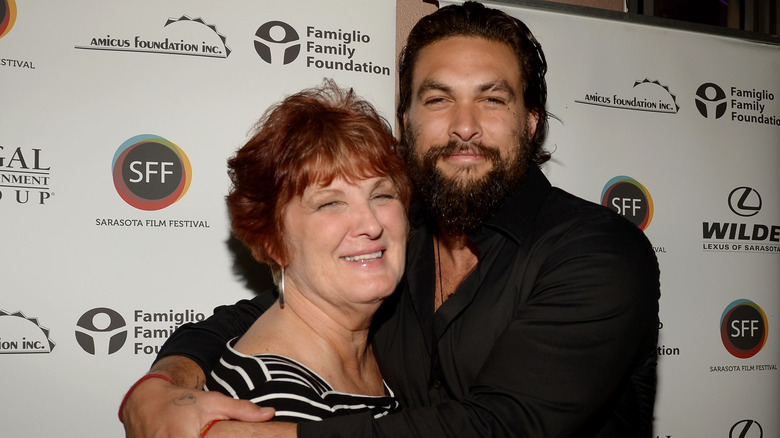 Gustavo Caballero/Getty Images
In the short film "Canvas of My Life" about Jason Momoa by Carhartt, Momoa describes being raised by his mother Coni in a profound way. "I was raised by a strong single mother," he told the filmmakers. "My mom's an artist in every way. She's a painter, a photographer. She's a wanderer, always searching, always seeing. I guess you could say my mom gave me her eyes." That sense of adventure has served Momoa well in his life!
According to Esme, Momoa has seen much of the world from learning pastels in Paris to practicing Buddhism in Tibet. The outlet notes he was encouraged to do so by his mom's openness. Perhaps that's even how he got through the tumultuous time following his stint on "Game of Thrones" when he was out of work and deep in debt. Had he not kept seeing the good in things we wouldn't have so many of his iconic roles now!
Jason's See finale led to a call to Mom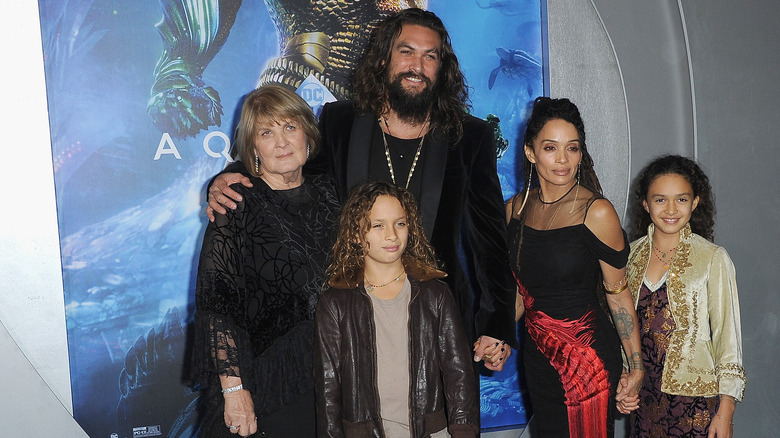 Albert L. Ortega/Getty Images
Season three of Apple TV+'s hit show "See" is the final one for the series. Still, even with just three seasons under his belt, Jason Momoa's character Baba Voss left a big impression on him. So much so that he called his mother after filming the final scene. The actor told Collider that he was having a hard time getting through the last shoot for his character which is when he decided to call his mom Coni.
"Well probably took five days to shoot it," he explained to the outlet. "I had to go emotionally go and loop four and a half minutes. I was so pissed. I went outside, and I was just bummed that we didn't get it. And I had to deliver all that emotional stuff...[I] Went out, and I called my mom—like any man does, calls their mom—cry to my mom, be bummed out about it." Momoa added that he then called a friend who loved the show too and could talk him down. Even though it's bittersweet to end a show beloved by its cast, as Momoa told the Hollywood Reporter, good to know even a star like Momoa can give his mama a call when he needs it.