The Habit Prince Harry Picked Up From His Dad That Annoys Meghan Markle
LINGTREN.COM/Shutterstock
Prince Harry and Meghan Markle are forging their own lives away from the royal family, but after the death of Queen Elizabeth II, the couple made their way back to England briefly to grieve with the rest of the family. But with all of the upheaval that Harry and Meghan have been experiencing, some have wondered if their marriage is under strain. Royal biographer Tina Brown predicted that they might not be in a good place.
Nevertheless, they continue on with their lives and Meghan has dropped sweet insights into their family life through her podcast, "Archetypes." For instance, she shared that Harry is a hands-on dad around the house with kids Archie and Lilibet Mountbatten-Windsor. We expected nothing less. In addition to her podcast, Meghan wrote a children's book called "The Bench," that son Archie loved. While life moves on in California and Harry and Meghan live life without the royal family, Harry still has one habit that he inherited from dad King Charles III that mystifies his wife.
Meghan Markle can't figure out why Harry turns off all the lights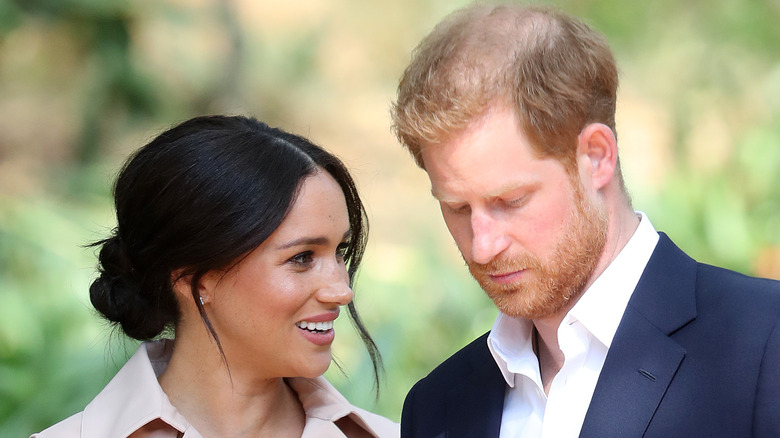 Chris Jackson/Getty Images
Prince Harry is wild for turning off the lights. This enthusiasm for darkness comes from his father, King Charles III, who, in his environmental spirit, taught his sons to turn off unnecessarily used power in the home. Harry and his brother, Prince William, appeared in the documentary "Prince, Son and Heir: Charles at 70" and admitted that they are both vigilant about light switches. "He's a stickler for turning lights off," Harry said of his father, (via People). "And that's now something that I'm obsessed with as well." William agreed. "I know, I've got serious OCD on light switches now, which is terrible."
Harry joked that his wife, Meghan Markle, was confused by this habit at first. "Which is insane because — I don't know whether your wife doesn't — my wife certainly goes, 'Well, why turn the lights off? You know, it's dark.' I go, 'We only need one light, we don't need like six,'" Harry said. This is not to say that Meghan doesn't care about the environment; it's just a form of conscious living that she wasn't accustomed to before she met Harry. On the couple's foundation's website for Archewell, they committed to reaching a net zero by 2030 in terms of carbon emissions, so she definitely shares in that eco spirit at its core. 
King Charles III took his sons garbage collecting on holidays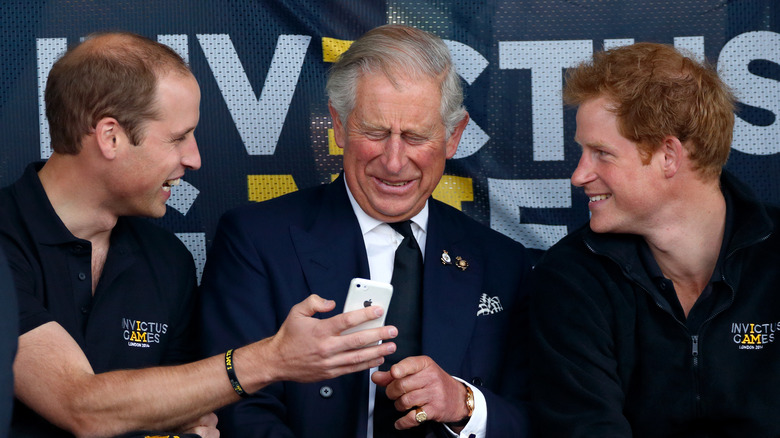 Max Mumby/indigo/Getty Images
Another endearing environmental habit that Prince Harry picked up from his dad, King Charles III, is picking up garbage. Harry and Prince William dished about the experience in the documentary "Prince, Son and Heir: Charles at 70." William shared a hilarious anecdote. "[Charles] took us litter picking, when we were younger, on holiday," William notd (via E! News). "We were in Norfolk on school holidays, and went out litter picking with him." The two princes were nonplussed by the holiday activity. "Both of us thought, 'This is perfectly normal, everyone must do it,'" William added. "We're there with our, basically, spikes, stabbing the rubbish into black plastic bags."
Harry added, "He's just let us learn from the nature of the job, learn from him, learn from Mummy, to the point where I used to get the...mickey (taken) out of me at school for just picking up rubbish."
The habit became such a thing for the family that Camilla, the Queen Consort, attended an environmental event in London in 2019 called Cleanup UK, per People. Camilla, president of the organization, was bequeathed with two custom-engraved garbage grabbers for Harry and William. They can collect trash without stooping now! What a win!