How Many Songs Did Blake Shelton And Miranda Lambert Sing Together?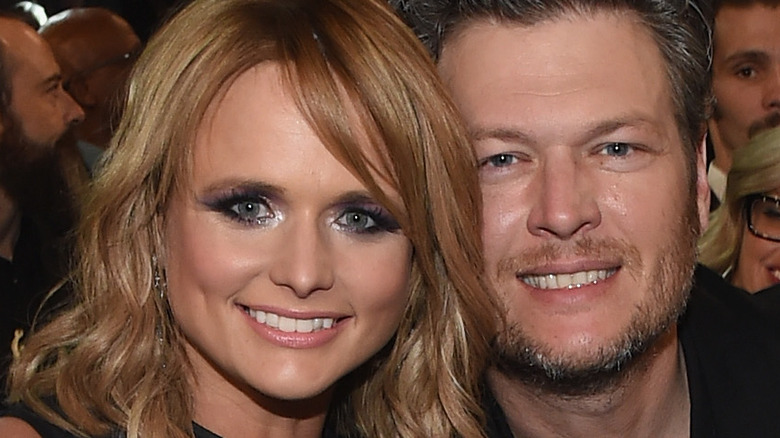 Larry Busacca/Getty Images
Blake Shelton and Miranda Lambert were once modern country music's powerhouse couple. According to InTouch, the pair tied the knot in 2011 after several years of dating and announced their divorce in 2016. "This is not the future we envisioned. And it is with heavy hearts that we move forward separately," they said in a statement to E! News. It wasn't an easy split, particularly because both parties saw their painful personal details make headlines. "I wasn't prepared for that," Lambert said in an interview with CBS News (via E! News). "I don't think anybody is. And it's not nice sometimes, but I think you got to take it with a grain of salt."
Things were further complicated because both Lambert and Shelton run in similar circles, meaning they still see each other at industry events. In 2019, Lambert shaded Shelton at the ACM Awards, by getting in a lyrical dig about her ex's Oklahoma hometown. Rather than keep the song's original line — "I live in Oklahoma" — she switched it to, "I got the h*** out of Oklahoma." According to Entertainment Tonight, the songbird had previously done this at shows, though never with Shelton present in the audience.
Beyond award shows, there were other reminders of the couple's relationship that they couldn't get rid of. People say a picture on the Internet lasts forever, but imagine if you'd written a love song with your ex, as was the case with Lambert and Shelton. In fact, they wrote several.
Miranda Lambert and Blake Shelton share a lengthy discography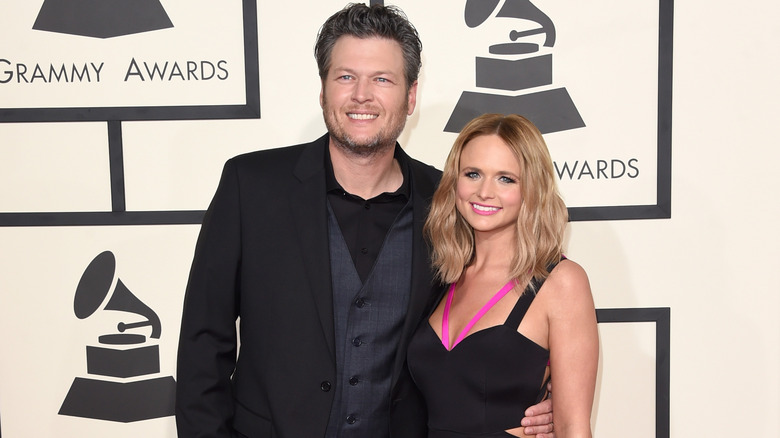 Jason Merritt/term/Getty Images
According to Billboard, Miranda Lambert and Blake Shelton collaborated on 13 songs. This includes the chart-topper, "Over You," "Me and Your Cigarettes," "Sin for a Sin," "Love Song," and "Family Feud." The latter appears on the Pistol Annies' debut album and features Lambert and Shelton as co-writers. Of the songs that the one-time couple co-wrote, "Over You" remains their blockbuster hit. Per Billboard, it recounts Shelton's pain when his older brother Rich died in a car accident. "I would never try to write your story because I didn't live it, but maybe I could help because I'm an outside perspective ... I feel your pain talking to me right now," Lambert remembered telling Shelton (via Billboard). The ballad won Song of the Year at the ACM and CMA Awards, per Country Now.
As befitting a country music couple, Lambert and Shelton have a medley of duets under their cowboy belts. Billboard reports there are six: "Better In The Long Run," "Bare Skin Rug," "Red River Blue," "Jingle Bell Rock," "Blue Christmas," and "Boys 'Round Here." Arguably, their most famous duet isn't one they wrote. The former couple met onstage in 2005 to perform "You're The Reason God Made Oklahoma" for CMT's Greatest Duets TV. Shelton was married, rocking a mullet, and Lambert had just released her freshman album "Kerosene."
Other than duets and co-written tracks, Shelton sang background vocals for Lambert's "Maintain The Pain." She returned the favor for Shelton's "Home."
Blake Shelton has also collaborated with his wife, Gwen Stefani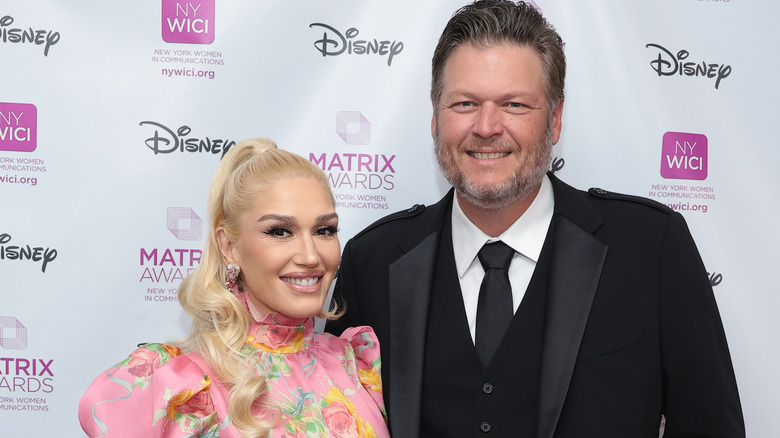 Dimitrios Kambouris/Getty Images
After divorcing Miranda Lambert, Blake Shelton went on to find love with Gwen Stefani. The pair met on "The Voice" and tied the knot in 2021, according to People. For Shelton, it looks like love and music are intertwined, because he has collaborated on four tracks with Stefani to date. Per Music Mayhem Magazine, this includes "Go Ahead and Break My Heart," "You Make It Feel Like Christmas," "Nobody But You," and "Happy Anywhere." In 2020, "Nobody But You" won big at the CMT Music Awards and Shelton told ET that the project "brought them closer together." "[The track] is literally like our two worlds colliding musically," he shared. "From a work standpoint, we knew we could work together on 'The Voice,' and obviously that's where we met, and now to be able to make music together and work together and go perform that stuff."
Stefani might be a ska girl at heart, but there's No Doubt she has fully embraced Shelton's country roots. The "Hollaback Girl" singer is now a staple at country music industry events — and she even got hitched in glitzy white cowboy boots! Plus, her friends report that her habits have changed (via OK! Magazine). "[Gwen's] cooking [Blake] his favorite Southern meals, like biscuits and gravy, and would rather have a barbecue than dinner at a fancy restaurant," an insider dished. There's likely more country love songs to come from these two.