What Alex Trebek's Wife Jean Currivan Trebek Has Been Doing Since His Death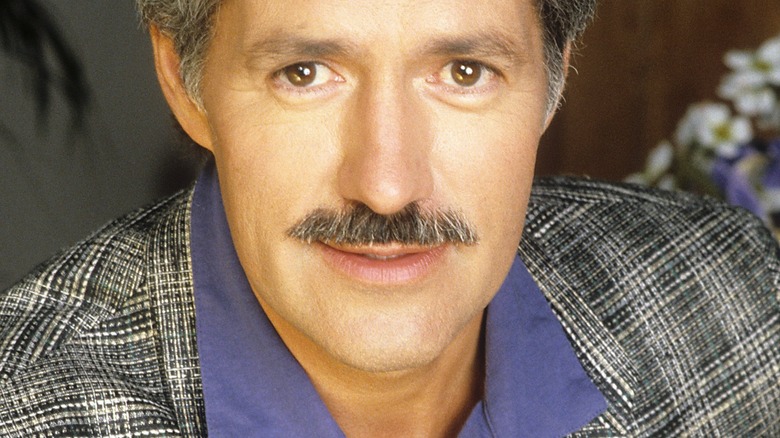 Donaldson Collection/Getty Images
Alex Trebek made a name for himself thanks to his long-standing tenure as the beloved host of "Jeopardy!" Per IMDb, he began hosting the game show in 1985 and continued up until his death in 2020. Trebek was a TV staple as loyal viewers welcomed him into their living room every weekday to try and solve puzzles along with the contestants on the show. 
Things changed in 2019 when Alex shared a gut-wrenching message with "Jeopardy!" fans to announce his cancer diagnosis. The host said that the announcement was "in keeping with my longtime policy of being open and transparent with our Jeopardy! fan base" and to avoid any false narratives in the press. "Now, just like 50,000 other people in the United States each year, this week I was diagnosed with stage 4 pancreatic cancer. Now, normally, the prognosis for this is not very encouraging, but I'm going to fight this, and I'm going to keep working," he said. Alex also shared that he was leaning on family and friends for support during the difficult time and vowed to fight the difficult disease.
The star kept fans updated on his health, but sadly, Alex Trebek passed in 2020. The "Jeopardy!" Twitter page announced the news to fans, noting that he "passed away peacefully at home early this morning, surrounded by family and friends." Since Alex died, his wife of 30 years, Jean Trebek, has been keeping busy.
Jean Trebek is keeping busy these days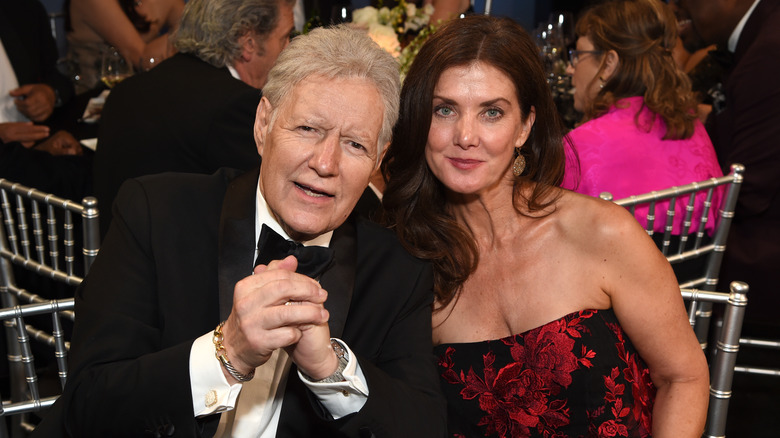 Michael Kovac/Getty Images
Alex Trebek may be gone, but many people have kept his memory alive — especially his wife, Jean Trebek. Since the "Jeopardy!" host lost his heroic battle with pancreatic cancer, Jean has been at the forefront of an effort to help raise money for the Pancreatic Cancer Action Network. In May, Alex's widow spoke with People about her efforts to raise funds for the organization near and dear to her heart, considering she lost her husband to the same disease. "It's a little bittersweet because this was the disease that took Alex's human life," she told the outlet. "But, I also know what it pulled from him. His courage, his strength, and that was what Alex, I know, wants to be remembered for." 
Jean participated in PanCAN's Purple Stride Walk & Run at the Los Angeles Zoo, which helped raise money for the organization. Like Jean, Alex's children also attended the event, vowing to keep their promise to the late star and raise awareness for pancreatic cancer.  On November 21, 2021, Jean also shared a post on her Instagram feed to reveal that she was working with The Compassion Project on behalf of Alex. The post also happened to come on the first anniversary of Alex's death. "One of his final messages was that of the importance of having compassion for each other," she wrote in the caption. In addition, Jean's post also included a video to help raise awareness. How sweet is that?
Jean Trebek reflects on life without Alex Trebek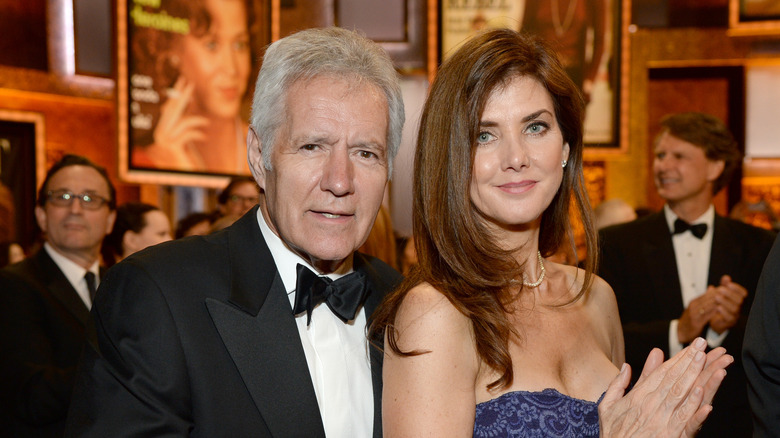 Michael Kovac/Getty Images
While Jean Trebek has been doing her best to keep the late Alex Trebek's memory alive, she has also reflected on the life they built. The two married in 1990 and had two children together, per Oprah Daily. In 2021, Jean spoke with Eden Magazine where she called her late husband her "most beloved friend." She said they "were very close and experienced a lot of life together." Jean added that Alex liked to keep his personal and professional life separate, and the pair enjoyed spending time with one another at home, with dinner or a date night out. 
Jean also revealed how much love they felt from fans following his cancer diagnosis. Jean said that Alex would receive "cartons of mail" daily. But at the end of the day, he was just her husband. "In looking back, the fact that I did not identify Alex as an 'icon' was a gift," she shared. "We were equal partners in a marriage, and we had our own personal growth issues to deal with just like any ordinary couple."
Alex shared the same love for her. In 2020, the star shared a cancer update with fans, saying that Jean was the driving force behind his battle, even though it was tough. "Because that would have been a massive betrayal—a betrayal of my wife and soul mate, Jean, who has given her all to help me survive," he shared. It's clear that they had an amazing bond.