How Vanessa Bryant Caused Tension Between Kobe And His Father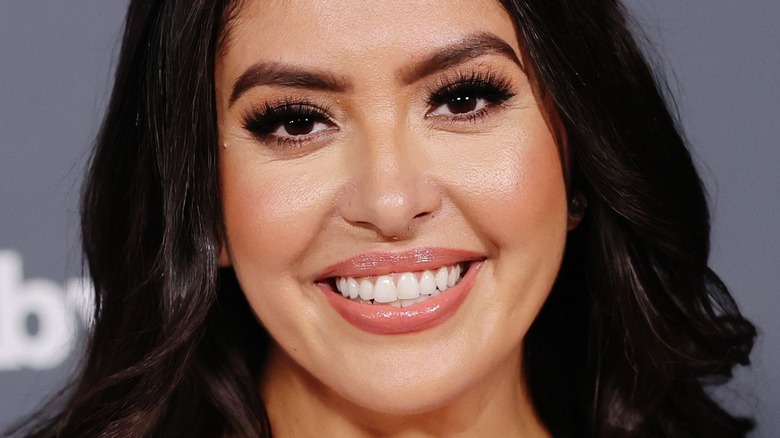 Emma Mcintyre/Getty Images
The following article includes allegations of sexual assault.
While many a high-profile sporting couple has struggled to stand the test of time, Kobe and Vanessa Bryant were one another's endgame. However, if it were up to Kobe's dad, that would never have been the case. 
Prior to Kobe's untimely death in a 2020 helicopter crash, the couple had been together for 19 years — and boy, did they weather some storms in that time. For starters, as reported by Los Angeles Times, Vanessa — who had been a high school senior when she met Kobe — ended up finishing her secondary education via independent study after media attention surrounding her became too much. Then, just two years into their marriage, Kobe was accused of sexual assault. In wake of the allegations, Vanessa stood by Kobe — but that wasn't their last hurdle. In 2011, E! News reported that the Bryants were headed for a divorce. According to a source speaking to Radar, the Lakers player's penchant for infidelity had simply become too much for Vanessa to bear. "The cheating was almost blatant," the source explained. However, even then, the couple made it through. In a now-deleted Instagram post, Vanessa wrote, "We are pleased to announce that we have reconciled. Our divorce action will be dismissed" (via USA Today). Likewise, Kobe shared via Facebook, "I am happy to say that Vanessa and I are moving on with our lives together as a family." 
Despite Vanessa's obvious devotion to Mamba, however, his father, Joe Bryant, was never a fan — but why?
If you or anyone you know has been a victim of sexual assault, help is available. Visit the Rape, Abuse & Incest National Network website or contact RAINN's National Helpline at 1-800-656-HOPE (4673).
Kobe's dad thought he was prioritizing Vanessa too much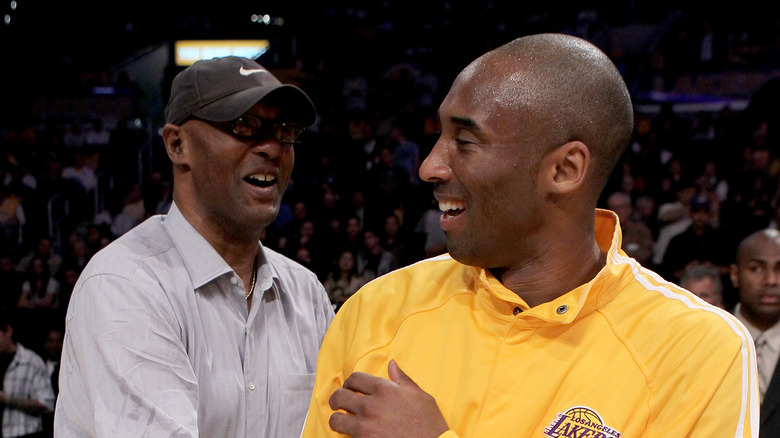 Stephen Dunn/Getty Images
It turns out it wasn't just Vanessa Bryant's devotion to her husband that Joe Bryant wasn't a massive fan of. In fact, he was just as critical of his son's devotion to her. 
While the Orlando Sentinel reported in 2003 that Kobe Bryant had confirmed that his father's hesitations about Vanessa were racially motivated, Joe neither confirmed or denied that. "I'm cool with Vanessa, put that on the record," he told the outlet. However, he did admit to thinking that their relationship had become too serious, too fast. "As a parent, I'd like him to slow down and smell the roses," he explained. Sure enough, the Los Angeles Times reported that the Bryants got engaged soon after they met — when Vanessa was still a senior in high school and Kobe was 21. On that, Kobe told the Orlando Sentinel that he didn't blame either of his parents for their apprehensions. "I'm sure it's tough on any parent when their child grows up and starts stepping into their own." 
It's worth noting that, at the time of the Orlando Sentinel piece, Joe pointed out that he didn't want to have any drama with his son or daughter-in-law over the situation. "When Kobe made a decision to be with someone he cared about, Pam [Bryant, Kobe's mother] and I decided it was time to back off," he said. Granted, they did so in a very literal and incredibly shady way.
Neither Joe nor Pamela Bryant attended the wedding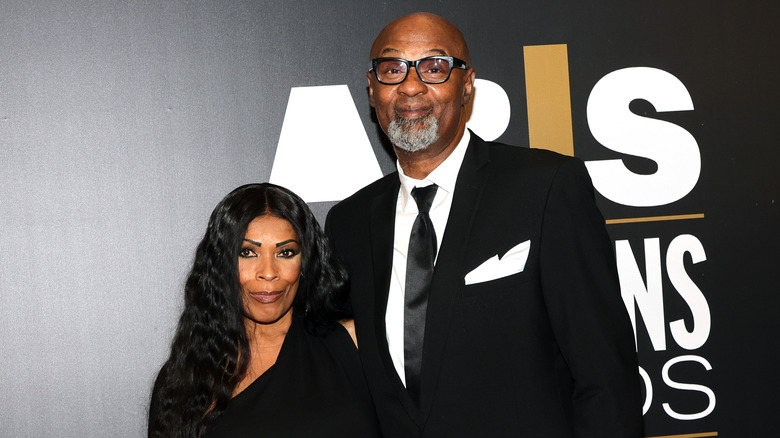 Ethan Miller/Getty Images
It's one thing to back off on criticizing one's child's new spouse once they become official. Boycotting said child's wedding — that's another ballgame, altogether. 
Despite being such a high-profile couple, Vanessa and Kobe Bryant's 2001 wedding was a pretty private affair. However, according to The Knot, one thing that is public knowledge is the fact that his parents, Joe and Pamela Bryant, were no-shows at the nuptials. Unsurprisingly, that didn't go over too well with the newlyweds. In fact, a source told The Sun that their decision to skip the wedding caused irreparable damage. "That tense dynamic really never altered and Kobe attempted some reconciliations, but then he had his own run-ins and disagreements with them." the source explained. 
With that said, it seemed that Vanessa and her in-laws were finally on their way to making some progress after Kobe's death in 2020. In her speech for her late husband's posthumous NBA Hall of Fame enshrinement, she mentioned that the couple had spoken about having his parents in attendance, prior to the helicopter accident. And, she made good on that. "I invited my mother and father-in-law to tonight's enshrinement, to thank them for bringing one of the most amazing human beings into this world," she shared. "Pam and Joe, thank you for raising Kobe to be exceptional," she added. Here's hoping that this family can finally find — and maintain — their peace.