Are Florence Pugh And Zach Braff Headed Toward Reconciliation?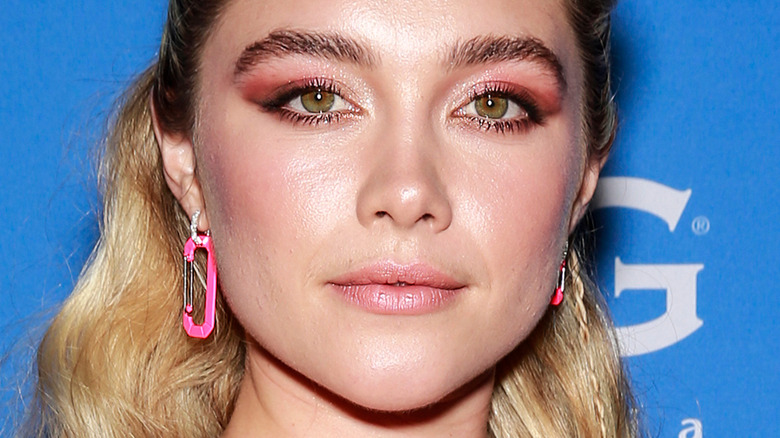 Ovidiu Hrubaru/Shutterstock
Celeb exes Florence Pugh and Zach Braff have exchanged words on social media that have fans wondering whether or not the two may be ready for a reunion. Pugh and Braff made their romance public with a 2019 social media image, which showed the two posing with friends at Disneyland. Following negative online comments from social media users who criticized the 21-year age gap between Pugh and Braff, Pugh took to her Instagram account to post a video addressing the criticism.
"I do not need you to tell me who I should and should not love, and I would never in my life ever, ever tell someone who they can and cannot love," Pugh said (via Us Weekly). "It is not your place. And really it has nothing to do with you." In August 2022, Pugh revealed to Harper's Bazaar that she and Braff had broken up following three years of dating, then discussed why they'd kept this news private. "We've been trying to do this separation without the world knowing, because it's been a relationship that everybody has an opinion on," Pugh said. "We just felt something like this would really do us the benefit of not having millions of people telling us how happy they are that we're not together. So we've done that."  
Now, a public, online chat has revealed where the exes might stand.
Florence Pugh and Zach Braff just shared a playful Instagram exchange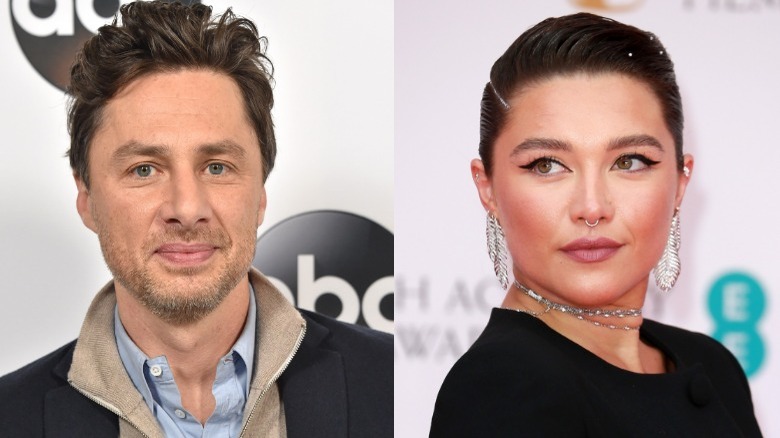 Fred Duval & DFree/Shutterstock
Are Florence Pugh and Zach Braff just friends, or could they be ready to again start up a relationship? This question has been on the minds of fans since the two actors engaged in an amiable Instagram exchange on November 10, 2022. Braff posted about the fact that fans could bid on the opportunity to hop on a Zoom call with himself and his "Scrubs" costar Donald Faison, for which the funds from the highest bidder will go toward Homes For Our Troops, Inc. 
In response to the post, Pugh commented, "I'm deffo bidding on this," to which Braff wrote, "I'm certain you could get this for free, but it is a very good cause for veterans...." Some users believed that the conversation could be hinting at romance. "@zachbraff 10 points gryffindor on how you're flirting with @florencepugh here," one person stated. Fans also seemed to be rooting for the two to reconcile, with another adding, "@florencepugh @zachbraff omg swoon keep going." 
This isn't the only post-split comment Pugh has left on Braff's posts. On October 6, 2022, the "Wish I Was Here" star took to Instagram to announce that "A Good Person," a drama starring Pugh which Braff directed, will be out in March 2023. Pugh wrote, "Oh my goodness. It's happening! So proud." As of this writing, the exes haven't officially commented on the status of their relationship, but one thing's for sure –– it appears that the two have managed to remain on good terms since their breakup.