Wells Adams Admits His Marriage To Sarah Hyland Isn't Always Easy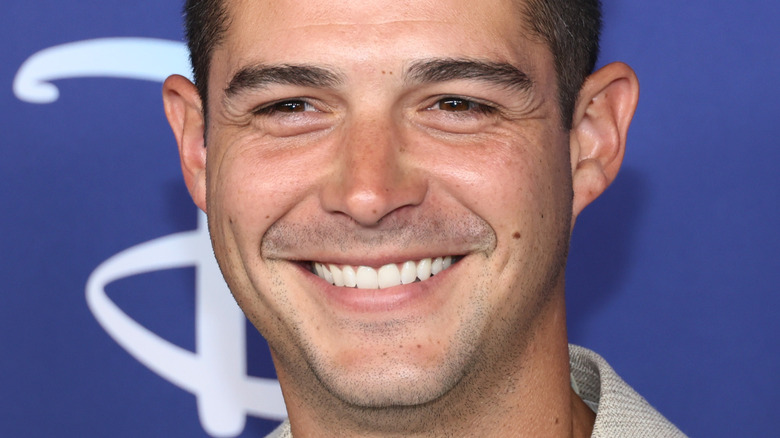 Dia Dipasupil/Getty Images
Wells Adams has shared some honest information regarding his marriage to Sarah Hyland. Over the last few years, pop culture enthusiasts have followed the romantic love story between the former "Bachelorette" star and "Modern Family" actor. In true millennial fashion, the two lovebirds met on social media — Twitter to be exact. "The internet — it's amazing. I'm amazed at how smart the internet is. Because I just assume everyone on Twitter is an idiot, and then I'm like, 'Wow!'" he told People in 2017. Hyland echoed similar sentiments a year later during an interview on "Jimmy Kimmel Live." "Have you seen those memes of 'Slide Into the DMs?' That. He slid into my DMs," she explained. "I was single, obviously, and was like, 'This is really awesome. You're being very forward, and it's sexy and not aggressive... I liked that."
In the years following, the two continued to showcase the depths of their love affair in various social media posts and additional interviews. However, in 2019, the two took their relationship to the next level when they announced their engagement. "That can't eat, can't sleep, reach for the stars, over the fence, world series kind of stuff," Hyland wrote on Instagram alongside a picture of Adams proposing. After a brief two-year delay due to the ongoing COVID-19 pandemic, the pair finally tied the knot in August. While their marriage has been full of blissful moments, Adams recently revealed that it's not always easy.
Wells Adams admits that marriage with Sarah Hyland gets 'tough' sometimes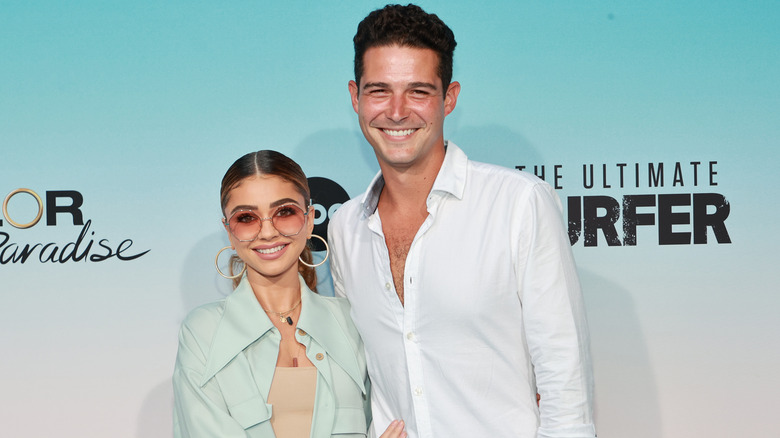 Emma Mcintyre/Getty Images
Even though Wells Adams and Sarah Hyland are "relationship goals" personified, the pair has also experienced difficult moments. In a recent interview on the Kaitlyn Bristowe's "Off The Vine" podcast, Adams revealed that his marriage, like others, has gone through "tough" patches due to the distance that often comes with their careers. In recent months, Hyland has been filming in Germany for the forthcoming "Pitch Perfect" TV series, starring Adam Devine. "It took a long time to film in Berlin, and it was the first time where I was like, 'Okay, it's time for you to come home now,'" he revealed. "It was like three and a half months, it was a really long time."
Toward the end of the interview, Adams described their recent long-distance situation as a "bummer" before he gushed about seeing Hyland thriving in her career. "Yeah, when we go away from one another, it's a bummer, but we FaceTimed every night," he explained. "If your feeling fulfilled and having joy with what you're creating, then we're great. It's been tough, but like, not bad."
Fortunately for the happy couple, the challenging moments in their marriage are few and far between. In a recent interview with Bachelor Nation, Adams revealed that his favorite part of being married to Hyland is having a lifelong teammate. "Being married is [getting] that unwavering teammate," he said.