Quavo Breaks Silence About Takeoff's Death With Touching Tribute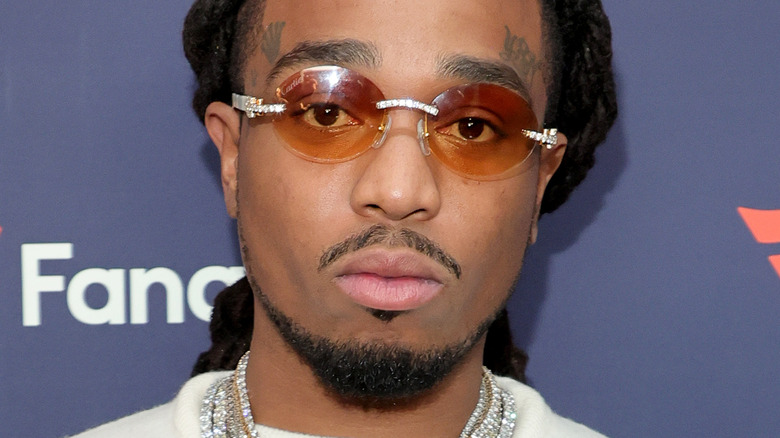 Cindy Ord/Getty Images
The tragic death of Takeoff has been on the minds of the people who loved and supported him. The Southern-born rapper died on November 1 due to being shot over an altercation after a dice game, per TMZ. Sadly, fellow Migos member Quavo was at the scene and witnessed the altercation.
Not only were Quavo and Takeoff two-thirds of Migos, but the two were also blood related as uncle and nephew. "I don't look at him as my uncle, but more as my brother," Takeoff reminisced about growing up with Quavo in an interview with Fader. "But we always have clowned on each other. He is my uncle, so I gotta clown on him." Earlier this year, the two formed a rap duo — separate from Migos — called Unc and Phew and released the joint album "Only Built for Infinity Links."
Understandably, Quavo has been silent since witnessing the death of his family member. But on the day after Takeoff's funeral in Atlanta, Quavo opened up about this tragic loss.
Quavo mourns Takeoff as not just his nephew but his 'angel'
On November 12, Quavo posted a tear-jerking letter addressed to his late nephew and musical partner, Takeoff. "Dear Take," he began. "It's so hard to tell you Ima miss you because you always with me." He described how the two were always partners in crime growing up, even dreaming of becoming "tag team partners in WWE." Then Quavo talked about how Takeoff was the one who "had a REAL passion for music," and encouraged Quavo to rap with him. "Then [Takeoff] created this triplet flow and the rest was HISTORY," he shared. "He never worried about titles, credit, or what man got the most shine, that wasn't him."
"This whole time I've been trying to figure out what you really are to me because nephew wasn't it," the rapper wrote. "We hated that word 'nephew' ... But I knew you weren't my brother cuz you are my sister's son, so I couldn't say brother. Now I finally get it ... you are OUR angel."
Takeoff's funeral on November 11 was attended by both Quavo and Offset as well as the likes of Drake, Cardi B, Justin Bieber, and more, per Vulture. Rapper 50 Cent is encouraging Quavo to "make the best music out of painful moments" in order to honor Takeoff.