David Foster Has Been Married More Times Than You Thought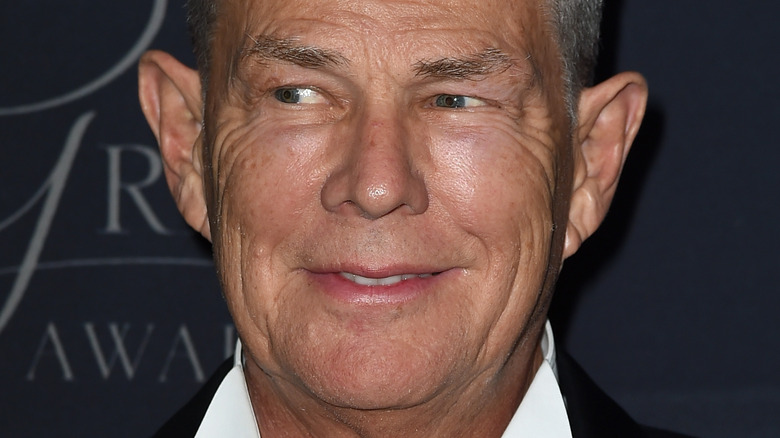 Kevin Winter/Getty Images
With countless hits under his belt, an eye-watering 16 Grammy Awards to his name, and unbelievable success in a variety of positions in the music industry, to say David Foster lives a life of abundance would be a sore understatement — and the same applies to his love life. 
For many "Real Housewives of Beverly Hills" fans, Foster will forever be linked to his ex-wife and show alum, Yolanda Hadid. Despite parting ways in 2015, the former couple's divorce was a pretty private one, and Hadid has, on many occasions, sent him her well-wishes. In fact, in a 2017 episode of "Watch What Happens Live with Andy Cohen," Hadid corrected a caller who believed she'd shaded her ex in her book "Believe Me," noting, "I hold him in really high regards and I wish him only love, health, and happiness." 
Amicable parting aside, Foster himself has admitted in the past that fighting for a marriage isn't his forte. Referring to himself as a "runner" in his documentary, "David Foster: Off The Record," he explained, "When things get rough or bad, rather than working it out, I run." However, one might argue that he's not just running away from his marriages — but toward them, too. 
David Foster has always been quick to move on
Albert L. Ortega/Getty Images
David Foster's first marriage to Canadian musician and former Skylark bandmate B.J. Cook came at the start of his rise — and he's actually credited her with some of his success. "I think I was destined to do well, but she certainly short-cutted it for me," he told Times Colonist (via DavidFoster.Info). So, what went wrong? Cook told the outlet they "were a great team, but a lousy couple." Cook also explained that as soon as Foster's career began taking off, he expected her to take on a more traditional role, and as a rock musician, that just didn't align with her own plans. Ultimately, they parted ways in 1981, but today, they're good friends, with Foster telling the publication, "I certainly get along fantastically with her now."
Shortly after his divorce from Cook was finalized, Foster re-married, this time, to Rebecca Dyer. Of that marriage, Foster hasn't said much publicly. However, he admitted in "David Foster: Off The Record" that he'd walked out on the marriage to be with someone else (via Rolling Stone). What he has said, however, is that his kids from his second marriage have "scar tissue" from his sudden exit — something two of his daughters with Dyer confirmed on Kate and Oliver Hudson's podcast, "Sibling Revelry." As Sara Foster explained, "Our dad was raising other children." The other children in question? His third wife's ...
Will his fifth marriage be the charm?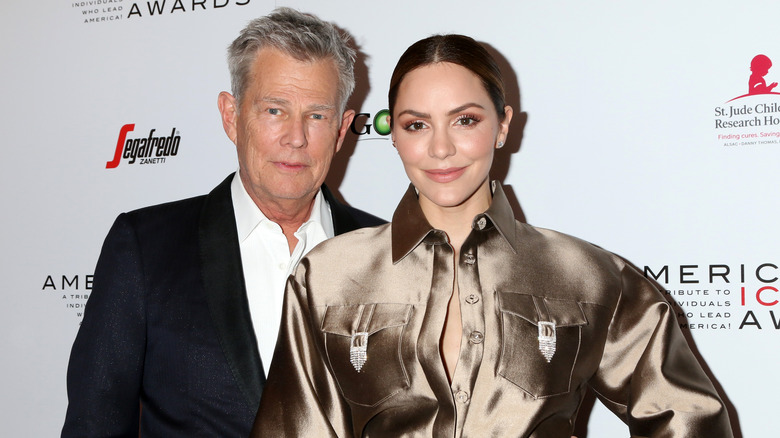 Kathy Hutchins/Shutterstock
While David Foster had a brief hiatus between marriages two and three, after five years, he got right back in the saddle — this time, with Linda Thompson. The model had previously been married to Caitlyn Jenner, making Foster a stepfather to Brody and Brandon Jenner. It was during his third marriage that Foster first dipped his toe into the world of reality TV, as the blended family became the stars of the short-lived "Princes of Malibu." However, after just one season, the show was canceled, per IMDb — and soon after that, the couple went their separate ways. They stayed mum on the cause of their split, though, with Thompson telling the Associated Press that it would "remain personal and private" (via People). 
A few years later, Foster found love again with Yolanda Hadid, making her wife No. 4 for the famed producer. Once again, the couple went the reality TV route ... and once again, their matrimony was short-lived. However, now that he's moved on to wife No. 5, could this be his endgame?
In 2019, Foster wed "American Idol" alum Katharine McPhee in a luxurious affair covered by Vogue. They have since welcomed their first child together and seem to be going strong. Granted, they are just a few years in — however, something tells us the music legend may have finally met his match. "He runs, but I come chasing for him," she shared in "David Foster: Off The Record." Katharine McPhee, we're rooting for you!