The Tragic Death Of UFC Alum Anthony 'Rumble' Johnson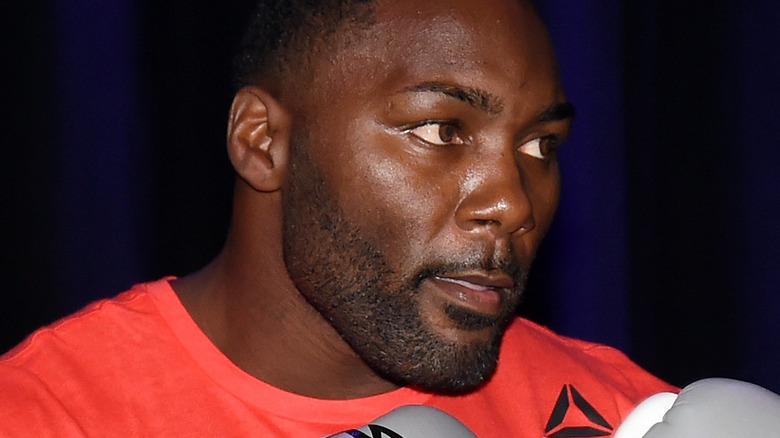 Ethan Miller/Getty Images
Mixed martial artist Anthony Johnson died on November 13, 2022, Bellator MMA announced on Twitter. "It is with great sadness [that] we acknowledge the passing of Anthony 'Rumble' Johnson," the post read. "The BELLATOR family is devastated by his untimely passing and we send our condolences to his family and friends during this difficult time." Fans were shocked by the news. "Devastating to learn of this, only 38 years old this is so sad... the [MMA] world won't ever forget him, a legend inside and outside the cage RIP," one fan tweeted. "So sad to hear! He was one of my favorites to watch! Rest easy, Rumble," another said. Another fan tweeted, "Man, this one hurts. What a great athlete, competitor and human being." Clearly, Johnson was a well-loved legend.
The MMA superstar died of non-Hodgkin's lymphoma, a form of cancer that occurs in the lymph system, and hemophagocytic lymphohistiocytosis, according to Yahoo! Sports. Johnson was only 38 when he died, which is atypical since the cancer is more common in older men, the National Cancer Institute notes.
Other notable figures have been diagnosed with non-Hodgkin's lymphoma, including Abby Lee Miller of "Dance Moms," as well as beloved actor Jeff Bridges. Also, Jane Fonda shared that she was diagnosed with the same cancer in September. Many are able to address the illness with varying treatments including radiation therapy and chemotherapy. However, in some cases, as with Johnson, factors like the level of aggression may mean that treatments ultimately prove unsuccessful.
Anthony Johnson spoke about his illness on social media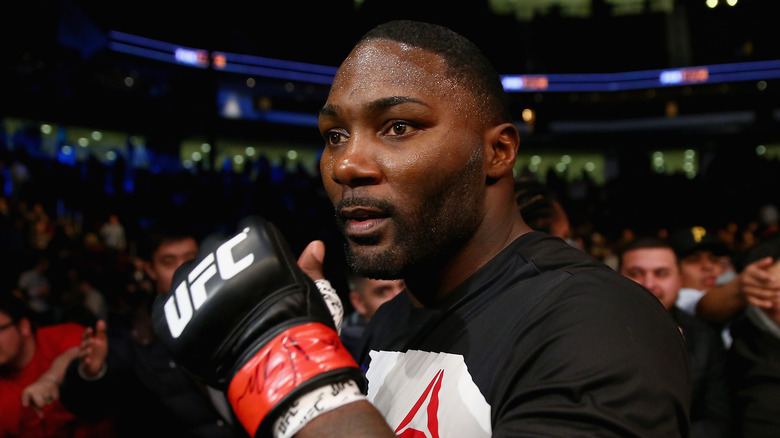 Elsa/Getty Images
Anthony Johnson previously shared health updates with fans on Instagram, but the updates were often vague. On September 18, 2021, he posted the following: "Really wish I could go into detail about how truly ill I am... Never been this afraid of anything in my life but I've remained strong with the support of friends and family." On October 15, 2021, Johnson posted a photo of an MRI machine and added the caption, "Showtime." Fans were full of questions and hope. "What's wrong homey," one asked. "I hate MRI's.... Hoping for good news" another added. "Sorry guys but whats wrong [with] the champ?" another asked. But Johnson, fair enough, wasn't ready to disclose what was going on.
On May 17, he shared a post that read: "Dr just gave me good news... Big improvements and that bill of health for now is-" adding the checkmark and climbing chart emoji. On June 9, Johnson posted a photo with a friend and addressed his weight loss. "Yeah I've dropped some weight due to previously being ill but don't think 1 second that I dropped any power," he said in the caption.
Much later, only two weeks before Johnson's death, his manager Ali Abdelaziz gave dire updates about Johnson during an interview with ESPN. "Rumble, he's going through some health problems right now. It's very sad," Abdelaziz explained. "I think, I want everybody to pray for him. Pray for Anthony. It's not going well. He's very strong, spiritually. But pray for him."
Anthony Johnson was the top light heavyweight contender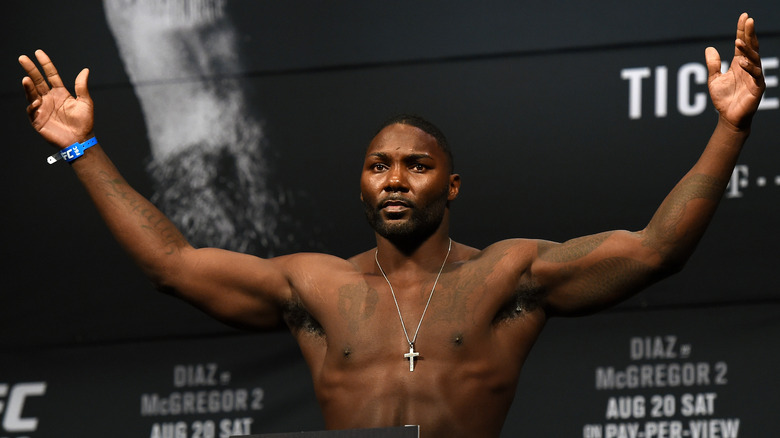 Ethan Miller/Getty Images
Anthony Johnson had a remarkable career. In 2007, he joined the UFC, according to CNN, and quickly climbed to the top. In 2014, he was listed as the top light heavyweight contender before retiring in 2017. But Johnson wasn't done. In 2021, he joined promotion Bellator MMA and came back with a vengeance and knocked out José Augusto. However, as his health problems grew more challenging, Johnson stepped away from the spotlight.
It's clear that Johnson was a beloved figure in the MMA and UFC communities. UFC Heavyweight champ and Olympian Daniel Cormier tweeted on November 13: "Rest Easy my brother. For a guy who struck fear in so many peoples heart Anthony Johnson was a caring person. From random text to check ins during loss. What a person he was, Rumble will be missed. Sometimes life doesn't seem fair. Horrible news." Johnson actually lost two fights to Cormier in the light heavyweight title, per NBC News, but the two remained close friends.
A longtime friend of Johnson's, Jason Parsons, replied to people's questions on Twitter about the cause of his death and said, "He had non-Hodgkin's lymphoma and hemophagocytic lymphohistiocytosis. He died of multiple organ failure. He was in so much pain for so long....it hurts my heart. AJ is one of my best friends and is family. I'm crushed." This is a huge loss for the MMA community and beyond. Our condolences go out to his family and friends.