The Subtle Way Kate Middleton Paid Tribute To Queen Elizabeth During Remembrance Day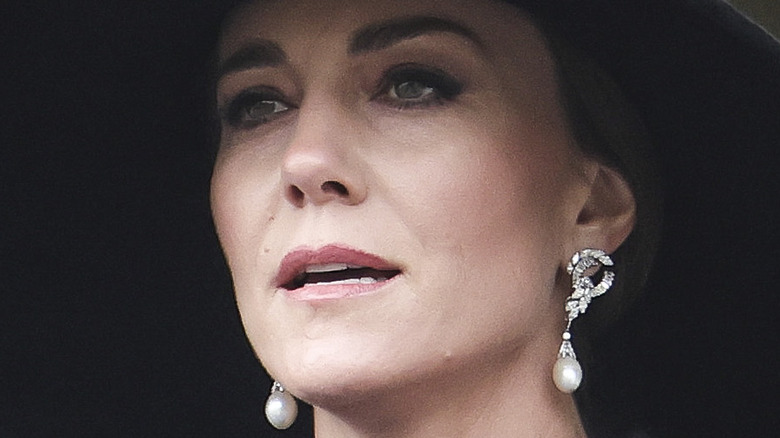 Chris Jackson/Getty Images
Queen Elizabeth II was known for sending subtle (albeit sometimes controversial) messages with her fashion choices — and it seems Kate Middleton is following in the late monarch's footsteps.
It's worth noting that Middleton has paid tribute to several of her royal in-laws since marrying into the firm back in 2011. According to ET, in 2015, the then-Duchess of Cambridge wore diamond and sapphire fringe earrings that once belonged to the queen mother — not bad for a hand-me-down! That same year, she adorned herself with a bracelet that the late Prince Phillip gave his wife as a wedding gift. Insider reports that the Duke of Edinburgh designed the bracelet himself. Per People, the duchess donned a pair of pearl (and diamond) earrings borrowed from her grandmother-in-law during a visit to The Hague in 2016 to see the iconic painting "Girl with a Pearl Earring."
In the wake of the queen's death, the Princess of Wales has continued to wear the family's jewels while on engagements alongside William, Prince of Wales. We're hardly surprised that on the first Remembrance Day since Queen Elizabeth II's passing, she continued the trend.
She re-wore two of Queen Elizabeth's pearl pieces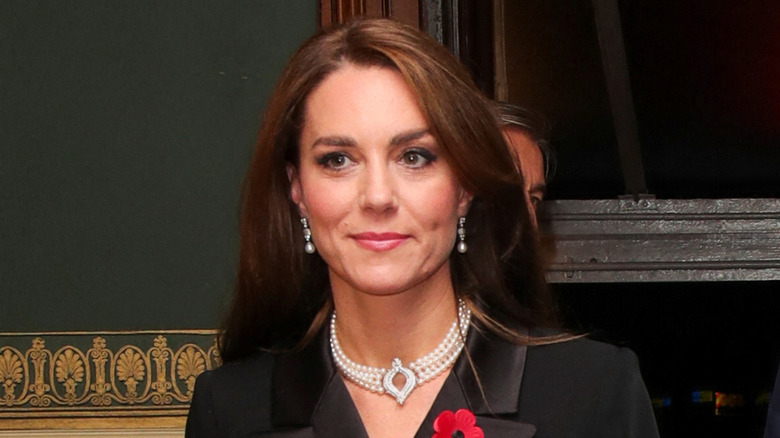 Wpa Pool/Getty Images
Back in September, many eagle-eyed mourners spotted Kate Middleton wearing two pieces of pearl jewelry to Queen Elizabeth II's state funeral — earrings and a choker — both of which once belonged to the late queen herself. As ET reports, at this year's Festival of Remembrance — the first since the queen's death — she donned those same pieces, once again, in what appears to be a touching tribute to her mother-in-law.
According to Tatler, amongst members of the royal family, pearl jewelry is closely associated with mourning. As Vogue explained, that became the case when Queen Victoria lost her husband, Prince Albert, and spent the remainder of her life in mourning. During that period, she favored pearl jewelry for its relative modesty and austerity. With that said, as the Princess of Wales continues to grieve the death of Queen Elizabeth II, her choice to wear the pearl pieces again makes sense.
While we have no doubts that the princess will likely wear the jewelry again sometime in the future (after all, Middleton is famous for recycling outfits), she certainly won't be hard up for different pieces in the coming years. In an interview with ET, royal expert Katie Nicholl shared that after the queen consort, Middleton "Of course" has second dibs on Elizabeth II's collection. One thing we do know for sure is that whatever she opts to pull from the royal treasure chest next will be packed with personal meaning.