Why Ellen DeGeneres Didn't Want To Film A Love Scene With Sharon Stone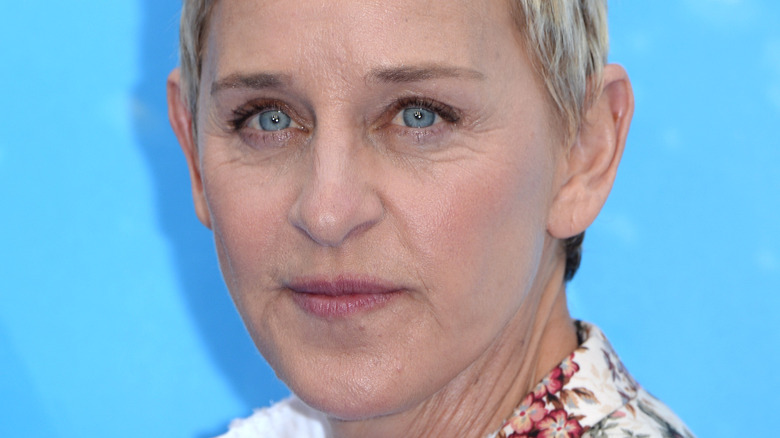 Anthony Harvey/Getty Images
Back in the late nineties, then-couple Ellen DeGeneres and Anne Heche were simply trying to keep their careers afloat. 
Once the couple proudly declared their love in front of the world in 1997, they were met with a fury of backlash. "What did we think? That people would wrap their arms around us and say, 'Good for you!'?" DeGeneres asked rhetorically during an interview with The New York Times in 2000. But after what the couple referred to as an "enforced relaxation" following the media firestorm, they opted to hit the ground running again and collaborate on a new project — a follow-up of the HBO film "If These Walls Could Talk." In the prequel, released in 1996, three women navigate unplanned pregnancies. But the sequel, directed by the late Heche, features three lesbian couples, played by Vanessa Redgrave, Marian Seldes, Chloë Sevigny, Michelle Williams, Sharon Stone, and — you guessed it — DeGeneres. "I really wanted to show the beauty of a relationship and enlighten people to the normalcy and joy of our relationship," Heche explained about her goals for the film. "We wanted to make it a universal story about a loving couple trying to have a child," she said. 
Alas, Heche and DeGeneres' shared project wasn't all rainbows and sunshine — precisely when it came time for DeGeneres to film a love scene with her on-screen partner "Fran" played by Stone.
Ellen DeGeneres did not want to kiss someone else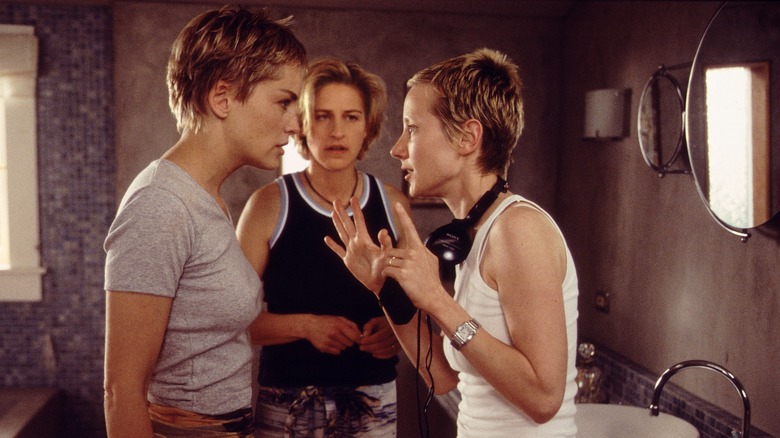 Getty Images/Getty Images
Perhaps stand-up comedian and actor Ellen DeGeneres always had a few reservations about portraying the role of "Kal" on "If These Walls Could Talk 2." During an interview with The New York Times, DeGeneres was adamant that the project was like nothing she had ever done before. "It's a different side of me," she explained. "My TV character was always a self-deprecating, very nervous, very goofy kind of person, a grown-up but kind of like a child. I was like Peter Pan for a while. I'm a little more grown-up in this. There's a sexuality about me that people haven't seen." 
However, the main point of contention centered around an intimate scene with her co-star, Sharon Stone. "I fought Anne for months, saying I wouldn't do the love scene," DeGeneres recalled about her reluctance to participate in the on-camera love scene. "She was like, 'It's Sharon Stone.' I said: 'I won't do the scene. I'm not getting naked. I'm not going to kiss somebody else.'" Still, Heche was adamant that DeGeneres go for it. "What other lesbian on the planet would say, 'I won't do a love scene with Sharon Stone'?" she asked. Spoiler alert: in the end, Heche won, and DeGeneres went through with the scene.
Ellen DeGeneres ultimately felt the love scene was 'important to show'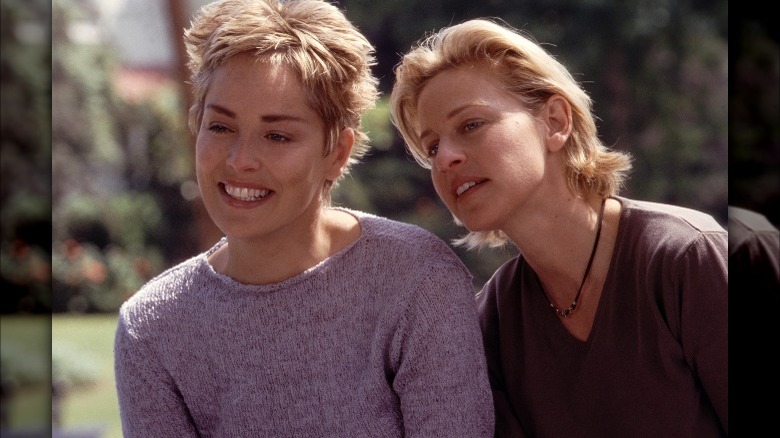 Getty Images/Getty
Although DeGeneres initially bucked the idea of filming a love scene with her "If These Walls Could Talk 2" co-star Sharon Stone, she eventually came around to the idea. "To me, it's a very private thing that I don't think you show the world, and yet it was important to show that part of the relationship," she explained about her change of heart.
Fortunately, the scene went off without a hitch for all parties involved. "I have to say that I'm not gay. But I was more compatible in my love scene with Ellen than I have been in some other love scenes..... that I've had to do with men," Stone later revealed during an appearance on CNN's longstanding talk show "Larry King Live" about the intimate scene. "Because some people you don't have as much of a comfort. We have a comfort, a friendship that made it easier for us to be," she explained. But how did she feel about kissing a woman? "You know, it was sweet, I have to say..." she recalled to television host Larry King.