How Brooklyn Beckham's Relationship With Hana Cross Ended In Disaster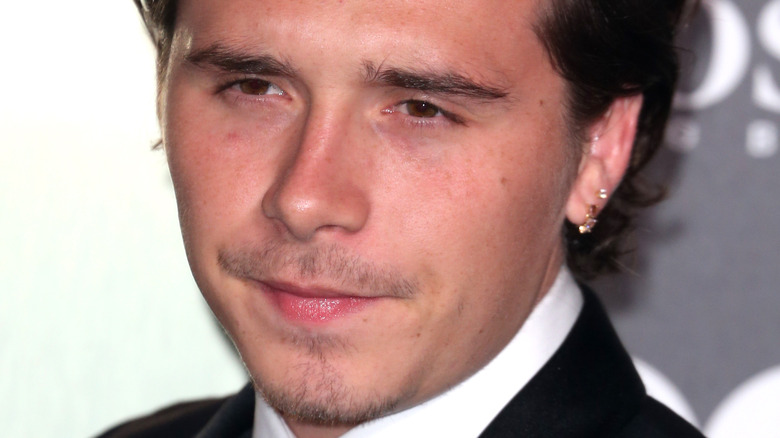 Fred Duval/Shutterstock
From London to L.A., drama seems to follow Brooklyn Beckham. David and Victoria Beckham's eldest son wed Nicola Peltz in April 2022, but the marriage has reportedly put a strain on Brooklyn's relationship with his parents. "[Victoria and Peltz] can't stand each other and don't talk," an insider told Page Six in August 2022. "The build-up to the wedding was horrendous," the source said, adding, "[Peltz] wouldn't clue Victoria in on anything. Communication was minimal." Another source alluded to "non-stop petty drama," which caused friction between Brooklyn and the rest of the Beckham clan. Brooklyn and Peltz also appeared to nod to this tension with their Romeo and Juliet Halloween costumes.
Ideally, matriarchs would get along with their daughters-in-law, but Brooklyn's exes have a track record of butting heads with his parents. Prior to marrying Peltz, the budding photographer dated model Hana Cross, who was unpopular with the family. In fact, David and Victoria were reportedly thrilled when their son split with Cross and began seeing Peltz. "Brooklyn and Hana have called off their romance for good. David and Victoria are very glad and relieved and are backing him 100 percent," a source told The U.K. Sun at the time. But why the relief over the breakup? Per the outlet, Brooklyn's parents were worried and frustrated with the one-time couple's constant fighting. 
Brooklyn and Cross reportedly exhibited concerning behavior throughout their relationship, and no one in their inner circle was surprised to see the romance end in disaster.
Brooklyn Beckham and Hana Cross fought constantly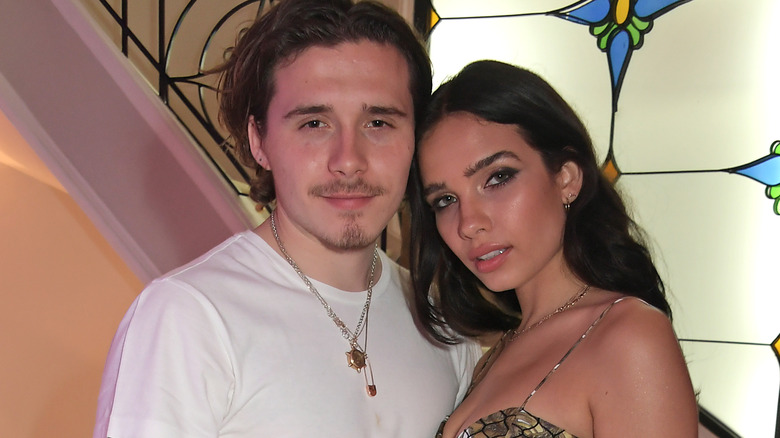 David M. Benett/Getty Images
While Brooklyn Beckham and Hana Cross split in August 2019, their most explosive fight occurred in May of that year. Per The U.K. Sun, Brooklyn and Cross were at the Cannes Film Festival when they got into a screaming match that was bad enough to alert security. 
"It was all very dramatic. They went to Cannes for a few days, but started bickering almost straight away," a source told the outlet. "Hana struggles with Brooklyn's fame and money, and all that comes with dating a Beckham. Brooklyn gets jealous easily, and didn't enjoy all the male attention she was getting." Brooklyn's parents, Victoria and David Beckham were alerted once the spat got physical. "Not surprisingly, they are seriously worried about the couple's toxic relationship and frustrated by all this humiliating public drama," the source added.
Given their tumultuous time together, it's no surprise that Brooklyn and Cross' split was far from amicable. When Brooklyn began dating Nicola Peltz in November 2019, Cross — who was launching a singing career — reportedly penned a savage song about her ex. According to The U.K. Sun, the track featured lyrics like, "I wish that someone told me you had a habit for dishonesty ... though you break my heart, I want to stay." At the time, an insider told the outlet, "[Cross] is still raw from her split with Brooklyn and it pains her to see him so happy."
It wasn't meant to be for Brooklyn Beckham and Hana Cross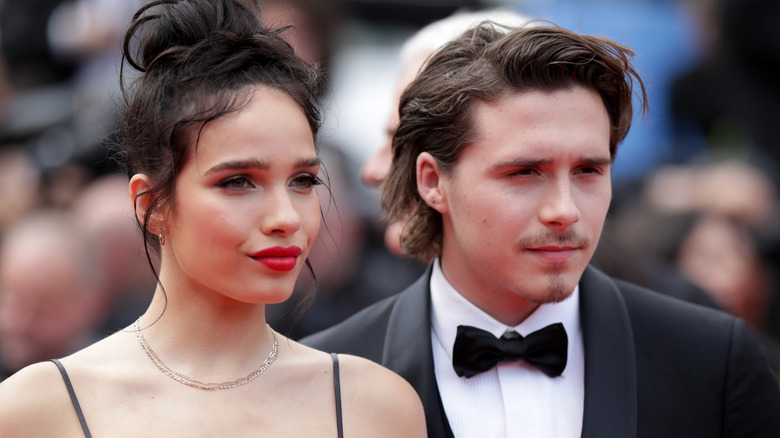 Andreas Rentz/Getty Images
Brooklyn Beckham and Hana Cross' bust-up at Cannes wasn't their only incident, as the duo's nine-month romance was littered with fights. Shortly before Cannes, The U.K. Sun reported that Brooklyn and Cross argued at the Coachella music festival. On a separate occasion, the pair were spotted looking tense after a day spent shopping. This followed on the heels of a fight at a Yungblood concert. 
"Brooklyn had sunk a few beers and ended up getting into a row with Hana. It had been a bit of a wild night out and it got a bit messy," a source explained. All of the drama prompted David Beckham to pull his son aside and caution him about Cross. An insider told The U.K. Sun (via The Daily Mail), "They've been so up and down these past few weeks and David wants Brooklyn to have a serious think about whether he's got a future with her."
Brooklyn seemingly took his father's words to heart, though he continues to be dogged by drama in his marriage to Nicola Peltz. As for Cross, she made headlines herself when she stepped out with Scott Disick in November 2021. The two were seen dining at Malibu hotspot Nobu, in addition to hitting up a nightclub in January 2022. However, Cross and Disick's flirtation has since fizzled, while Brooklyn continues to be (in the words of Victoria Beckham) "gaga about [Peltz]."