The Real Reason Kate Middleton Didn't Wear Black At The 2018 BAFTAs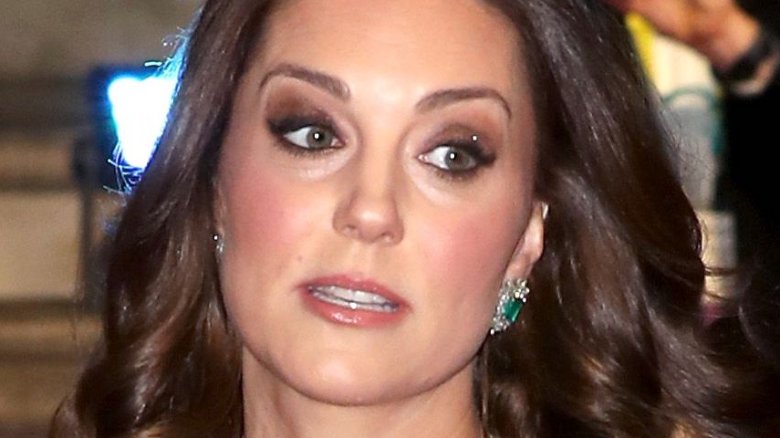 Getty Images
Don't call out the Duchess of Cambridge for her outfit just yet.
On Sunday, Feb. 18, 2018, the stars gathered to celebrate the year's achievements in entertainment at the annual British Academy Film Awards. And while in past years, attendees may have used the event to show off their style, many of the guests in 2018 — like Jennifer Lawrence and Angelina Jolie — chose to don black in support of the Time's Up initiative and the #MeToo movement. However, Kate Middleton surprisingly opted not to follow the unofficial dress code of the night, wearing a dark green gown designed by Jenny Packham instead.
So why did Middleton choose not to participate in the show of solidarity? Well, according to Business Insider, it's all because of the royal family's stance on political issues — namely, that they're supposed to remain neutral. As such, Middleton was to keep any and all opinions about hot button topics like gender inequality, sexual harassment, and the pay gap to herself.
Still, while Middleton may not have been dressed in head-to-toe black, she may have given a small nod to the movements with the black velvet ribbon on her gown.
Interestingly enough, however, Middleton's husband and BAFTAs president, Prince William, did speak out about the Time's Up movement — though, like his wife, he didn't display his beliefs via his fashion on the red carpet. "Levelling the playing field and ensuring a safe, professional working environment for aspiring actors, filmmakers and craft practitioners – regardless of their background and circumstances – is vital to ensure film remains accessible and exciting for all," he said in a message in the event's program, which was obtained by the Daily Telegraph.
He continued, "As president, I am proud of the leadership Bafta have shown on this; in a year which rocked the industry as many brave people spoke up about bullying, harassment and abuse despite the risk to their professional careers and reputations."
This isn't the first time that royal family protocols have prevented Middleton from making certain style choices. As Nicki Swift previously reported, Middleton, who's expecting her third child in April, made headlines when she kept her winter coat on during a meeting with Norway's Prince Haakon and Princess Mette-Marit in early February. Though the royals spoke indoors, where it was presumably warm, Middleton kept her coat on, as royal tradition dictates that she can't take off her outer layer in public, as it's deemed "unladylike" (via StyleCaster).
While we understand the importance of tradition, some of these royal rules sound like they need to be broken. Maybe Meghan Markle can help shake things up when she marries Prince Harry in May.