The Relationship That Almost Ruined James Harden's Career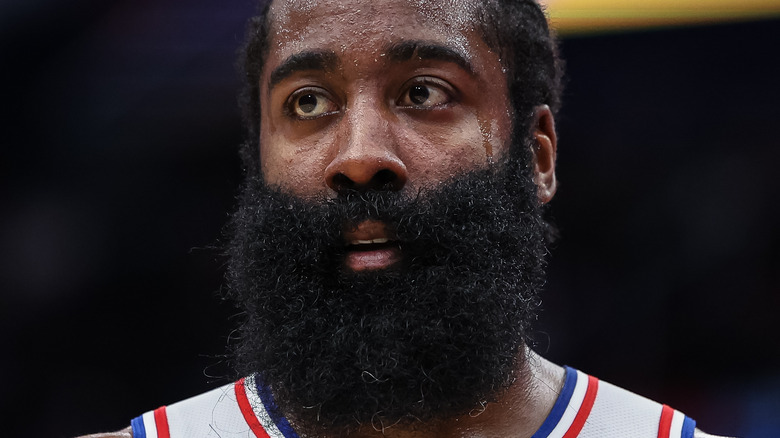 Scott Taetsch/Getty Images
James Harden might have nine NBA All-Star appearances and three consecutive NBA scoring titles, but a personal relationship nearly cost the Philadelphia 76ers player his career. In 2017, the athlete — who was playing for the Houston Rockets at the time — explained to Sports Illustrated how one of his past relationships became a major distraction for him.
Without naming names, Harden told the outlet that he wasn't a fan of the attention he received during one of his high-profile romances. "I wasn't getting anything out of it except my name out there and my face out there, and I don't need that," he explained. "It wasn't uncomfortable, but it wasn't me. ... It was unnecessary stuff that I think trickled down to my teammates. I had to eliminate that."
That's not to say the famed NBA player is opposed to all high-profile courtships. According to Players Bio, Harden has been linked to numerous famous faces. Harden was linked to rapper Saweetie in 2021 and reportedly dated singer Ashanti from 2016 to 2018. But his relationship with one reality star really had him taking his eyes off the ball.
James Harden was distracted by Khloé Kardashian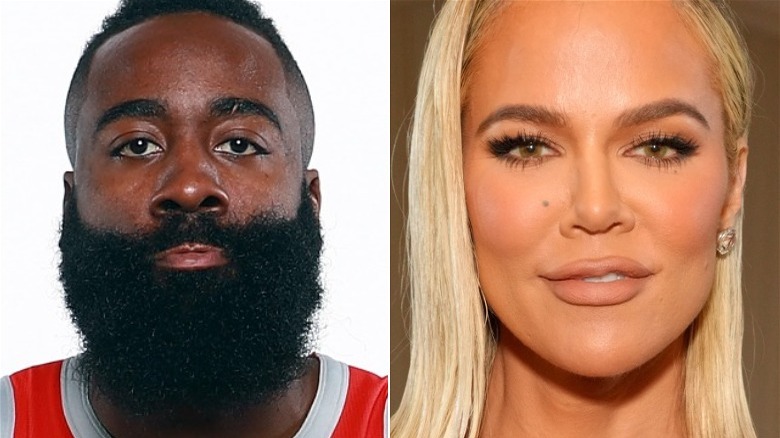 Tom Pennington & Kevin Mazur/mg22/Getty
Famed NBA player James Harden ended his romance with Khloé Kardashian because he "didn't like all the attention" her presence brought. In a surprisingly candid interview with Sports Illustrated, the athlete refrains from mentioning Kardashian by name but alludes to the eight-month romance between the two. "I don't need pictures of myself when I'm driving my car. Who cares?" Harden explained. "What shoes am I wearing? Who cares? Where am I eating? Who cares?" With the distractions brought by Kardashian gone, Harden says he can focus on basketball. "And that may be why I'm having this kind of success," he explained. 
According to the outlet, another stressor in their relationship was Kardashian caring for her ex-husband, Lamar Odom, following his highly publicized drug overdose at The Love Ranch in Nevada. At the time, Kardashian had a different take. "James has been great. He's been really supportive, really understanding," she told E! News. "But I've been honest."
Kardashian also spoke about the public speculation that there was more going on between her and Odom while she was helping him in his recovery and told E! News, "I think it's honest communication, just really being honest and hearing [Harden's] feelings as well—what he's comfortable with and what he's not, and I have to respect that."
Khloé Kardashian later expressed different thoughts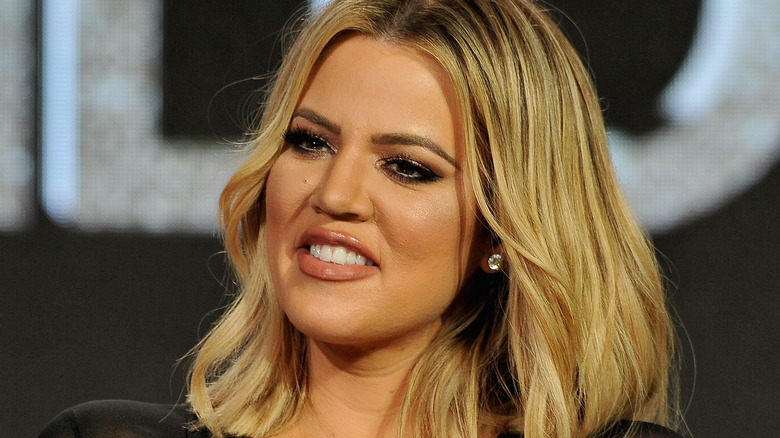 Jerod Harris/Getty Images
Following her split from James Harden in 2016, Khloé Kardashian started singing a different tune about her relationship with the NBA star. Kardashian spoke frankly about her eight-month relationship with the Philadelphia 76er on an episode of "Kocktails With Khloé," implying that he had not been honest during their brief romance. "I just don't want to put up with people that you want to be monogamous, but then they're not monogamous," the reality star said (via E! News). "I've always said, 'It's long-distance.' I've always said, 'We don't need to be monogamous! There's a lot of s**t going on in our lives. You live in Houston. I live in L.A. Let's see each other when we see each other.'"
Kardashian explained that Harden it was Harden who initially wanted a one-on-one relationship. "I wanted it, but I wanted to be realistic. He sought me out," she told guest Lisa Rinna. "He wanted to be committed and, you know, then wasn't committed. So Koko had to go go!" While she declined to dish further, she assured viewers: "I got the receipts to prove it!"
According to Sports Illustrated, after the two called it quits, Kardashian move on to a relationship with serial-cheater Tristan Thompson.