Tiffany Trump's Relationship With Her Older Half-Siblings Hasn't Always Been Amicable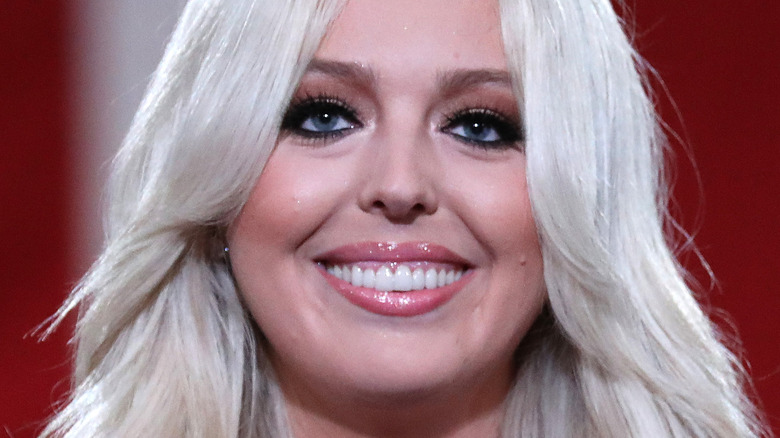 Chip Somodevilla/Getty Images
The Trump family tree is a convoluted one. Donald Jr., Ivanka, and Eric Trump are all products of Donald Trump's first marriage to the late Ivana Trump, and as a result, they're close in age. But, born in 1993, Tiffany Trump — Donald's only child with second wife Marla Maples — is a full decade younger than Eric. Only Donald and Melania Trump's son, Barron Trump, has a wider age gap, as he was born in 2006.
In addition to being heavily involved in Trump's 2016 presidential campaign, Don Jr., Ivanka, and Eric have all held high-ranking roles within the Trump Organization, unlike Tiffany and Barron, who avoid the spotlight. Tiffany doesn't have formal ties to the family business, and media buzz focuses more on her social outings or her November wedding than on her political beliefs. As a result, tabloids have branded her, "the forgotten Trump." Ouch. This could also be due to the fact that Tiffany grew up on the West Coast where Maples raised her "like a single mom," as Tiffany revealed on Oprah Winfrey's "Where Are They Now?" (via The Sun).
Despite the 3,000-odd miles between California and NYC, Maples' only daughter managed to maintain a relationship with her high-profile half-siblings. According to Vanity Fair, Tiffany looks up to Ivanka, who gives her "politics advice, boy advice, and sisterly advice," in addition to instructing her on what outfits look best on camera. Still, these sisterly bonds didn't just spring up overnight.
The Trump children clashed over money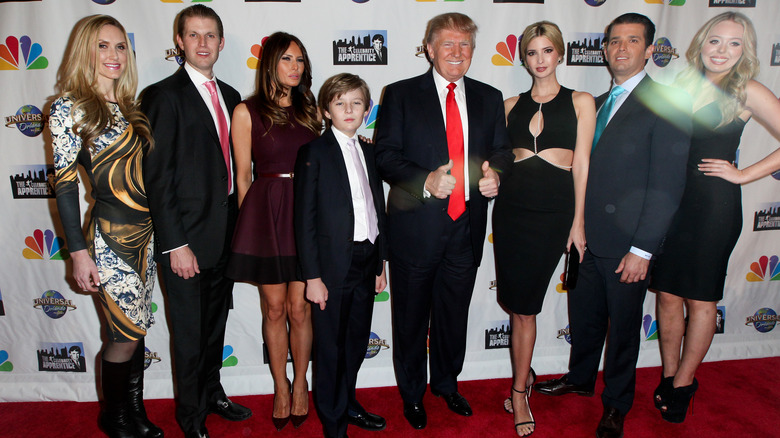 Debby Wong/Shutterstock
Tiffany Trump, who grew up with her mother Marla Maples, is reported to have a strained relationship with Donald Trump, who often (unfavorably) compares her to Ivanka Trump. The former commander-in-chief once snubbed Tiffany by implying he was proud of her "to a lesser degree" [than the others.] "I ... really felt for Tiffany and the way she was treated," former Trump attorney Michael Cohen wrote in "Disloyal: A Memoir" (via Mercury News). "The pecking order of the kids was painfully apparent. Trump was very specific about his views on the importance of female beauty in measuring the value of women, including inside his own family." Cohen then detailed how Tiffany was picked on by her older half-siblings, who even referred to her as the "red-haired stepchild."
What was the cause of this bad blood? Apparently it was financial, because the totals Donald's children are set to inherit decreases with every child he has. In a 2005 interview on "The Howard Stern Show" Donald was asked by Stern's co-host whether "his older children get nervous every time he has another child" (via Newsweek). Hedging the question, the ex-president referred to his rich friend whose "children hate the new children coming along ... I said, 'Yeah, because every time you have a child, it's 20 percent less [money for the others]." Additionally, when asked whether Don Jr. and Ivanka were trying to "bump off a child," Donald implied Don Jr. and Ivanka wanted to cut Tiffany out of the will.
Eric Trump threw Tiffany Trump under the bus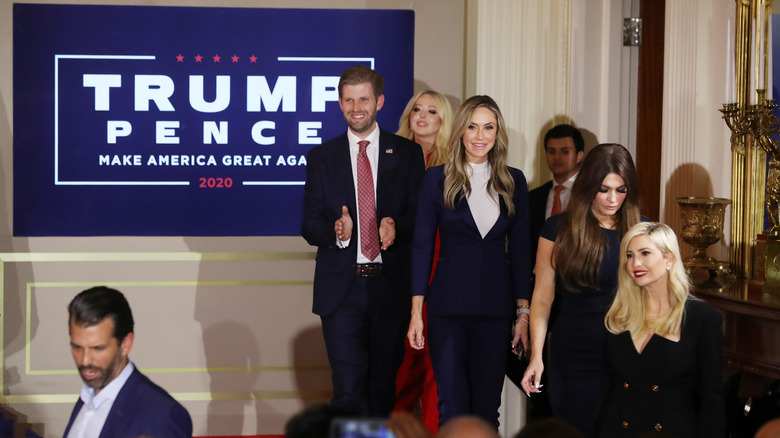 Chip Somodevilla/Getty Images
Donald Trump's three eldest children often present a united front, while Tiffany Trump is ostracized. Financial stress aside, this friction between the half-siblings has been petty at times. Back in 2019, Newsmax reported that the Trump Organization filed a lawsuit against Capital One and Deutsche Banks to prevent them from complying with congressional subpoenas. Appearing on Fox News, Eric Trump defended the family's decision to block them from handing over private financial information. "By the way, it's not just my father. It's, 'Eric, I want to see all your bank records. I want to know how much Lara spent on baby formula for Luke. I want to know how many beers Tiffany had on Friday afternoon in Georgetown,'" Donald and Ivana Trump's youngest son said.
This barb at Tiffany was especially pointed because The Don does not drink alcohol and is said to dislike drinkers. "I don't drink beer," the ex-president said in 2018, per The Washington Post. "I've never had a beer. ... I just choose not to do that for a lot of reasons." So, was Eric implying that Tiffany had a drinking problem? Was he suggesting the family needed to keep their finances private because of Tiffany's drinking problem? It's all unclear, but social media had a field day. "WOW — Eric Trump threw Tiffany Trump under the bus here," one person tweeted. "This is actually a perfect moment," someone else wrote.