How Much Does The Cast Of Love Is Blind Get Paid?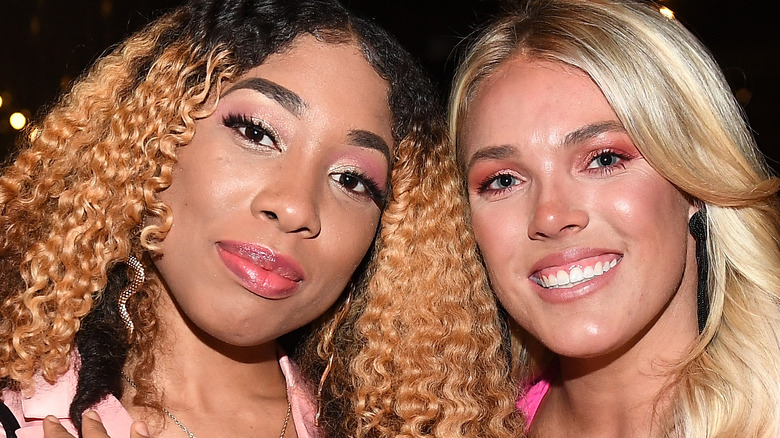 Paras Griffin/Getty Images
"Love Is Blind" is one of the most gripping dating reality TV shows to ever grace our screens. According to Netflix, the show was viewed by 30 million member households in the first quarter of 2020 alone (via CNBC), and since it now has three seasons and counting, it's safe to say viewership has only gone up over time.
To those unfamiliar with the series, "Love Is Blind" is just what it sounds like. It challenges the notion that people don't have to factor in physical characteristics to fall in love. In a span of 10 days, singles date each other in their "pods," where they can talk through a speaker but not see what the other looks like. The contestants are paired in a speed dating format, and those who manage to build a deep connection get engaged if they feel ready. The kicker? They can only meet when the proposal is accepted.
The newly-engaged couples go on a retreat at a fancy resort and move in together in the city where they live. In between meeting their respective family and friends, they also plan a wedding, which may or may not turn out to be their happy ending. While the contestants join the show of their own volition to find their one true love, they, of course, still get paid for their participation. But you might be surprised to know that their salaries may not be as high as other reality stars.
Love Is Blind contestants earn $1,000 per week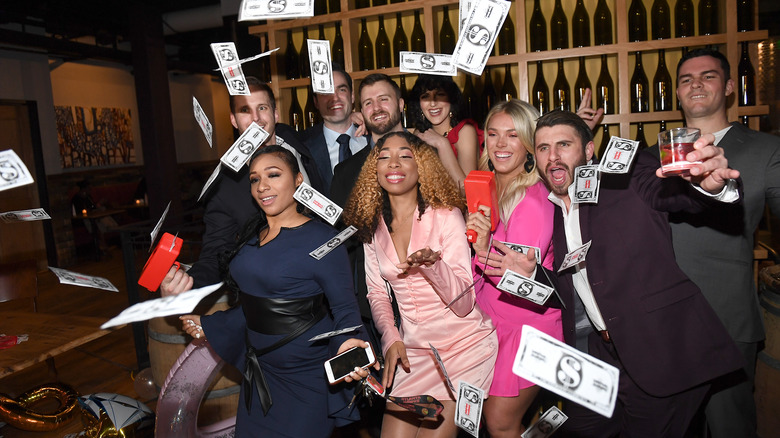 Paras Griffin/Getty Images
It's no secret that reality TV can be lucrative, but "Love Is Blind" contestants only get paid a measly amount compared to other reality stars — $1,000 per week, to be exact. A source close to the show told Women's Health that they're not paid as much because their goal was not to earn money anyway. The participants are paid little if anything," they dished. "They are truly in it to find love!"
Not all contestants are amenable to this setup, however, as Season 2 contestant Jeremy Hartwell filed a lawsuit against the show (more on this later), claiming that the production paid "less than half of the applicable minimum wage rate of $15.00 per hour" in California, per Us Weekly.
And the engagement rings? Well, Netflix is apparently generous enough to provide those for the show's couples. "Whatever they choose, we pay for. Whatever we pay for, they keep, regardless of engagement ending," a company representative told PopSugar.
Love Is Blind was sued for 'inhumane working conditions'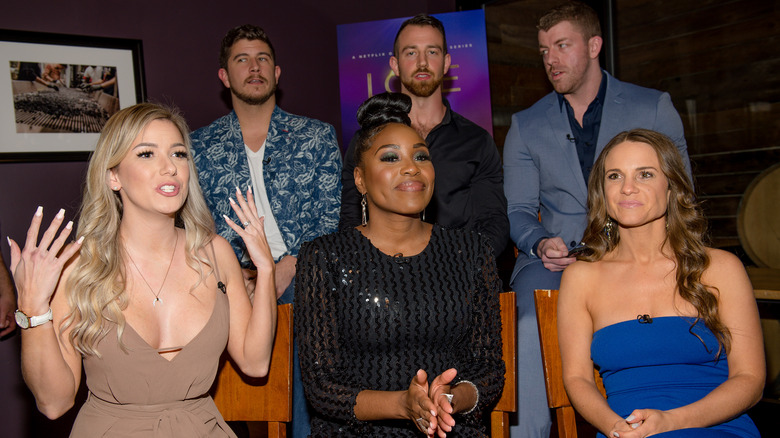 Marcus Ingram/Getty Images
It's not only that "Love Is Blind" underpaid its contestants — it's that the show allegedly provided subpar working conditions, too. In July 2022, show alum Jeremy Hartwell sued the show for paying them less than minimum wage and depriving them of their basic needs, like food and water.
Per NBC News, the lawsuit noted that the show's contestants should have been treated as employees instead of independent contractors because of how and when they worked. They were apparently only given a fixed rate of $1,000 per week despite being coerced to work 20 hours a day, seven days a week. They were only technically earning $7.14 per hour — half of the Los Angeles County minimum wage of $15 per hour. But the show denied these claims, telling CNN that "there is absolutely no merit to Mr. Hartwell's allegations" since he had only participated for a short period.
What's even more interesting is that, despite being encouraged to marry each other, the cast had to pay for part of their wedding costs out of their own pockets. "Of course production supplies some of the basics, but because these are their real weddings, it's up to them as to how to spend their money," a representative told Women's Health.